Former deputy security chief Zhou Yongkang jailed for corruption in China crackdown
The 72-year-old was charged with taking bribes, abuse of power and intentionally leaking state secrets
Jamie Fullerton
Thursday 11 June 2015 17:54 Comments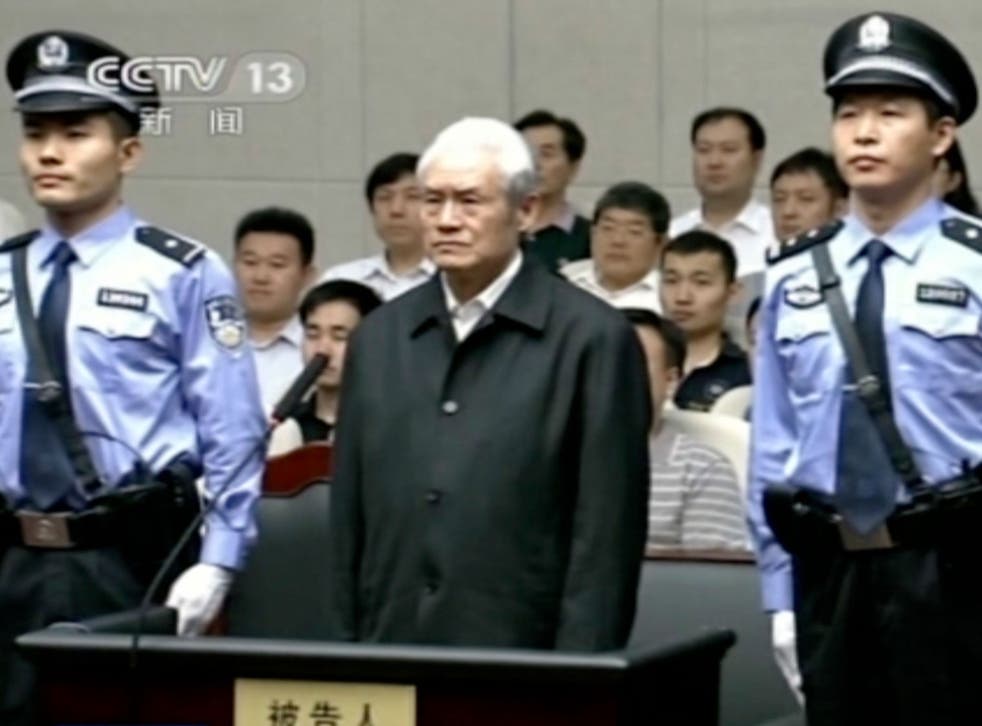 The downfall of the most senior member of China's communist party to fall victim to President Xi Jingping's war on corruption is complete. Standing bolt upright and stony-faced, the former deputy security chief Zhou Yongkang barely registered any emotion as he was jailed for life.
The 72-year-old was charged with taking bribes, abuse of power and intentionally leaking state secrets, receiving the life sentence for the former charge. The trial, which is arguably the most sensational corruption case since the Communist Party of China came to power in 1949, has also seen all his personal assets confiscated and his political rights withdrawn for life.
His trial and sentencing took place in secret in Tianjin First Intermediate People's Court where, according to state media, Zhou admitted his guilt. "I submit myself to the verdict of the court, and I do not appeal," he said on what was his first public appearance since disappearing from public view in October 2013. "I recognise the facts of my breaking the law, which has caused great losses to the party. I again admit my guilt and am penitent."
Zhou was a political rival of President Xi and is now the highest-ranking former Chinese Communist Party member to be found guilty of corruption. He was expelled from the Party last December and his guilty verdict was all but a formality since he was charged in April. Mr Xi's anti-corruption drive has targeted both high-profile so-called "tigers" who work high up in the Communist Party and lower-level so-called "flies".
Willy Lam, an expert on China's elite politics at the Chinese University of Hong Kong, told the Associated Press the life sentence – with Zhou spared execution –may have been an attempt at appeasement towards party members still allied with Zhou. "Xi has won the battle and he does not want to go too far," he said.
But Zhang Lifan, a Beijing-based independent historian, questioned whether Zhou was a true tiger, given that he already was retired. Zhou was a "clawless tiger", he said. The court heard how Zhou's bribes included one worth 731,100 yuan (£76,100), paid by Jiang Jiemin, former chairman of the state-run China National Petroleum Corporation (CNPC) where Zhou also worked. He also asked Jiang to direct 2.13 billion yuan (£221.7m) to businessmen including his son Zhou Bin.
The court also heard how Zhou gave classified documents to Cao Yongzheng, who has been described in Chinese media as a mystic.
Before his downfall, Zhou was a member of the Politburo Standing Committee, the highest-level committee in Chinese government. He was a security tsar before his retirement in 2012, and his sentence hammers home the message that the anti-corruption drive spearheaded by President Xi since coming to power in 2012 is all-encompassing.
Register for free to continue reading
Registration is a free and easy way to support our truly independent journalism
By registering, you will also enjoy limited access to Premium articles, exclusive newsletters, commenting, and virtual events with our leading journalists
Already have an account? sign in
Join our new commenting forum
Join thought-provoking conversations, follow other Independent readers and see their replies