Former Pakistan military ruler Pervez Musharraf granted bail
70-year-old charged over murder of former prime minister Benazir Bhutto, suspension of judges when he imposed emergency rule and killing of Baloch separatist leader Nawab Akbar Bugti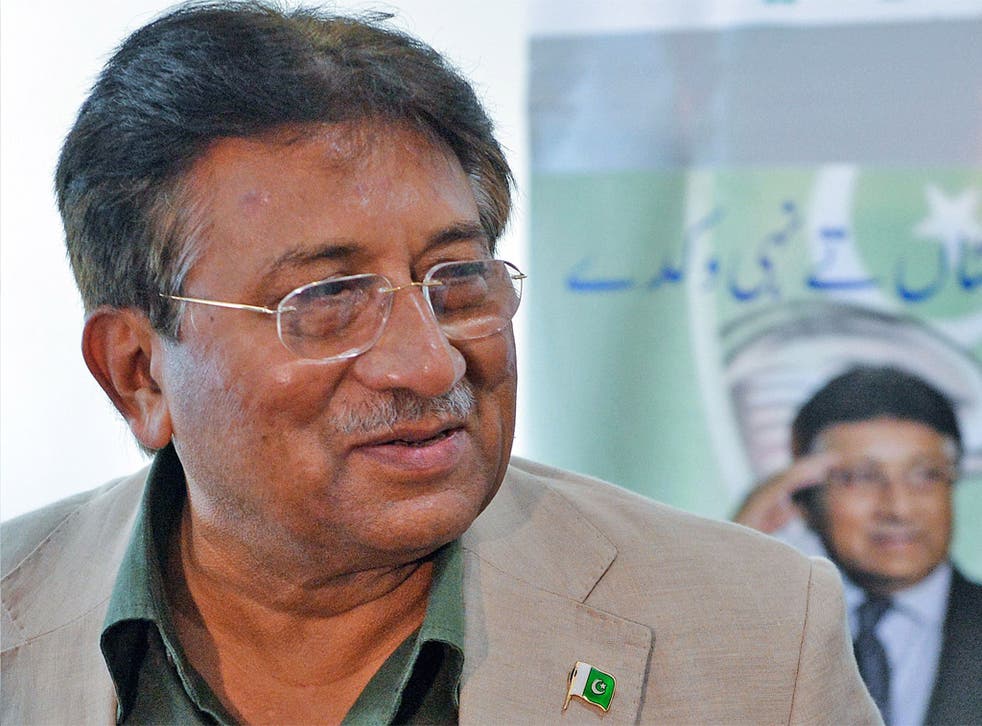 Seven months after he returned to Pakistan in a disastrous attempt to reenter political life which ended with his humiliating arrest and detention, former military ruler Pervez Musharraf has been granted bail. His lawyer said he could leave Pakistan as soon as Thursday.
Mr Musharraf's legal team on Wednesday secured bail for him in the third of three outstanding charges against him. He had earlier obtained bail in the other two cases.
"All three cases were false, fictitious and concocted. It was done to pull him into the courts and keep him away from participating in the election," said Mr Musharraf's lawyer, Ahmed Raza Khan Kasuri, speaking from Islamabad.
He added: "Bail has now been granted...The moment the orders are completed, his house ceases to be a sub-jail and it will revert back to being a private house. Then, if he wants to go and see his ageing mother [in Dubai] or else go to London he is free to."
The 70-year-old returned to Pakistan in March to try and contest in the country's parliamentary elections, ending a four-year self imposed exile spent in Dubai and London. Ignoring advice from friends in Pakistan and senior officers within the military, Mr Musharraf believed there were large numbers of people ready to support his campaign to become prime minister.
As it was his campaign fell utterly flat. Just a few hundred people met him at Karachi airport and he was immediately on the run, dodging shoes hurled at him by protesters and dodging courts seeking to indict him on outstanding legal charges.
He was disqualified from standing in the four constituencies he hoped to contest and spent election day under house arrest at his home on the outskirts of Islamabad. The May election was won by Nawaz Sharif, who has twice previously served as premier.
"I don't think he was aware of the political reality on the ground. There was a massive nationwide mood against him," said Rasul Bakhsh Rais, a Lahore-based political analyst. "Every political party had taken against him. Even the party he had created as a facade – the Pakistan Muslim League-Q – was divided on the extent to which it should support him."
Mr Musharraf faces three charges, all of which he denies. He is charged over the murder of former prime minister Benazir Bhutto in December 2007, the suspension of judges when he imposed emergency rule in late 2007 and the 2006 killing of Baloch separatist leader Nawab Akbar Bugti.
It was the case of Mr Bugti's killing for which he was granted bail on Wednesday, on the condition of two sureties of 1m Pakistani rupees (around £5,800) each.
The arrest of Mr Musharraf, who seized power in a coup against Mr Sharif in 1999, broke new ground in Pakistan, where no former military leader had been treated in such a way. Senior military officers were reportedly unhappy to see him events unfold in such a way but the powerful armed force did not try and intervene with the actions of the court.
The question now for millions of Pakistanis now is will Mr Musharraf stay in the country or will he leave. Many will suspect that if he does now leave Pakistan he may not return.
"Musharraf has been freed after a little under six months of luxurious house arrest. This says as much about the civil-military imbalance in Pakistan as anything and Musharraf is unlikely to be persecuted...if he stays put and faces accountability," said Ali Dayan Hasan of Human Rights Watch.
He added: " In the absence of a legal bar, he is, of course, free to travel. But if he flees, he will go down in history not only as the dictator who mounted two coups but the one who then fled the country twice."
Yet Mr Kasuri, the former general's lawyer, insisted that Mr Musharraf would "keep shuttling" between Pakistan and his homes in London and Dubai. He even claimed the former general could yet reenter politics in Pakistan.
"He is the only politician in Pakistan with any credibility," he said. "Nawaz Sharif and Imran Khan – they have been failures. He ran the country for eight years. The West knows he can control this region."
Register for free to continue reading
Registration is a free and easy way to support our truly independent journalism
By registering, you will also enjoy limited access to Premium articles, exclusive newsletters, commenting, and virtual events with our leading journalists
Already have an account? sign in
Register for free to continue reading
Registration is a free and easy way to support our truly independent journalism
By registering, you will also enjoy limited access to Premium articles, exclusive newsletters, commenting, and virtual events with our leading journalists
Already have an account? sign in
Join our new commenting forum
Join thought-provoking conversations, follow other Independent readers and see their replies