Freak weather destroys Afghan poppies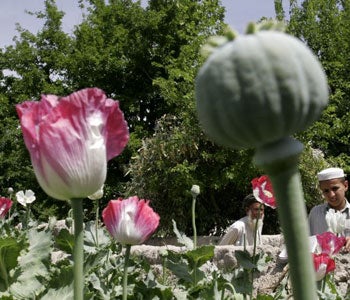 Faltering British efforts to tackle Afghanistan's poppy crop have found an unlikely ally – in the weather.
Freak weather linked to global warming is expected to reduce parts of the country's opium harvest drastically. Scientists believe freezing winter temperatures followed by late rains and a possible drought may cut this year's yields, with some farmers losing half of their crop.
The fierce winter cold – which claimed hundreds of lives across Afghanistan – is thought to have stopped millions of poppy seeds from germinating. Late rains have then stunted many of the plants that survived.
One expert said: "It was too cold in some areas for the seeds to come alive. Between 30 per cent and 50 per cent of the seeds may not have germinated."
Survey teams are busy scouring the country's poppy fields to get precise data on this season's plants. Privately, UN officials and European diplomats predict a drop in yields.
Poppies are more resistant to drought than food crops, but a nationwide water shortage at a key stage in the plants' life cycle is expected to stunt the size of the opium bulbs. Farmers harvest the sap from the bulbs. "The more water, the more opium," said the head of the UN environment programme, Asif Zaidi. "This year was exceptionally cold, followed by low rainfall. Some of the crop will be destroyed. But what extent we don't yet know."
Poppy cultivation increased from just 8,000 hectares in 2001, the last year of the Taliban regime, to a "frightening" 192,000 hectares last year, according to the UN, despite British-led efforts to crack down on the illicit crop.
Last year, Afghanistan produced a record 93 per cent of the world's poppy harvest. The industry is worth at least £2bn, almost half of Afghanistan's GDP.
The poppy farmers worst affected are those who planted in November, after the cold spell set in. That includes half of Helmand's poppy farmers and a third of growers nationwide.
Afghanistan's dry climate is especially susceptible to climate change, Mr Zaidi said. "Minor climatic changes result in major impacts," he added. "There are definitely changes taking place in Afghanistan."
Join our commenting forum
Join thought-provoking conversations, follow other Independent readers and see their replies