Tree frog thought extinct for 137 years rediscovered
'We heard a full musical orchestra coming from the treetops. It was magical. Of course we had to investigate,' scientist says
Charlotte Beale
Thursday 21 January 2016 12:06 Comments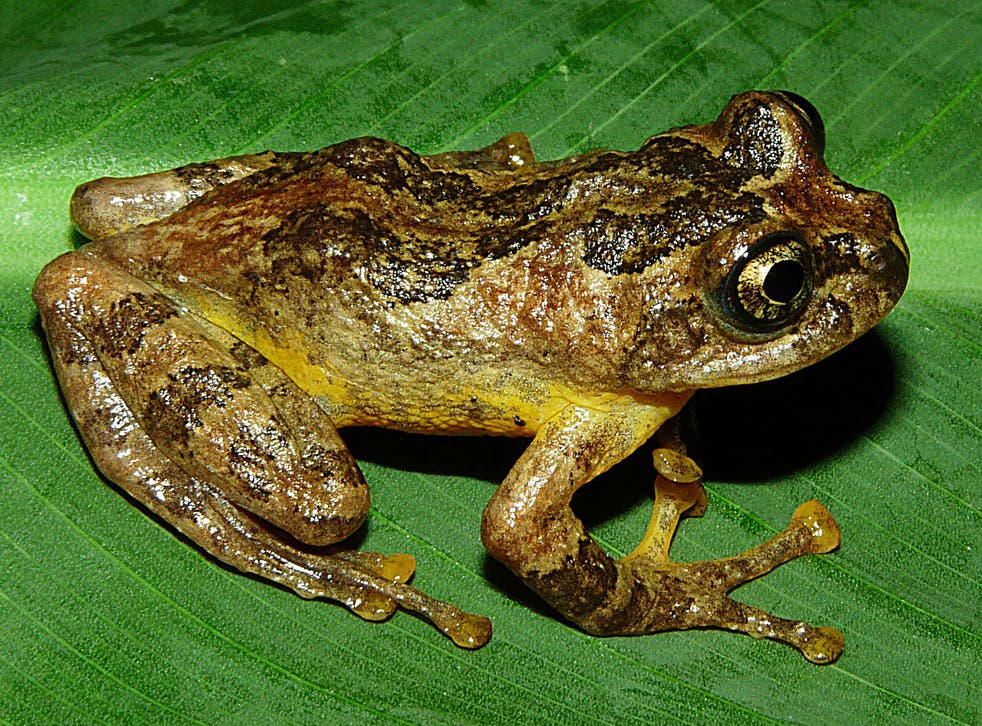 A tree frog presumed extinct for more than a century has been discovered again in an Indian jungle.
Last recorded in the wild in 1870, the frog was found again in 2007 by a renowned Indian professor dubbed The Frog Man for discovering over a quarter of his country's 350 frog species.
But now DNA tests have revealed the frog is part of a new genus, a category one degree wider than species.
The frogs, found in north-east Indian states, live in tree holes up to 6m above the jungle floor, which may be why they have escaped scientists' notice for nearly 140 years.
The female frogs have an unusual way of tending their young, feeding their tadpoles on other unfertilised eggs. The tadpoles have suction-like mouths, instead of teeth, to pull in the eggs.
The world has 8.7 million species (but we've hardly met any of them)

Show all 7
The frogs' singing alerted University of Delhi Professor Sathyabhama Das Biju to them in 2007 during a hunt in Meghalaya.
"We heard a full musical orchestra coming from the treetops", he said.
"It was magical. Of course we had to investigate."
Despite the rediscovery, the frog's survival is under threat from deforestation and pollution caused by India's industrial growth. Forests in which his team found the frogs in 2007 and 2008 have already been burned for development.
"This frog is facing extreme stress in these areas, and could be pushed to extinction simply from habitat loss," Professor Biju said.
"We're lucky in a way to have found it before that happens, but we're all worried."
In recognition of the frog's new genus, Professor Biju has updated its name from Polypedates jerdonii (after Thomas Jerdon, the British naturalist who first found the frog in 1870) to Frankixalus jerdonii, in honour of zoologist and former supervisor Franky Bossuyt.
Jerdon's specimens, collected in 1870, are housed at London's Natural History Museum and were previously thought to be some of the last remaining evidence of the frog.
A study on the new frog genus was published in science journal PLOS ONE.
Register for free to continue reading
Registration is a free and easy way to support our truly independent journalism
By registering, you will also enjoy limited access to Premium articles, exclusive newsletters, commenting, and virtual events with our leading journalists
Already have an account? sign in
Join our new commenting forum
Join thought-provoking conversations, follow other Independent readers and see their replies