Hindu nationalist shoots Gandhi effigy in 'reenactment' of his assassination
Congress spokesperson says such incidents emboldened by Narendra Modi's Hindu nationalist government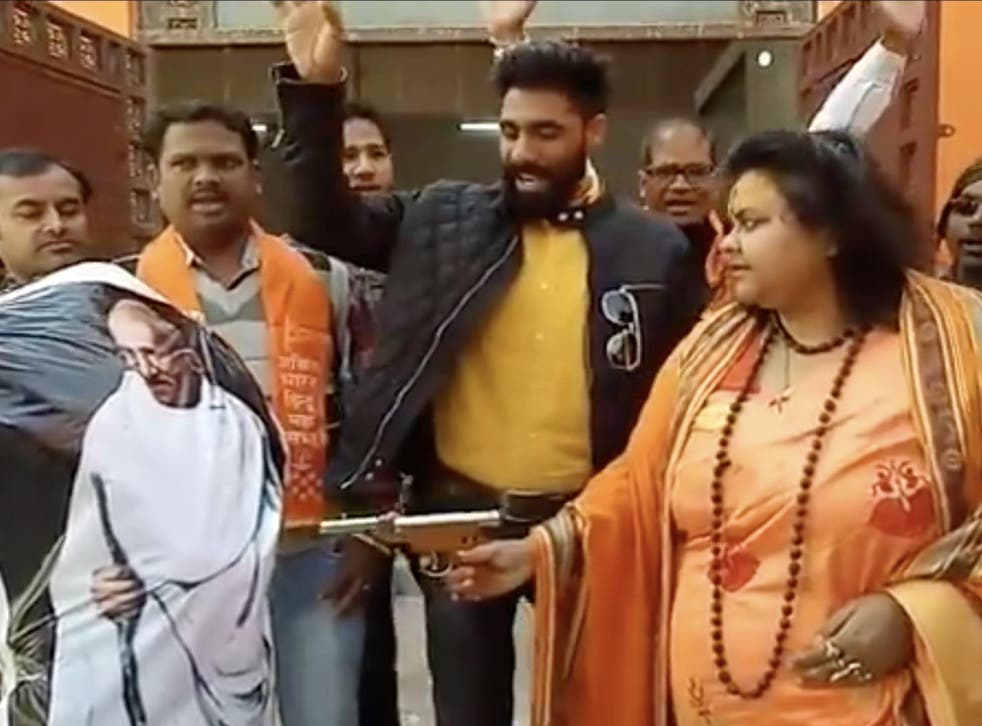 Police in India have arrested a senior far-right Hindu nationalist for shooting an effigy of Mahatma Gandhi in a recreation of his assassination 71 years ago.
Pooja Pandey was described as the national secretary of Hindu Mahasabha, a fringe group that accuses Gandhi of being too moderate and each year celebrates the anniversary of his death.
In a video shot in January in the city of Aligarh in Uttar Pradesh, Ms Pandey, her husband Ashok and about a dozen other Hindu Mahasabha members wearing saffron, can be seen gathered around an effigy covered with a printed full-length image of Gandhi.
With the camera rolling, Ms Pandey aims an air pistol at the effigy and fires. The camera pans down to show fake blood pooling at the bottom of the effigy, and a later clip shows party members dousing it with fuel and setting it on fire.
The video also purportedly showed Ms Pandey garlanding a statue of Gandhi's assassin, Nathuram Godse, a Hindu nationalist who was hanged in 1949 for murdering the independence leader.
Best photos from India's Republic Day parade

Show all 20
Since the video was widely shared on social media and sparked an inevitable outrage, police have detained or lodged cases against nine Hindu Mahasabha members, including Ms Pandey and Mr Pandey, a party spokesperson.
Speaking outside court where the two appeared on Wednesday, Mr Pandey did not deny their involvement in the video but argued that they did nothing wrong.
The couple had "no regrets", they told reporters. Mr Pandey compared the recreation of the assassination to Ravana Dahan, a ritual where effigies are burned to celebrate the day when Lord Rama killed Ravana, as told in the Hindu epic Ramayana.
"We don't find anything wrong in it because the country celebrates Ravana Dahan as well by recreating the scene. We have done the act inside our office premises," he said.
He added that Gandhi was responsible for the partition of India, in which 1 million Hindus died.
Police said those involved in making the video were arrested for inciting hatred between groups and insulting religion. "We arrested nine people within a week and are searching for two more suspects in the case," officer Neeraj Jadaun told the BBC.
India's main opposition Congress party, of which Gandhi was a member, has led the outrage against the video, organising protests across the country on Monday.
Government spokesperson Pawan Khera claimed that Narendra Modi's Hindu nationalist BJP, which forms the central government as well as the Uttar Pradesh state assembly, had emboldened such incidents and given Gandhi critics a sense of impunity.
Support free-thinking journalism and attend Independent events
While Mr Modi has occasionally called upon the legacy of Gandhi, since 2014 his party has elevated Hindu nationalist leaders from the past and drawn less focus to the historic role of Congress figures such as Gandhi and Jawaharlal Nehru, India's first prime minister.
The phenomenon of Godse worship is not new. Hindu Mahasabha members have idolised Gandhi's assassin and his accomplice Narayan Apte as hutatma (martyr) for decades. In 2015 the group tried and failed to install statues of Godse across southern Karnataka state, and in 2016 controversially placed a bust of him in their office in Meerut, Uttar Pradesh.
Register for free to continue reading
Registration is a free and easy way to support our truly independent journalism
By registering, you will also enjoy limited access to Premium articles, exclusive newsletters, commenting, and virtual events with our leading journalists
Already have an account? sign in
Register for free to continue reading
Registration is a free and easy way to support our truly independent journalism
By registering, you will also enjoy limited access to Premium articles, exclusive newsletters, commenting, and virtual events with our leading journalists
Already have an account? sign in
Join our new commenting forum
Join thought-provoking conversations, follow other Independent readers and see their replies