India at odds over Gandhi's legacy as nation marks founding father's 150th birthday
Narendra Modi calls on Indians to work 'shoulder to shoulder... to make our world free from hate'. But critics say his administration's actions in Kashmir and Assam are far from Gandhian ideals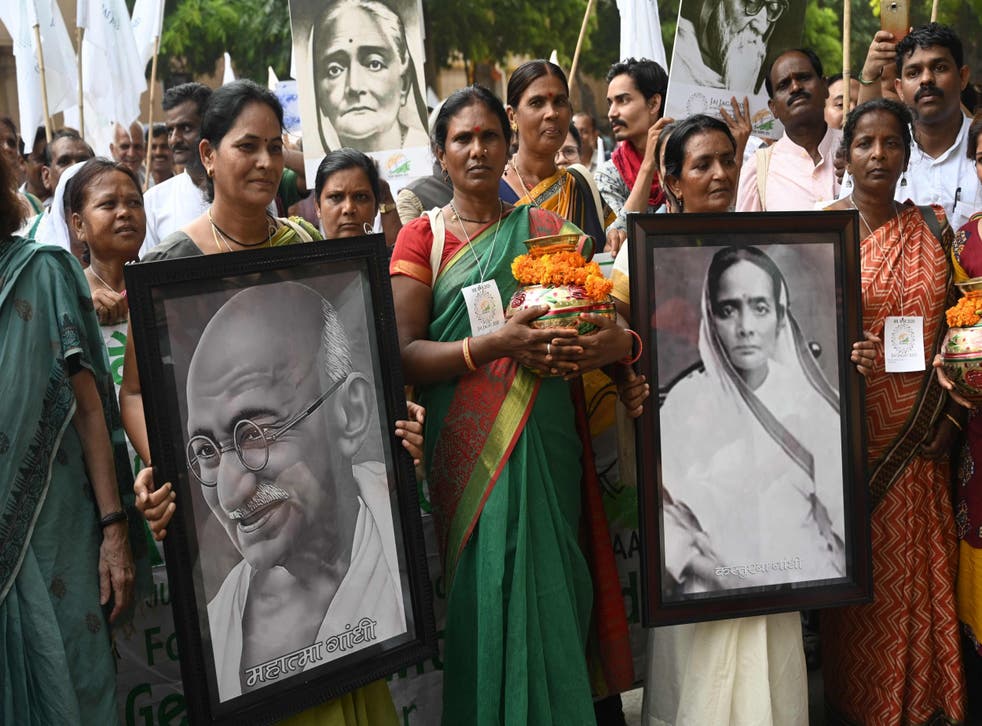 Events were held across India on Wednesday to mark the 150th anniversary of the birth of Mahatma Gandhi, the man known as the father of the nation.
Prime minister Narendra Modi paid an early morning tribute to Gandhi at the Raj Ghat memorial on the banks of the Yamuna River in Delhi that is dedicated to the independence leader.
The government is using the anniversary, which is also a national holiday, to make two key announcements on cleanliness and the environment - saying that these were matters close to Gandhi's heart.
At an event later in his home state of Gujarat, Mr Modi was due to declare that India was "open defecation free" (ODF) following the completion of a five-year programme to build more than 100 million toilets across the country.
And both central and state governments announced a variety of schemes to address the chronic problem of the plastic waste that blights the landscapes of all major Indian cities and thoroughfares.
Writing in an op-ed for the New York Times, Mr Modi urged Indians to come together and honour Gandhi's legacy by "working shoulder to shoulder to make our world free from hate, violence and suffering". Gandhi, he wrote, "had the unique ability to become a bridge between some of the greatest contradictions in human society".
Both Wednesday's policy announcements have their critics, with independent assessments suggesting that in reality open defecation remains commonplace in many towns and villages that have nominally been declared "ODF".
Nonetheless, the Modi administration has been recognised for its efforts, with the prime minister receiving a Global Gatekeeper Award from Bill Gates, despite the Gates Foundation's admission that "there is still a long way to go".
Meanwhile, officials had until two weeks ago been heavily hinting at the introduction of a blanket ban on various common single-use plastic products to mark Gandhi's birthday - only for the ministry of environment to scale this back to what effectively amounts to an awareness drive "telling people about the ill-effects of plastic".
There were also broader concerns about the way in which Mr Modi and his ruling Hindu nationalist party, the BJP, have aggressively adopted the image of Gandhi in the promotion of many of their biggest policies and programmes.
The Indian government has been criticised in recent months for an authoritarian lockdown on communication and freedom of movement in Kashmir, as well as the imposition of a citizenship registry in the border state of Assam that saw almost two million people told they could be declared foreigners.
And while at the Gandhi memorial in Parliament there were scenes of cross-party unity on Wednesday morning, the chief of the main opposition Congress party Sonia Gandhi launched a sharp attack on the BJP during a speech later on her own visit to the Raj Ghat memorial.
Ms Gandhi is the daughter-in-law of former prime minister Indira Gandhi, who was herself the daughter of India's first prime minister and Gandhi's contemporary Jawaharlal Nehru.
Ms Gandhi said that Mahatma Gandhi's soul "would have been pained by what's been happening in India in the last few years", and in a reference to the ruling party added: "Those doing politics of falsehood will not understand Gandhi's philosophy of non-violence."
Professor Mridula Mukherjee, an Indian historian who has written a number of books on the independence movement, spoke at an event on Gandhi's legacy hosted by the social activism NGO Anhad.
She told The Independent that Gandhi should be remembered first and foremost for his belief in secularism, at a time when the ruling party is profiting from "a majoritarian wave and anti-minority sentiment that has taken over the country".
"You cannot choose just one thing that Gandhi was concerned about - cleanliness - and forget about the fact that he was, first and foremost, a fighter against repression," she said.
"Can [Mr Modi] not see the lynching [of Muslims], can he not see what's going on in Kashmir? He is using Gandhi's voice, but is this the way Gandhi would have ever wanted India to be? I think he would have had lots to say about the way India is being governed under the prime ministership of Mr Modi."
Join our new commenting forum
Join thought-provoking conversations, follow other Independent readers and see their replies