Gap says sorry for selling T-shirt bearing 'incorrect' map of China
Gap says it 'respects the sovereignty and territorial integrity of China'
Jessica Morgan
Tuesday 15 May 2018 17:06 Comments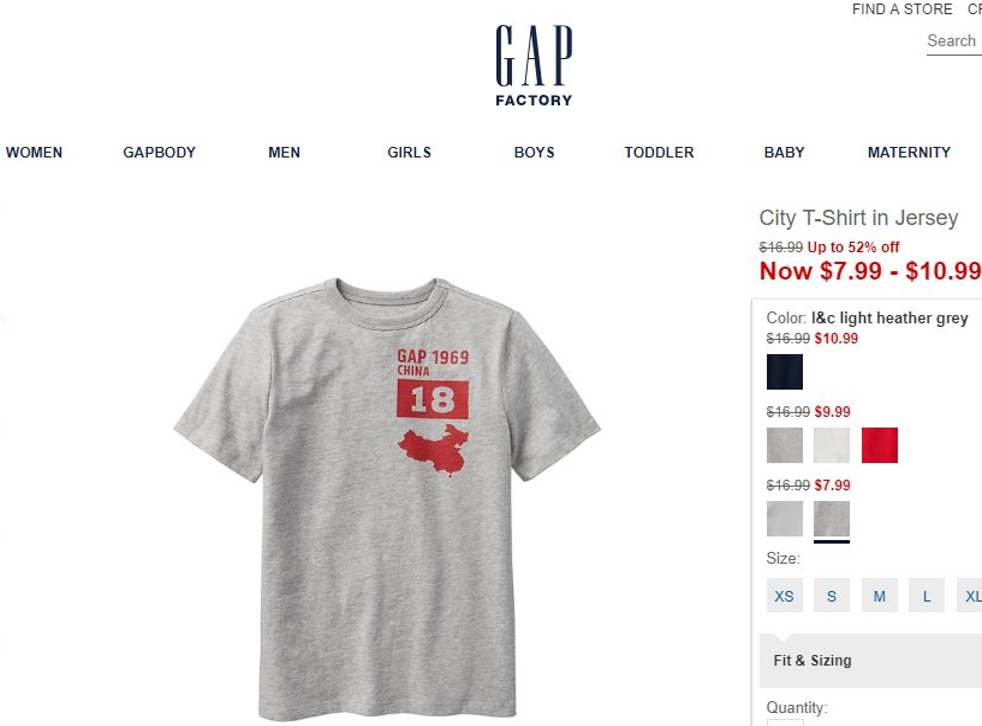 The American clothing giant Gap has apologised following a social media backlash for selling T-shirts that sported a map of China which omitted contested territories such as south Tibet, Taiwan and the South China Sea islands.
Pictures of the T-shirt surfaced online after a user on the Chinese social media network Weibo noticed it was on sale in Canada. The post sparked hundreds of complaints, leading Gap to issue a statement saying it would implement "rigorous reviews" to prevent such an incident happening again.
"Gap Inc. respects the sovereignty and territorial integrity of China. We've learned that a Gap brand T-shirt sold in some overseas markets failed to reflect the correct map of China. We sincerely apologise for this unintentional error," it said in a statement posted on its Weibo account on Monday evening.
It said the products had been destroyed following their withdrawal from the Chinese market, although the fate of the T-shirts being sold in the rest of the world was unclear.
According to the Global Times newspaper, the English-language edition of the state-owned People's Daily, "hundreds of Weibo users (were) protesting the company's act of disrespect to China's territorial sovereignity."
One user branded the company "stupid", while others called for the firm to withdraw the T-shirt from the market.
"Stupid, rubbish company, " said one comment. "Get out of China if you don't recognise its borders."
Another user wrote: "Resist such a rubbish company! And withdraw this T shirt from all markets."
The Chinese government in Beijing considers self-governed Taiwan to be an integral part of its territory and comes down hard on any suggestions to the contrary.
Gap becomes the latest Western company to offend consumers in its Chinese markets. Last month Beijing demanded various foreign airlines respect China's sovereignty claims and change the way they refer to Taiwan, Hong Kong and Macau.
This forced an apology from Delta Airlines, among others, but the White House was strident in its condemnation of the move.
The US dismissed the South Asian nation's claims as "Orwellian nonsense" and rebuked Beijing for attempting to subject American companies and American citizens to its "political correctness".
Mercedez-Benz apologised in February for quoting the Dalai Lama on the company's Instagram page. The Tibetan spiritual leader is reviled by Beijing, and Mercedez-Benz issued a statement admitting it had "hurt the feelings" of the Chinese people.
The Independent has contacted Gap Inc for comment on this story.
Register for free to continue reading
Registration is a free and easy way to support our truly independent journalism
By registering, you will also enjoy limited access to Premium articles, exclusive newsletters, commenting, and virtual events with our leading journalists
Already have an account? sign in
Join our new commenting forum
Join thought-provoking conversations, follow other Independent readers and see their replies