Girls and unmarried women in India banned from using mobile phones to prevent 'disturbance in society'
Married women in a Gujarat village now face fines of around £21.60 for breaching the new rule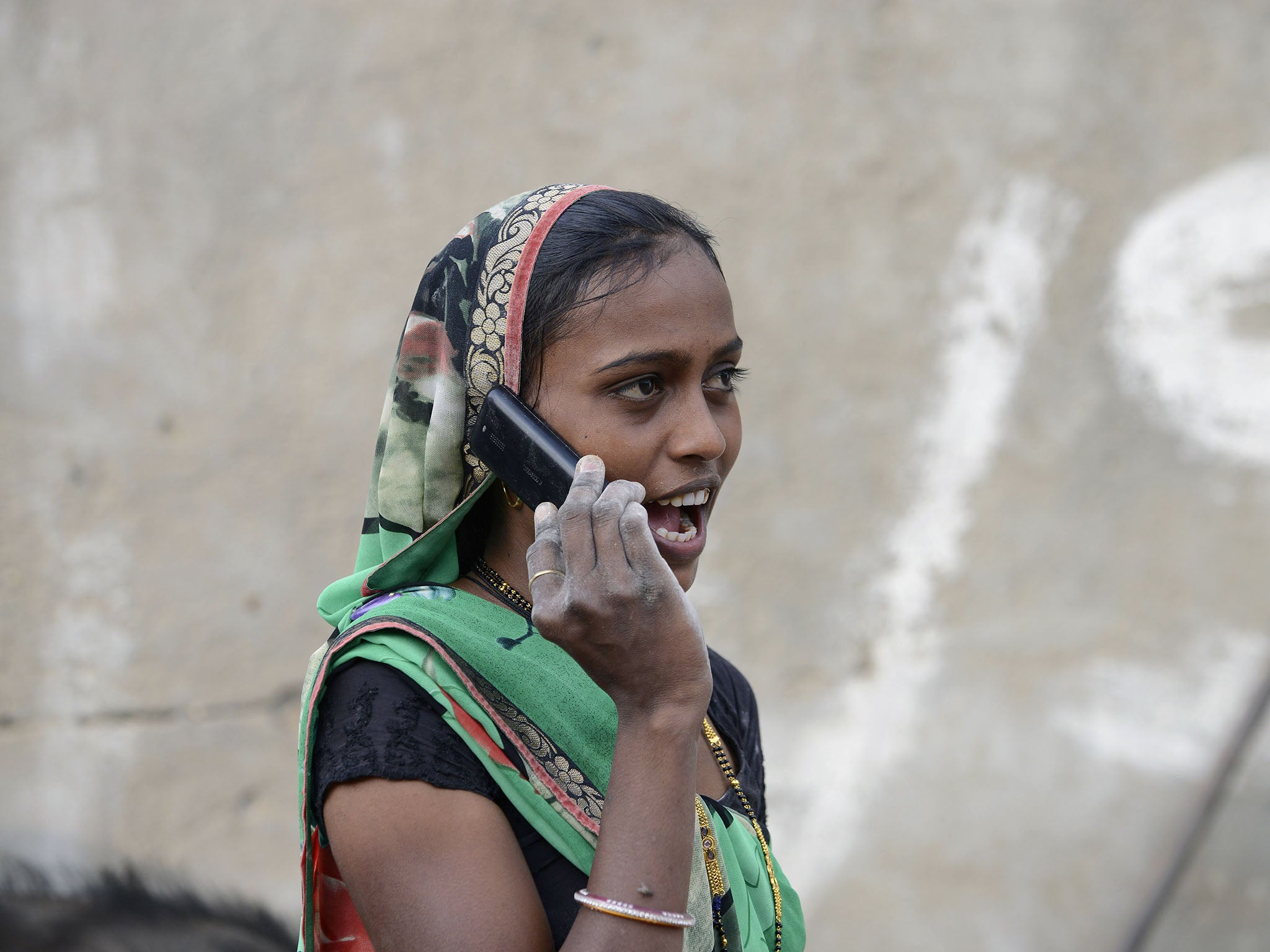 A village in Gujarat has reportedly banned women from using or possessing mobile phones - with the threat of fines for those caught in the act.
As of 12 February, women in Suraj village face fines of Rs 2,100, around £21.60, for breaking the new rules, while informers can receive a reward of Rs 200 (£2).
The average daily wage in India is Rs 193 (£2), although 250 million people live below the poverty line earning just Rs 86 (90p) per day.
According to the Hindustan Times, village head Devshi Vankar said: "Why do girls need cell phone? Internet is a waste of time and money for a middle-class community like us.
"Girls should better utilise their time for study and other works."
According to the website, Mr Vankar also said the "entire population of 2,500" in the village "welcomed the decision" issued by the panchayat, or local self-government.
The only exception to the ban is made if a relative wants to talk to a woman, in which case she is permitted to use her parent's phone.
It is believed the new rule was created as part of a drive to fight alcoholism mainly aimed at men in the village.
Village elders felt the use of mobile phones by unmarried women created problems in society similar to those caused by the abuse of alcohol by men.
Raikarnji Thakor, a community leader from north Gujarat, said: "Alcohol consumption by men and cell phone use by women creates a lot of disturbance in society.
"Young girls get misguided. It can break families and ruin relationship."
Suraj village, which is 100km from Ahmedabad, the largest state in Gujarat, is the first in the region to implement the restrictions, but the Hindustan Times says other northern parts of the state could follow.
Meanwhile, the Times of India reports the panchayat of Aligargh, a village in Agra, has announced a complete ban on mobile phones for girls under 18.
Parents of those who break the rules will reportedly be forced to sweep 500m of village roads for five days in punishment, the paper reports, or pay a fine of Rs 1,000 (around £10).
Panchayat coordinator Ramveer Singh told the website: "Girls get spoiled and get involved in relationships with boys at a young age because they use phones.
"This further leads to crime against them. In our times, there were no such problems, but this technology has spoiled them and we needed to curb it.
"In a meeting of village elders and other men, it was decided that several teams will keep a tab on girls carrying phones."
According to the Times of India, Barmer, a Rajasthan village, banned girls from using mobiles last year, while Muzaffarnagar, a city in Uttar Pradesh, forbade girls and young women from mobile phones, jeans and other so-called western items in 2014.
Indian prime minister Narendra Modi, who hails from Gujarat state, launched Digital India, an initiative to improve online infrastructure and increase internet connectivity to ensure all citizens have access to government services, in July 2015.
One of the nine pillars of this initiative is 'universal access to mobile connectivity'.
Join our commenting forum
Join thought-provoking conversations, follow other Independent readers and see their replies