Couple wins custody battle over surrogate mother who refused to give baby to two gay men
'Today is a huge day for love, for family and for truth. And it is also a big day for LGBT rights'
Alexandra Sims
Tuesday 26 April 2016 09:17 Comments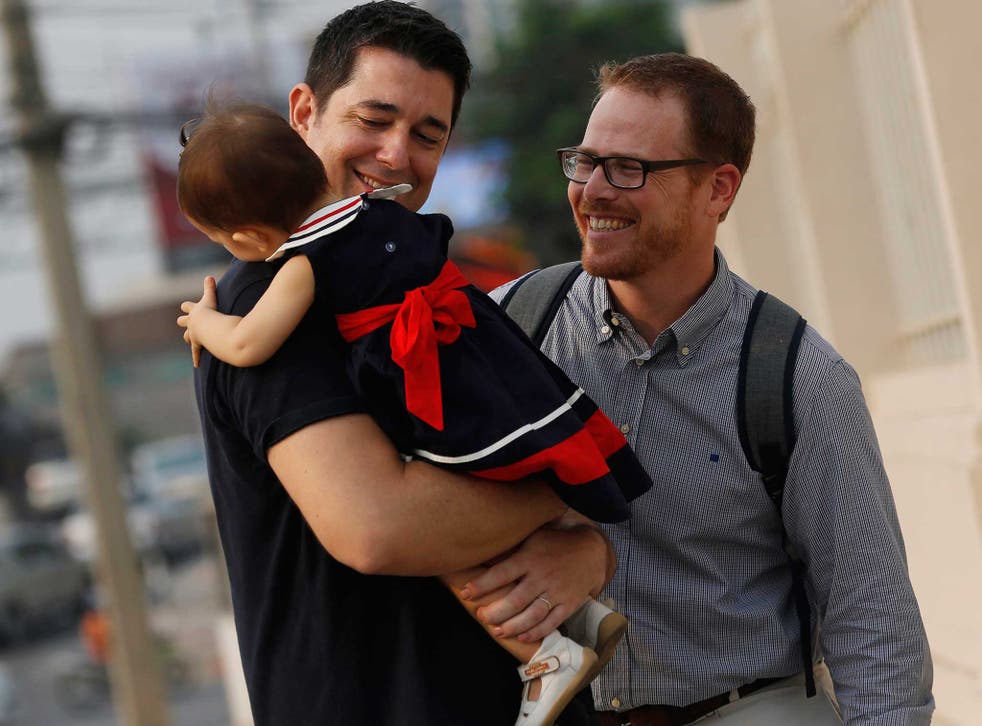 A same-sex couple have won a lengthy custody battle against a surrogate mother in Thailand who gave birth to their daughter but signed papers preventing her leaving the country after discovering they were gay.
The Juvenile and Family Court in Bangkok granted legal custody of 15-month-old Carmen to her American biological father, Gordon Lake, on Tuesday.
Mr Lake and his Spanish husband, Manuel Santos, both 41, have been living in Thailand since launching their legal battle after Carmen was born in January 2015.
The case was seen as complex as Thai law does not recognise same-sex marriage and commercial surrogacy is banned in the country under a new law which came into effect after Carmen's birth.
Mr Lake's lawyer, Rachapol Sirikulchit, said the court's ruling was based on a transitory clause in the law allowing the intended parents of any baby born before the law took effect to request to be legal parents.
The egg came from an anonymous donor and the surrogate, Patidta Kusolsang, is not biologically related to Carmen. After Carmen's birth, Patidta handed her to the couple, who left the hospital with the infant.
She later refused to sign documents allowing Carmen to get a passport saying she had previously believed they were "an ordinary family" and she was "worried for Carmen's upbringing".
Emerging from court on Tuesday, Mr Santos told reporters: "We won. We are really happy… this nightmare is going to end soon."
Writing on Facebook, Mr Lake and Mr Santos, called the ruling "a big day for LGBT rights".
"There is no way to express with words what we are feeling!...Today is a huge day for love, for family and for truth. And it is also a big day for LGBT rights," they said.
Mr Lake began a crowdfunding page that has raised around $36,000 to help cover costs of the trial and staying in Thailand.
On the page, Mr Lake says he does not know why the surrogate did not know he and his husband were gay and he was clear about their sexuality with their surrogacy agency, New Life, from the start.
The Bangkok-based New Life office has closed since commercial surrogacy was outlawed in Thailand in July 2015.
LGBT+ rights around the globe

Show all 9
Several high-profile scandals, including a case in which a high profile Japanese businessman who fathered 13 children through Thai surrogates and a further case of an Australian couple accused of abandoning their Down's Syndrome son with his Thai surrogate mother, unleashed an international outcry over the "wombs for hire" business and led to the ban.
Since her birth Carmen has lived with Mr Lake and Mr Santos who also have a toddler son, Alvaro, born to a surrogate mother in India with Santos the biological father.
The family have said they will live in Valencia, Spain but that they love Thailand and will return to visit often.
Mr Lake's lawyer said the couple would not be able to take Carmen out of the country immediately, pending the possibility of an appeal by the surrogate mother.

Additional reporting by Associated Press
Register for free to continue reading
Registration is a free and easy way to support our truly independent journalism
By registering, you will also enjoy limited access to Premium articles, exclusive newsletters, commenting, and virtual events with our leading journalists
Already have an account? sign in
Join our new commenting forum
Join thought-provoking conversations, follow other Independent readers and see their replies