'Lonely' elephant who sparked petition over poor living conditions dies in Japanese zoo, aged 69
Hanako has lived alone in the Inokashira Park Zoo in Tokyo since 1954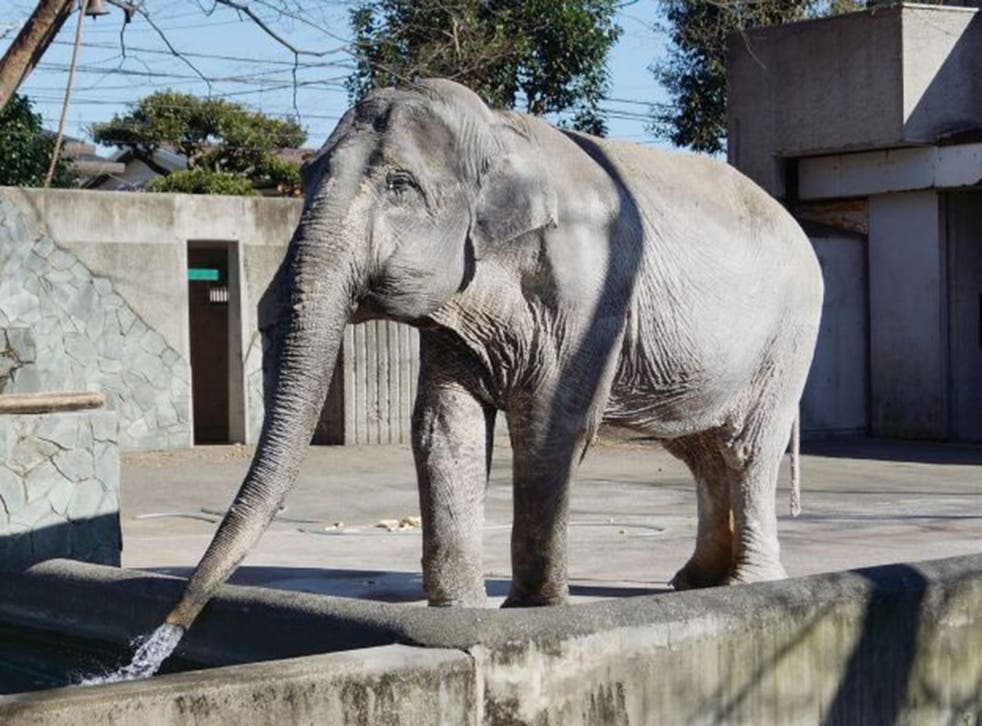 A "lonely" elephant who had been the subject of a campaign to save her from isolation has died in a small zoo in Japan aged 69.
Hanako was a gift from the Thai government in 1949 and has lived alone in the Inokashira Park Zoo in Tokyo since 1954.
She became a popular tourist attraction and her relationship with her keeper was made into a novel and later a TV series, the Bangkok Post reports.
Critics urged the Japanese government to send Hanako back to a sanctuary in Thailand to live out the rest of her days with her fellow animals.
A petition launched by animal welfare activists urged Japan to send her back to Thailand, but Tokyo argued the elephant was too old to travel.
An independent expert who examined her, American Carol Buckley, agreed with the zoo and suggested improvements could be made to Hanako's living conditions. These included changes to her enclosure and for the zookeepers to spend more time with her.
Ms Buckley said it would be too bewildering for Hanako to live with other elephants after spending so long by herself.
As a result the zoo built new fencing around her enclosure, but reported that she was too frightened by the changes to go outside.
A zoo spokesman, Naoya Ohashi, said Hanako, whose name means "flower child", was discovered lying on her side on Thursday morning.
Despite repeated efforts to raise her by staff, she died peacefully later that afternoon.
Mr Ohashi said an autopsy will determine the cause of her death, but any elephant that remains on its side for long periods of time, at any age, can suffer organ damage.
Her regular birthday celebration, when the Thai Embassy brought her fresh strawberries every March, was cancelled this year.
Where not to visit if you love animals

Show all 9
The elephant had been gradually getting weaker and had been eating less in recent months.
Hidemasa Hori, the zoo's deputy director and general curator, said: "I'm filled with sorrow.
"Today is that inevitable moment that always comes when one's job is working with animals in a zoo.
"Hanako was the symbol of Japan's peace and growth after World War II. And so an era has come to an end."
Ulara Nakagawa, a Canadian resident whose blog about Hanako inspired the petition to move her, said it was sad that she had had to spend her life living in an enclosure without dirt or grass to play in.
She said: "Most tragic is that she was deprived of true, lasting companionship, which is crucial to an elephant's overall well-being.
"I hope that Hanako's legacy will be to inspire her fans in Japan and elsewhere to better educate themselves on elephant welfare and work to expose and improve the living conditions of the many other captive zoo elephants who need us.
"Rest in peace, Hanako. You will not be forgotten."
Additional reporting by AP
Join our new commenting forum
Join thought-provoking conversations, follow other Independent readers and see their replies