Harrowing stories emerge as Burma boat people are cast adrift off Asia's shores
The maritime refugee crisis in the Andaman Sea is the biggest on the continent since the flood of Vietnamese boat people in the late 1970s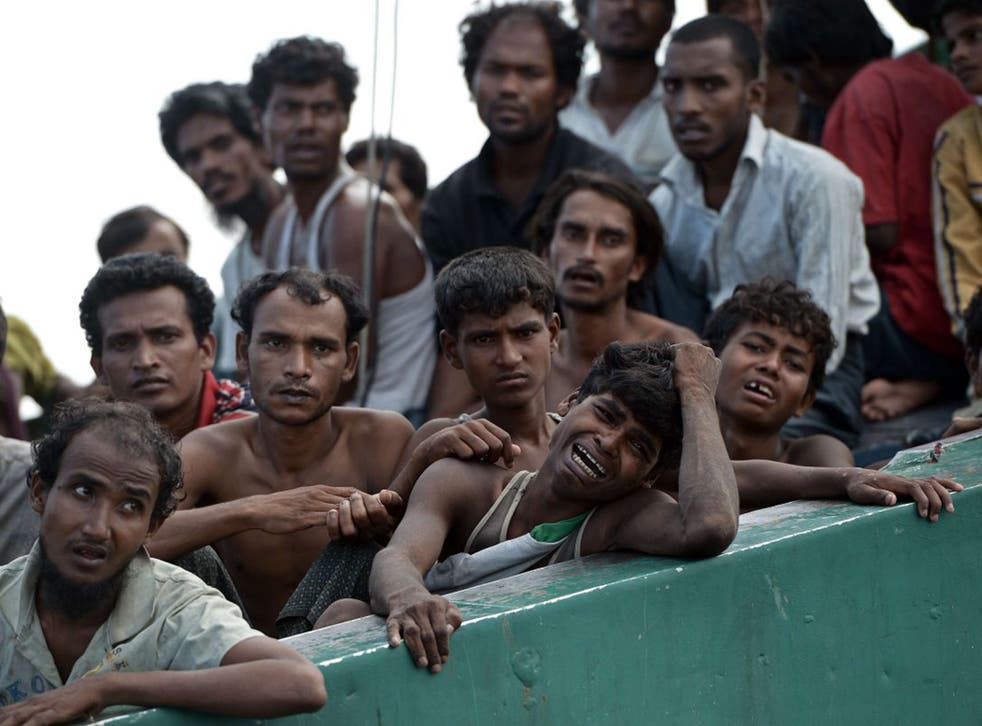 Manu Abdul Salam, a young Rohingya woman and one of 800 boat people to reach the Indonesian village of Langsa, said, "If
 I had known that the boat journey would be so horrendous, I
 would rather have just died in Mynanmar [Burma]."

Her
 wooden boat was one of three towed into harbour in eastern
 Aceh in the island of Sumatra on Friday. But others bearing
 an estimated 8,000 more people continued to wallow in the
 Andaman Sea, refused permission to land by Thailand,
 Indonesia and Malaysia, in the biggest Asian maritime
 refugee crisis since the flood of Vietnamese boat people in
 the late 1970s. 

Manu's story is
 harrowing. She described how, several days before, the
 ship's captain had destroyed the engine and fled by
 speed boat, apparently after receiving a phone call. With
 food and water running short, tempers flared between the
 Rohingyas and Bangladeshis on board, and her 20-year-old
 brother was one of dozens killed in violent clashes between
 the two Muslim communities.
"They thought the captain
 was from our country," she told Associated Press in
 tears, "so they attacked us with sticks and knives. My
 brother is dead."
 Her report of
 violence and death was confirmed by a Bangladeshi survivor,
 who said he and others had been lured aboard with promises
 of well-paid work in Malaysia, but once on the ship they had
 been starved and abused by the captain, who rang their
 families to demand money. "When we asked for water, the
 captain hit us with wire," he said.

The
 spokesman for Burmese President Thein Sein, in Burma's
 first official comment about the crisis, said, "We
 cannot say that the migrants are from Myanmar unless we can
 identify them." Mr Ye Htut went on, "Most victims
 of human trafficking claim to be from Myanmar [Burma], it is
 very easy and convenient for them."

The
 illegal trafficking of Rohingya, victims of sustained
 persecution in Burma's Arakan state where they are
 denied citizenship and described as illegal immigrants from
 Bangladesh, with which Arakan shares a porous border, has
 been in full spate for three years, since an explosion of
 anti-Muslim violence in 2012. They have been joined by poor
 Bangladeshis seizing what is sold to them as the opportunity
 to find better-paid work. The UN refugee agency says that
 more than 100,000 have left, most taken south to Malaysia
 which has a steady demand for unskilled labour.
The present
 crisis erupted after Thai authorities carried out a
 crackdown on illegal trafficking camps, prompting many of
 the traffickers to abandon their boats in mid-ocean. 
 
 

Malaysian Prime Minister Najib Razak was quoted
 yesterday as saying the "humanitarian
 catastrophe" was a global issue to be resolved by the
 international community.
 "We allow some
 of them [from Burma] to land and provide humanitarian aid to
 them but Malaysia must not be burdened with this problem as
 there are thousands more waiting to flee from their
 region," Mr Najib told the state news agency
 Bernama.
 
 

An emergency conference of the nations affected
 will be convened in Bangkok on 29 May, but with no country
 willing to budge - Indonesia has said it will take in no
 more ships - a quick resolution appears unlikely. Burmese
 officials have suggested they may not attend the conference
 if the word Rohingya was used, as the government does not
 recognise the term.
 
 

In what was interpreted as an attempt to exert
 some pressure on Burma, President Obama has renewed
 for one year his authority to maintain sanctions on the
 country. The White House noted that "despite
 significant progress...concerns persist over...human rights
 abuses, particularly in ethnic minority areas and Rahine
 [Arakan] state."

Zeid Ra'ad al
 Hussein, the United Nations Human Rights chief, said,
 "I am appalled at reports that Thailand, Indonesia and
 Malaysia have been pushing boats full of vulnerable people
 back to sea, which will undoubtedly lead to many unavoidable
 deaths. The focus should be on saving lives, not further
 endangering them." He went on, "Until Burma's
 government addressed "the institutional discrimination
 against the Rohingya population, including access to
 citizenship, this precarious migration will
 continue."

A leader of the youth wing
 of Burma's National League for democracy, Nay Chi Win,
 told The Independent on Sunday, "We should treat them
 as human beings...Regardless of whether they are Bengali or
 Rohingya, they are victims. The highest priority, not only
 for Burma but for the whole world is to save the
 victims."
Join our new commenting forum
Join thought-provoking conversations, follow other Independent readers and see their replies