Hillary Clinton heaps more pressure on India to halt Iranian oil use
Delhi faces sanctions if the US determines it has not made a sharp reduction in imports
Andrew Buncombe
Tuesday 08 May 2012 11:42 Comments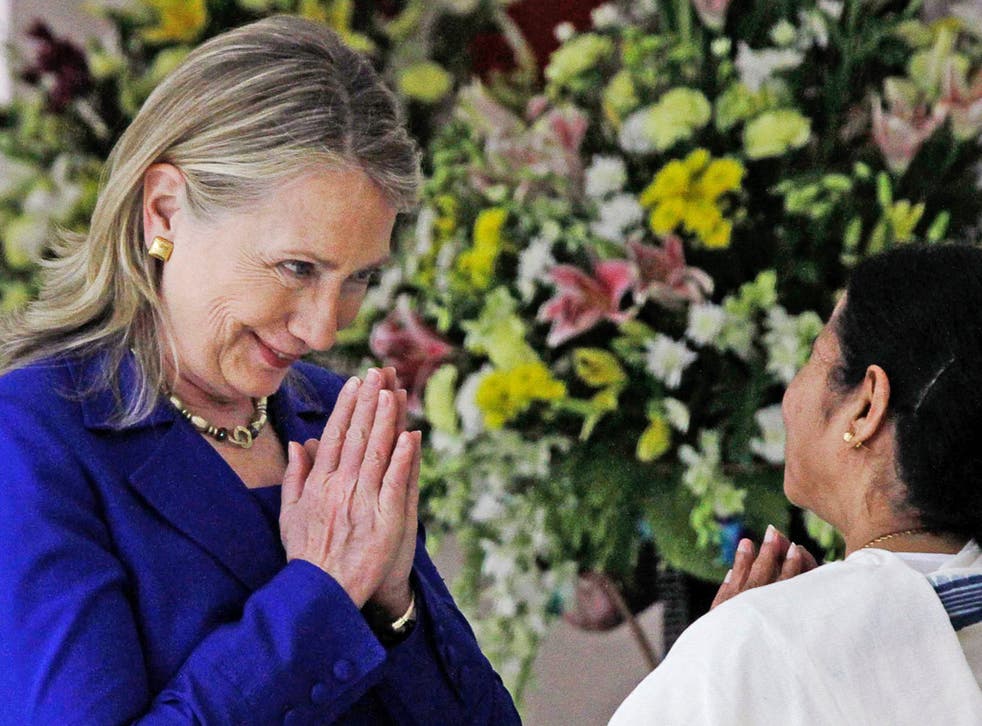 India is trying to avoid a showdown with the US over demands from Washington that it sharply drop its imports of oil from Iran.
The US Secretary of State, Hillary Clinton, is in India on a three-day visit and has pushed India to instead increase oil purchases from other suppliers, such as Saudi Arabia, in an attempt to pressure Iran over its nuclear programme.
"If there weren't an adequate supply we would understand, but we believe that there is adequate supply," Ms Clinton said yesterday in Kolkata. "We commend the steps [the Indian government has] taken and we hope they will do even more."
The US and the EU are seeking to pressure Iran amid allegations from political leaders that Tehran is planning to transform its nuclear energy infrastructure into a weapons programme. Iran has denied these claims and an assessment from America's intelligence agencies concluded earlier this year that Iran was not trying to develop weapons.
Nevertheless, the US is threatening to impose sanctions from 28 June on 12 nations including China and India that do not make a sharp reduction in oil imports from Iran. Japan and EU countries have been granted a waiver from these sanctions, which could include exclusion from the US banking system, after satisfying the US that these countries have already reduced Iranian imports.
It is likely India will seek to have it both ways and avoid a confrontation with the US and threaten a relationship that both countries say is increasingly important. At the same time, given its energy demands and its long relationship with Iran, it is unlikely to do more than make a modest reduction in its imports. India imports about nine per cent of its oil from Iran.
Last month, Indian Finance Minister, Pranab Mukherjee, said those imports had already been reduced and reports yesterday said the authorities had requested two oil importers to reduce imports by about 15 per cent. At the same time, India does not want to be seen giving in to Washington. Asked yesterday whether India was being bullied by the US, an Indian official who spoke on the condition that he not be named, said: "India is too big to be bullied."
He said the relationship between Iran and India was "civilisational and cultural" and said it was of growing economic value. He added: "We have had a relationship for thousands of years and we will continue to have a relationship for thousands of years."
Earlier this year, India announced it was seeking ways to avoid using US dollars to pay for Iranian oil and had agreed 45 per cent should be paid for in Indian rupees. Iran will then use this to buy goods from India.
In a further indication of the way that India will try to juggle its interests, it emerged yesterday that at the same time it is hosting Ms Clinton it is also welcoming a 50-strong business delegation from Iran.
Iran and the so-called six powers – America, France, Britain, China, Russia and Germany – last month resumed discussions over Iran's nuclear programme after a break of more than a year. The talks are scheduled to continue in Baghdad on 23 May.
I won't run for president again, Hillary insists
Hillary Clinton insisted yesterday that she has no desire to make another run for the White House, but said she does hope to see a female American President in her lifetime.
Ms Clinton said she wanted to see "that final glass ceiling" broken. Ms Clinton, who sought the Democratic nomination four years ago, noted that the US process is dependent on fundraising, which makes it hard for candidates to succeed.
AP
Register for free to continue reading
Registration is a free and easy way to support our truly independent journalism
By registering, you will also enjoy limited access to Premium articles, exclusive newsletters, commenting, and virtual events with our leading journalists
Already have an account? sign in
Register for free to continue reading
Registration is a free and easy way to support our truly independent journalism
By registering, you will also enjoy limited access to Premium articles, exclusive newsletters, commenting, and virtual events with our leading journalists
Already have an account? sign in
Join our new commenting forum
Join thought-provoking conversations, follow other Independent readers and see their replies