Hiroshima 70th anniversary: Japanese prime minister calls for end to nuclear weapons
Shinzo Abe said world leaders must 'open their eyes to the reality of the atomic bombings'
Caroline Mortimer
Thursday 06 August 2015 13:11 Comments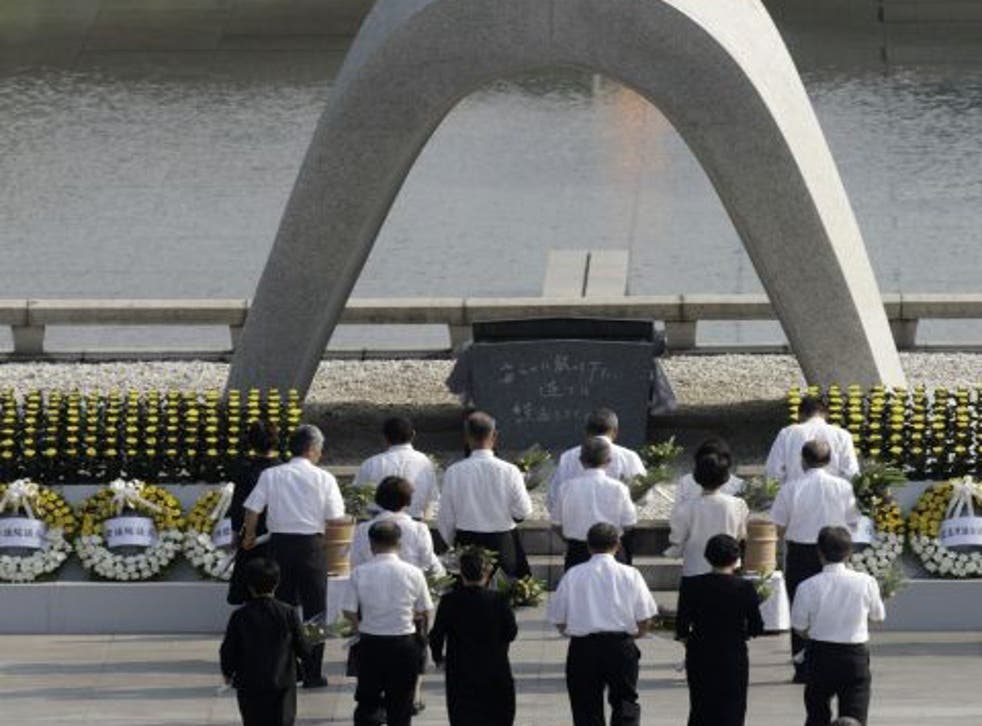 Japan has marked the 70th anniversary of the atomic bombing of Hiroshima with a renewed call for an end to nuclear weapons.
Tens of thousands of people stood for a minute's silence at 8:15am local time near the epicentre of the attack - now the Hiroshima peace park - to mark the moment the bomb hit.
Speaking at the service, Prime Minister Shinzo Abe said Japan, as the only country who has been attacked with nuclear weapons, "has an obligation to realise a world without nuclear weapons".
He said: "President Obama and other policymakers, please come to the A-bombed cities, hear the hibakusha (surviving victims) with your own ears, and encounter the reality of the atomic bombings.
"Surely, you will be impelled to start discussing a legal framework, including a nuclear weapons convention."
Mr Abe also announced the next G7 summit, due to be hosted by Japan next year, will be held in Hiroshima.
The two nuclear bombs, dubbed "Little Boy" and "Fat Boy" by the Americans, were dropped on Hiroshima and Nagasaki on 6th and 9th August 1945, killing at least 210,000 thousand people in the initial impacts.
The "Little Boy" bomb destroyed 90 per cent of Hiroshima and cause a "black rain" of radioactive particles which has been linked to higher rates of cancer and radiation related diseases among the survivors.
The US justified the attack saying American soldiers would have had to launch a long and protracted ground war on the Japanese mainland which would have prolonged the war.
A fierce battle for the Okinawan islands had already killed 12,520 Americans and an estimated 200,000 Japanese, mostly civilians.
The Mayor of Hiroshima, Kazumi Matsui called nuclear weapons "the absolute evil and ultimate inhumanity" and attacked nuclear powers for continuing to keep them as threats to achieve their national interests.
In pictures: 70th anniversary of atomic bombing of Hiroshima

Show all 15
He said there are still approximately 15,000 nuclear weapons worldwide.
Additional reporting by AP
Register for free to continue reading
Registration is a free and easy way to support our truly independent journalism
By registering, you will also enjoy limited access to Premium articles, exclusive newsletters, commenting, and virtual events with our leading journalists
Already have an account? sign in
Join our new commenting forum
Join thought-provoking conversations, follow other Independent readers and see their replies