Outcry over 'absurdly heavy' prison sentences for leading Hong Kong democracy activists
Other pro-democracy activists and international rights groups have called for immediate release of the activists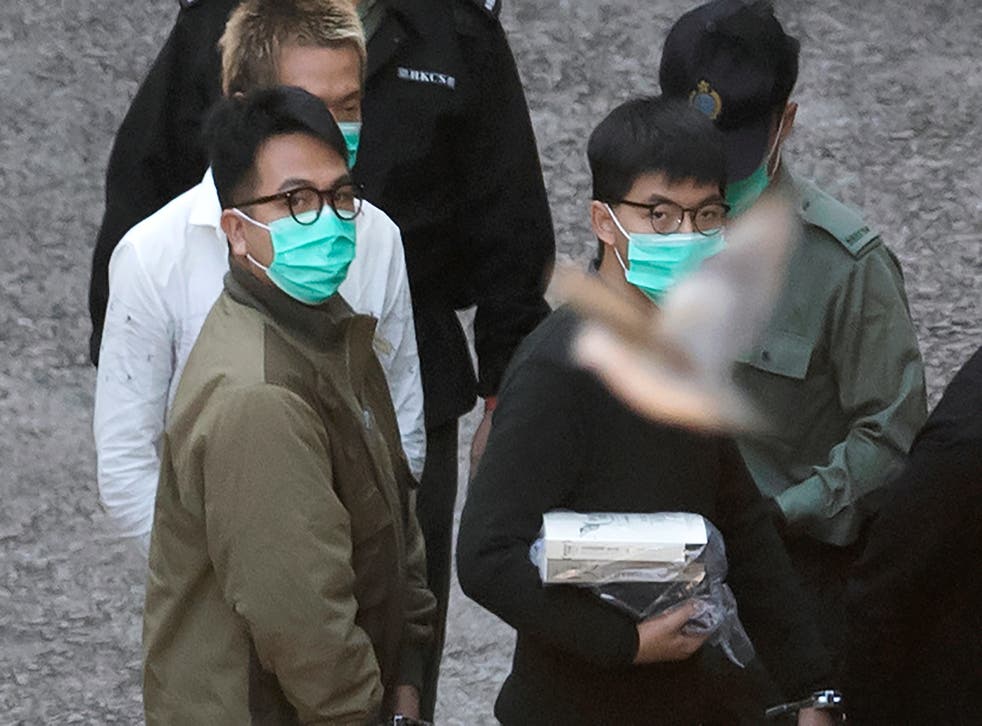 Some of Hong Kong's most prominent activists were handed months-long prison sentences on Wednesday for their involvement in pro-democracy protests, sparking an immediate international outcry.
Those jailed include Joshua Wong, Agnes Chow and Ivan Lam, all former members of the now disbanded political party Demosisto which had called for the protection of Hong Kong's autonomy from Beijing.
The trio had been found guilty of unlawful assembly for their involvement in a protest in June 2019 which had not been authorised by the authorities.
Mr Wong, Demosisto's former general secretary and a leading member of the 2014 Umbrella Movement protests, was handed the longest sentence at 13.5 months.
Ms Chow, another prominent activist who unlike Mr Wong has never previously been jailed, was handed 10 months in prison, and Mr Lam was given a seven month sentence.
"It's not the end of the fight," said Mr Wong in a statement shared via his social media channels. "Ahead of us is another challenging battleground. We're now joining the battle in prison along with many brave protesters, less visible yet essential in the fight for democracy and freedom for Hong Kong.
"The tenacity of HKers [Hongkongers] continues to give us strength in our sufferings. Please, take your positions, give support to each other," he said.
The June 2019 protests were held outside the main Hong Kong police headquarters. On 23 November this year, the trio pleaded guilty on allegations of organising and leading an unauthorised assembly, an outcome they decried as only the "least ridiculous" in a series of setbacks for democracy in the city.
Nathan Law, another leading activist who is now living in exile in the UK, called Wednesday's news "devastating" in a statement.
"It's an absurdly heavy sentencing and the independence of the judiciary system is in doubt," he said. "It shows that the court once again becomes the suppression tool in favour to the authorities and the authority is determined to imprison prominent activists to set an example. I hope the international community could voice against this unjust sentencing and demand immediate release of the trio."
Amnesty International's Asia-Pacific regional director, Yamini Mishra, said: "Once again, the government has used the politically-motivated charge of 'inciting others to protest' to prosecute people who have merely spoken out and protested peacefully."
She said by "targeting well-known activists from Hong Kong's largely leaderless protest movement, authorities are sending a warning to anyone who dares openly criticise the government that they could be next".
The three activists now join hundreds of others who have been sentenced to jail for the 2019 protests on charges of rioting, illegal assembly and possession of weapons.
"These three activists have been jailed in violation of their rights to freedom of expression and peaceful assembly. Their convictions should be overturned without delay and they must be released immediately and unconditionally," said Ms Mishra.
In a series of tweets, Mr Law said that while it is not for the first time that some of the trio activists have been to jail, this time is certainly the longest.   
"Besides, under the National Security Law, Beijing can also prosecute them for their speeches, turning thoughts into crimes. Sentences could pile up. To be honest, I have no idea when the trio could step out of the prison if Beijing pledges to impose the hardest charges on them arbitrarily."
The sentencing of the activists is the latest in a range of moves by Beijing to exert greater control over the city which was handed over by Britain in 1997 with promises that its autonomous status would be preserved.
China has introduced a new national security law that allows it to take tough action against anyone seen as undermining its authority in the city. It has also passed a resolution requiring all politicians to show patriotism towards Beijing, and has promised more measures to "perfect" Hong Kong's judiciary will follow.
Last month, Hong Kong's pro-democracy opposition legislators resigned en masse in protest after four prominent members of the pro-democracy camp were disqualified by China for failing to show sufficient patriotism.
Join our new commenting forum
Join thought-provoking conversations, follow other Independent readers and see their replies