China attacks Boris Johnson for 'incorrect remarks' about Hong Kong
The Foreign Secretary sparked anger in Beijing after calling for Hong Kong parties to 'progress towards a more democratic and accountable system of government'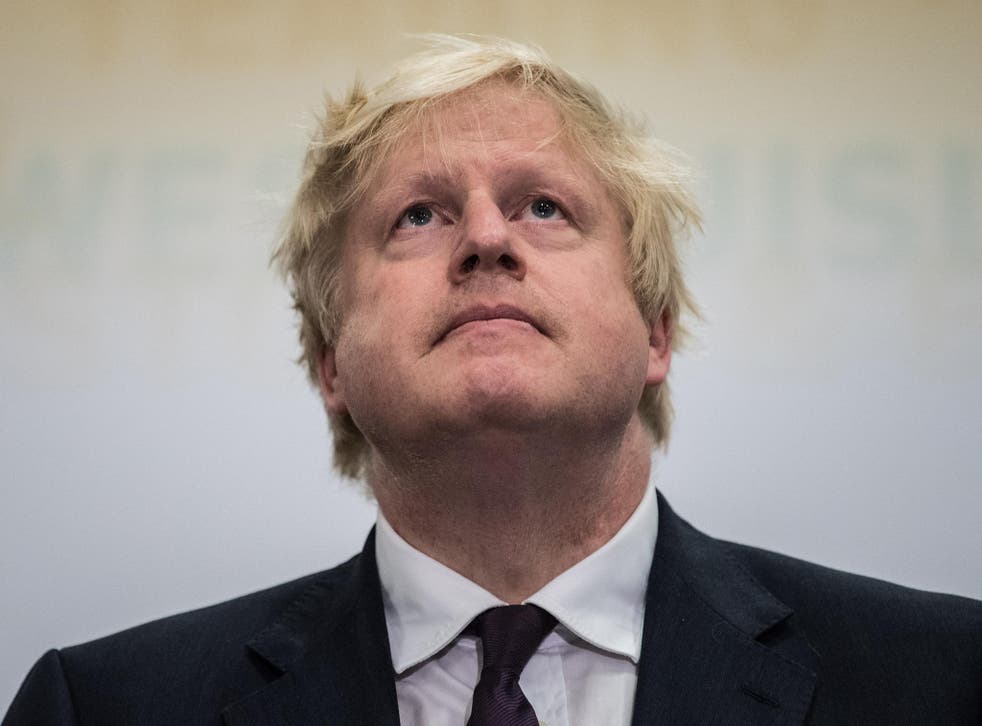 China criticised Boris Johnson's "incorrect" stance after he called for Hong Kong to make more progress towards democracy ahead of the 20th anniversary of the former British colony's return to Chinese authority.
The Foreign Secretary sparked anger in Beijing after saying it was crucial for Hong Kong to retain a "high degree of autonomy and rule of law" in a statement to mark the handover of power from the UK to China on 1 July 1997.
Mr Johnson made no direct criticism of China's communist regime, but called on all Hong Kong parties to "progress towards a more democratic and accountable system of government" on Thursday.
Hong Kong activists preserve the past

Show all 22
Chinese officials responded to the statement by chastising the Conservative front bencher for speaking about their "internal affairs".
"Hong Kong is a special administrative region of China, and therefore Hong Kong affairs are China's internal affairs," said foreign ministry spokesman Lu Kang.
Mr Lu made clear he was responding to Mr Johnson's statement and said "outsiders should not make incorrect remarks" about China's policies towards Hong Kong, according China's state news agency Xinhua.
Fight breaks out in Hong Kong parliament
The minister also claimed that the 1984 Sino-British joint declaration, which guaranteed that Hong Kong's capitalist system would remain unchanged for 50 years, doesn't have any "binding force" - a comment sure to worry pro democracy activists in the region.
Mr Lu insisted that the treaty "no longer has any practical significance", despite it being the key agreement which paved the way for Britain to transfer sovereignty to China.
The British foreign office quickly issued a reply, telling Reuters: "The Sino-British joint declaration remains as valid today as it did when it was signed over 30 years ago.
"It is a legally binding treaty, registered with the UN and continues to be in force. As a co-signatory, the UK government is committed to monitoring its implementation closely."
Democracy activists in Hong Kong have criticised the British government for not defending their rights against the Chinese government, according to the Guardian.
In 2015 five Hong Kong booksellers were kidnapped by Chinese agents for peddling works making salacious claims about top Communist Party officials.
Hong Kong's last governor, Chris Patten, told the Guardian the UK had been "kowtowing" to Beijing over human rights issues, adding: "Unless you bow low enough you will never do any business in China."
Mr Johnson said in his statement that the UK exports more than £8bn worth of goods and services to Hong Kong every year, making it Britain's second biggest export market in Asia.
Liu Xiaoming, Beijing's ambassador to London, suggested that Britain's relationship with China could face difficulties if the UK challenges the Communist party over Hong Kong.
Mr Liu told Xinhua: "I hope that all sectors in Britain will respect the fact that Hong Kong has returned to China.
"Hong Kong-related issues must be handled properly. I hope that by recognising and respecting the above we will continue to make Hong Kong a positive factor in China-UK relations.
"By recognising and respecting the above we will make sure that Hong Kong will continue to contribute positive energy to the 'golden era' of China UK relations."
Join our new commenting forum
Join thought-provoking conversations, follow other Independent readers and see their replies