'They're taking direct control': Hong Kong activists vow to restart protests over China's proposed security law
New legislation would allow Beijing's national security agencies to set up bureaus in Hong Kong for first time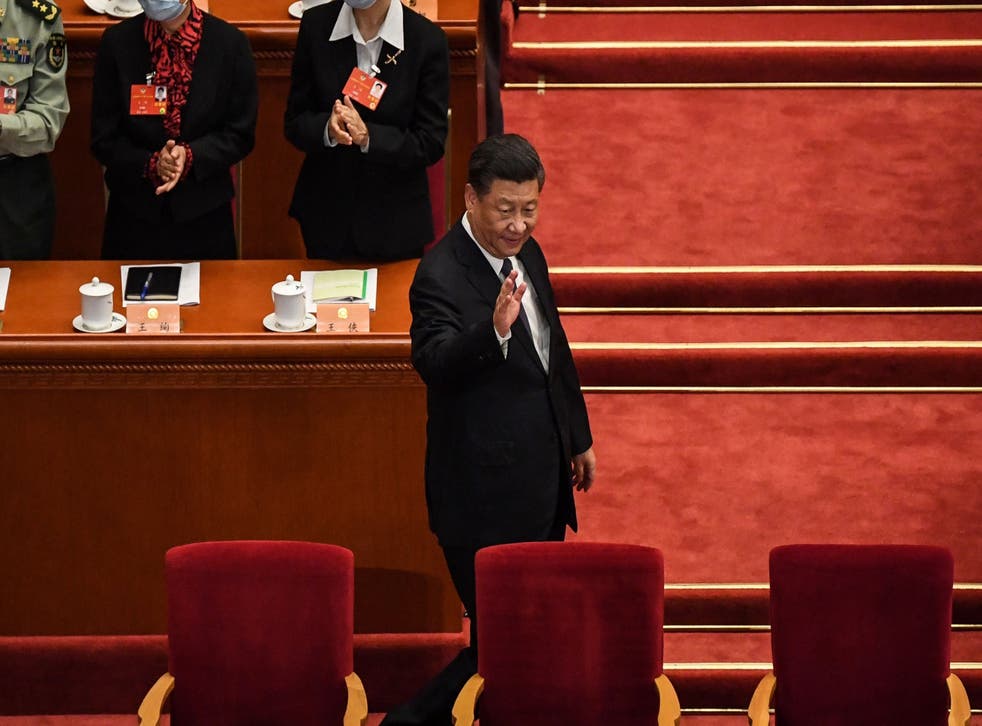 Activists in Hong Kong are calling for a restart to the mass protest movement that has been largely suspended by the coronavirus pandemic, after China announced its intention to impose a controversial new national security law on the semi-autonomous city.
Critics of the legislation, which was being debated on Friday at Beijing's delayed national congress, said it was intended to erode the hard-won freedoms of Hong Kong's citizens and stifle criticism through "force and fear".
The new law would allow Beijing's national security agencies to set up bureaus in Hong Kong for the first time, and crack down on what central China calls sedition, secession and foreign interference.
Such terms have been commonly used in Chinese state media to denigrate the months-long protest movement that saw violent street clashes in Hong Kong throughout most of last year.
Protest leaders in the city, including Joshua Wong, called on Friday for a resumption of "street action" in response to the legislation. Mr Wong tweeted that Beijing was "attempting to silence Hong Kongers' critical voices". "Deep down, protesters know, we insist not because we are strong, but because we have no other choice," he said.
"This is a great moment to reboot the protest," said university student Kay, 24, who participated in last year's mass anti-government and anti-Beijing demonstrations.
Hong Kong's main political opposition also registered its alarm at the new law, calling it a threat to the "one country, two systems" principle that underpins the city's autonomy, and "the end of Hong Kong" as we know it.
"Xi Jinping has torn away the whole pretence of 'one country, two systems,'" former pro-democracy MP Lee Cheuk-yan told a media briefing. He said the move showed that Beijing was "directly taking control".
"They're trying to ban every organisation in Hong Kong who dares to speak out against the Communist Party," he said, describing it as a challenge to global values of freedom and liberty.
The US expressed its concern on Thursday night as details of the new law emerged, with Donald Trump warning that Washington would react "very strongly" if Beijing went ahead with it.
In response, China said it opposed foreign interference in Hong Kong and that no country would allow separatists to endanger national security. Chinese foreign ministry spokesperson Zhao Lijian said Beijing seeks cooperation and dialogue with Washington, but will fight back if the US tries to "oppress" China.
Hong Kong's government defended the new law, saying it aimed to punish those who cause violence or seek independence from China, and that the law would not undermine the city's judicial independence.
The security law is China's biggest step in years to take control of matters in Hong Kong. A similar piece of national security legislation was proposed in Hong Kong's devolved assembly back in 2003 but was dropped amid a huge backlash that saw half a million people take to the streets.
Beijing now appears to have run out of patience for the measures to be forced through locally. The proposed law was the headline feature to be debated at the scaled-back National People's Congress (NPC) – China's parliament, largely a rubber-stamp exercise for the policies Xi Jinping's executive.
President Xi and other top party leaders appeared without masks at the congress, which had been delayed for two months by the coronavirus pandemic, in front of about 5,000 masked parliamentary delegates.
Attendants at the NPC, including select foreign media, were required to provide multiple negative swab tests for Covid-19 before they were permitted to enter Beijing's Great Hall of the People.
In his opening address, which was considerably shorter than normal, the Chinese premier, Li Keqiang, said the Hong Kong law still needed to be "perfected" but would ultimately improve national security. He said the city's autonomy would be protected, saying that "the people of Hong Kong govern Hong Kong".
The other headline announcement from the congress was that China will not be setting an economic growth target for the coming year, for the first time since it started announcing such targets in 1990. China's economy contracted 6.8 per cent in the first quarter of 2020 as the coronavirus outbreak paralysed production.
Register for free to continue reading
Registration is a free and easy way to support our truly independent journalism
By registering, you will also enjoy limited access to Premium articles, exclusive newsletters, commenting, and virtual events with our leading journalists
Already have an account? sign in
Register for free to continue reading
Registration is a free and easy way to support our truly independent journalism
By registering, you will also enjoy limited access to Premium articles, exclusive newsletters, commenting, and virtual events with our leading journalists
Already have an account? sign in
Join our new commenting forum
Join thought-provoking conversations, follow other Independent readers and see their replies