Hong Kong faces constitutional crisis after China bans pro-democracy politicians from city council
'More people, particularly young people, will be determined to break restrictions set by Beijing'
Gabriel Samuels
Monday 07 November 2016 19:26 Comments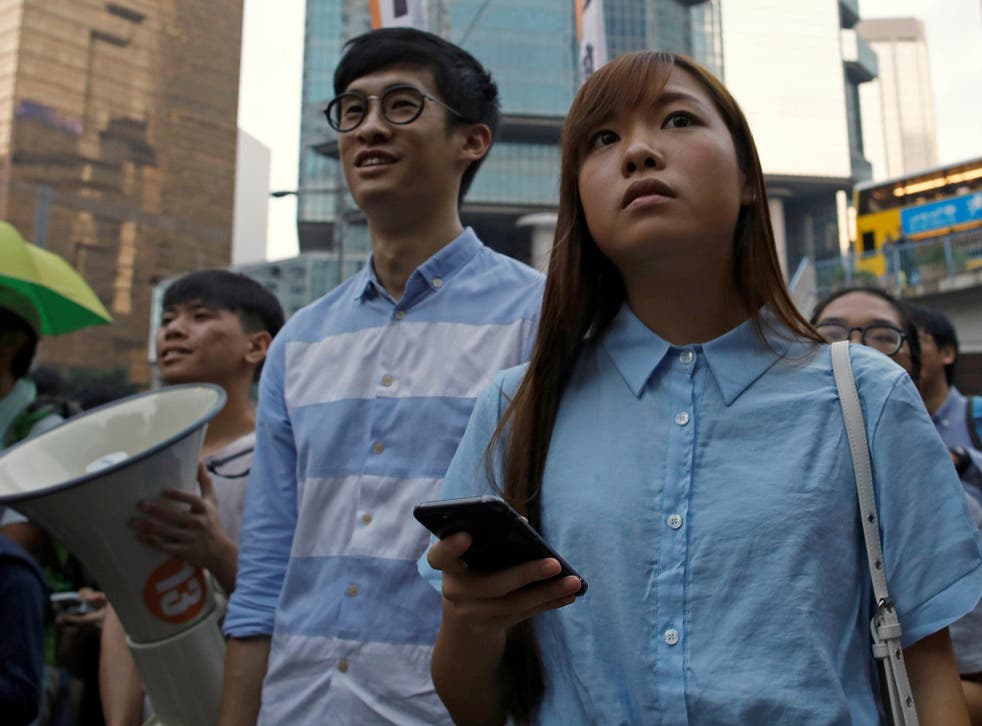 China's parliament has effectively barred two pro-independence politicians from taking office – Beijing's most direct intervention in the territory's political system since 1997.
Sixtus Leung and Yau Wai-ching, who were elected to Hong Kong's legislative council in September, were told they had been blocked from their new roles after refusing to swear allegiance to Beijing, leaving Hong Kong to grapple with a severe legislative crisis.
The pair carried flags reading "Hong Kong is not China" at the swearing-in ceremony for new council members in October, leading the Chinese government to make the unprecedented move.
The National People's Congress in Beijing said a section of Hong Kong mini-constitution – known as the "Basic Law" – meant the pair's swearing-in oaths could be rendered invalid, due to the fact that they had not allied themselves to China.
The prospect of the ruling sparked protests in Hong Kong, and it is now on high alert for any repeat of the weekend clashes. Members of the city's legal profession are planning a rare silent march on Tuesday night amid pressure for them to take even stronger action.
Last month's ceremony descended into chaos as legislators used the event to protest against restrictive Chinese rule and raise the prospect of independence.
The Chinese government said the two politicians will only be excused if they offer a "sincere and solemn" declaration of allegiance to Beijing. The incident has been seen as China's most direct intervention in Hong Kong's political system since 1997, when the territory was returned to Chinese control the British under a deal which was intended to give Hong Kong wide-ranging autonomy.
"The nature of Hong Kong independence is to split the country. It seriously violates the one country, two systems policy," said Li Fei, chairman of China's Basic Law Committee told a press conference. "We are determined to firmly confront the pro-independence forces without ambiguity.
"The central government is highly concerned about the grave dangers the Hong Kong independence forces are bringing to the country and to Hong Kong. The interpretation today will help to defend national unity and sovereignty."
Hong Kong's Basic Law does not explicitly forbid discussion of independence and is intended to grant freedom of expression to protestors and politicians alike.
"Every time Beijing tries to use legal instruments to stop Hong Kong people seeking democracy, the opposite will happen," Eddie Chu, a prominent pro-democracy politician, told The Guardian.
World news in pictures

Show all 50
"More people, in particular young people, will be more determined to break restrictions set by Beijing.
"The thoughts of the young people have changed a lot in these few years and I don't think this interpretation will deter them from seeking self-determination. Quite the opposite."
The British Foreign Office meanwhile said it was concerned by the decision and urged the leaders of China and Hong Kong to co-operate to prevent further unrest.
"We urge the Chinese and Hong Kong (special administrative region) governments, and all elected politicians in Hong Kong to refrain from any actions that fuel concerns or undermine confidence in the one country, two systems principle," it said in a statement.
Immediately after the council election in September, the Hong Kong and Macao Affairs Office – controlled by Beijing – said it "resolutely opposed" any form of independence.
Register for free to continue reading
Registration is a free and easy way to support our truly independent journalism
By registering, you will also enjoy limited access to Premium articles, exclusive newsletters, commenting, and virtual events with our leading journalists
Already have an account? sign in
Join our new commenting forum
Join thought-provoking conversations, follow other Independent readers and see their replies