Hong Kong police arrest high-profile activists ahead of banned march
Pro-democracy leaders accuse authorities of trying to intimidate movement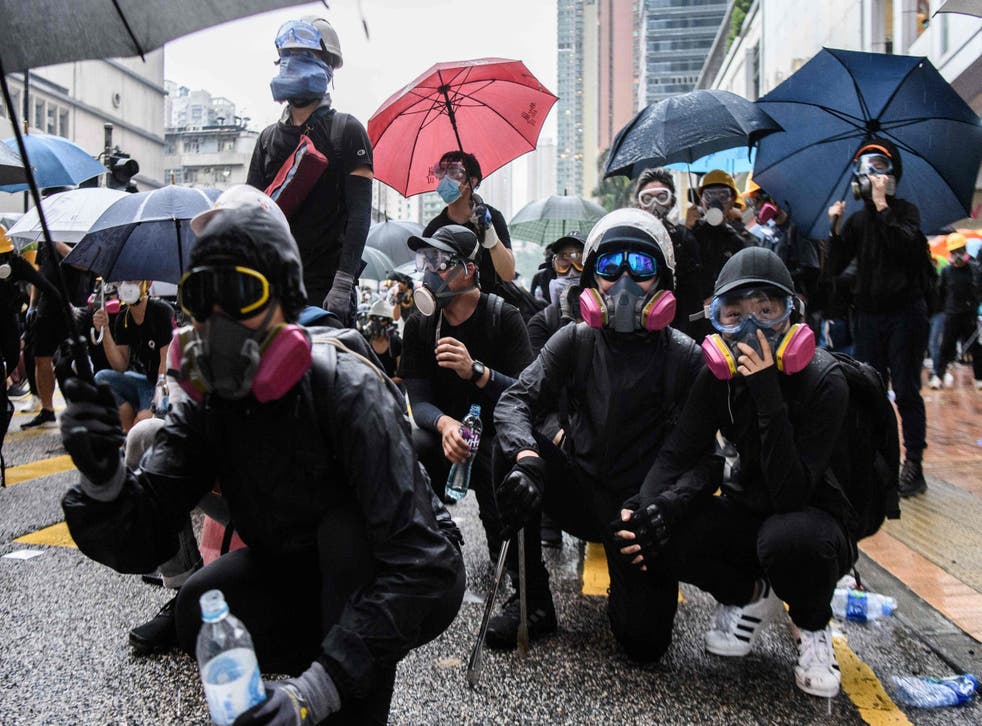 Some of Hong Kong's most prominent pro-democracy activists have been arrested in a 24-hour crackdown that critics say is designed to intimidate the movement ahead of a planned rally on Saturday.
Joshua Wong, Andy Chan and Agnes Chow were all arrested over the course of Thursday night and Friday morning, their respective groups and political parties said.
Demosisto, Wong's party, said the 23-year-old was "suddenly pushed into a private car on the street" as he walked towards a train station in the city at 7.30am. "Our lawyers are working on this case," the party said in a statement.
Officials said the arrests of Wong and Chow were related to a 21 June protest in which demonstrators blockaded a police headquarters for 15 hours. Later on Friday they were charged with inciting people to protest and released on bail. Chan was detained on suspicion of "rioting" and assaulting an officer, police said.
The arrests came on the eve of a planned march to mark the fifth anniversary of Beijing's decision not to allow universal suffrage in Hong Kong leadership elections.
Police earlier this week refused permission for the march to take place, and on Friday organisers said they were calling it off after an appeal against that decision failed.
There had been some speculation, however, that protesters would turn out regardless. Activists said the arrests were designed to deter them from doing so.
The arrests were an attempt by the police to spread fear and "white terror" among residents of Hong Kong, said Isaac Cheng, vice chair of Demosisto.
Bonnie Leung, a leader of the Civil Human Rights Front group that had called Saturday's march, said the safety of protesters was paramount.
"The first priority of the Civil Human Rights Front is to make sure that all of the participants who participate in our marches will be physically and legally safe," she said.
"Because of the decision made by the appeal board, we feel very sorry but we have no choice but to cancel the march."
Continuing protests rock Hong Kong: In pictures

Show all 35
Protesters have been taking to the streets in Hong Kong in their hundreds of thousands for three months now, in a crisis which started with attempts by the government to pass an unpopular extradition bill.
The bill was suspended, but protesters have continued to demand its complete withdrawal, as well as the resignation of the city's pro-Beijing chief executive Carrie Lam and assurances that they will continue to enjoy the autonomy they were guaranteed when Britain handed Hong Kong back to China in 1997.
On Friday morning, a report by the Reuters news agency said that Ms Lam had in fact drawn up proposals earlier this summer to appease the protesters, including the full and permanent scrapping of the extradition bill.
But the central government in Beijing rejected the proposal, and ordered Ms Lam not to yield to any of the protesters' other demands at that time.
Beijing has condemned the protests and accused foreign powers of fuelling unrest, while issuing increasingly stern warnings that China is not afraid to intervene in the crisis militarily if required.
Register for free to continue reading
Registration is a free and easy way to support our truly independent journalism
By registering, you will also enjoy limited access to Premium articles, exclusive newsletters, commenting, and virtual events with our leading journalists
Already have an account? sign in
Register for free to continue reading
Registration is a free and easy way to support our truly independent journalism
By registering, you will also enjoy limited access to Premium articles, exclusive newsletters, commenting, and virtual events with our leading journalists
Already have an account? sign in
Join our new commenting forum
Join thought-provoking conversations, follow other Independent readers and see their replies