'Simply wrong': China slams Raab after call to Hong Kong chief executive
'Stop making random and inflammatory accusations,' China tells UK while protesters adopt new strategy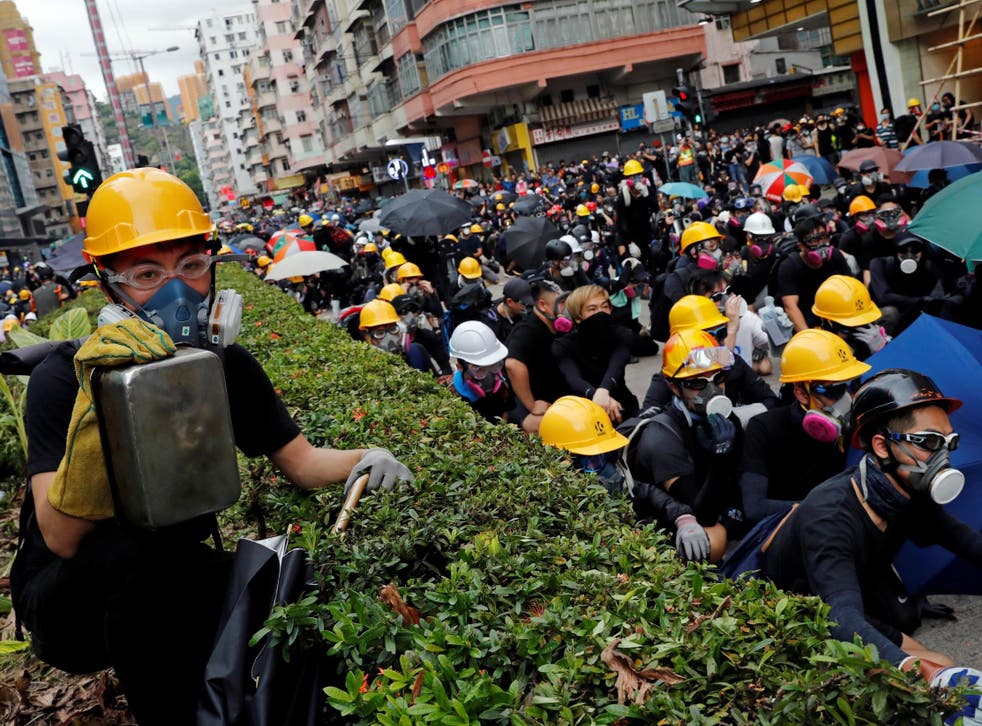 Chinese authorities have condemned foreign secretary Dominic Raab after he called for an independent investigation into recent turmoil in Hong Kong.
Mr Raab called the chief executive of Hong Kong Carrie Lam on Friday to stress the need for "meaningful political dialogue" and "a fully independent investigation" into the violence – but was immediately to stop interfering by Chinese authorities.
Hua Chunying, a spokesperson for the Chinese foreign ministry, said the days when Britain ruled Hong Kong were "long gone" and asked to "stop making random and inflammatory accusations".
She told reporters: "The UK has no sovereignty, jurisdiction or right of supervision over Hong Kong.
"Affairs of Hong Kong brook no foreign interference.
Teargas floods streets as Hong Kong protests continue

Show all 31
"It is simply wrong for the British government to directly call Hong Kong's chief executive to exert pressure.
"The Chinese side seriously urges the UK to stop its interference in China's internal affairs and stop making random and inflammatory accusations on Hong Kong."
The demonstrations that have gripped Hong Kong for two months have morphed into routine clashes between pro-democracy protesters and the police in recent weeks.
The protests erupted in June against an extradition bill that would have allowed Hong Kong residents to be sent to the mainland to stand trial.
But protesters now demand broader democratic reforms, an investigation into police violence and Ms Lam's resignation.
Relations between Beijing and London have become increasingly strained as the protests have continued, with Chinese authorities quick to allege that the "interfering" foreign powers are encouraging "violent criminals" behind the protests.
Meanwhile, Britain has called on China to honour the terms of their handover agreement and the freedoms its promises.
After more than 150 years as a British colony, Hong Kong was handed over to China in 1997 under a framework known as "one country, two systems" – in which Britain and China agreed that Hong Kong's democratic freedoms would "remain unchanged for 50 years" despite a different system mainland.
The Foreign and Commonwealth Office said in a statement that Mr Raab called Ms Lam on Friday.
"The Foreign Secretary underlined the strength of the relationship between the UK and Hong Kong, noting our support for Hong Kong's high degree of autonomy as provided for in the Joint Declaration and our commitment to the principle of 'one country, two systems'," the statement read.
"The foreign secretary condemned violent acts by all sides but emphasised the right to peaceful protest.
"He underlined that the violence should not cloud the lawful actions of the majority."
Hong Kong leader Carrie Lam defended her government's handling of the protests. A statement issued by her office said that while her government respects the freedoms of speech and assembly and the "diverse views" held by members of the public, "it will not let violence and illegal behaviours disrupt public order".
Chinese authorities also escalated their warnings to protesters, saying last week that the city was sliding toward a "dangerous abyss", with punishment "only a matter of time".
"Those who play with fire will perish by it," Yang Guang, a spokesperson for China's Hong Kong and Macau Affairs Office, said in a statement.
Meanwhile, Hong Kong authorities seem to have adopted an increasingly firm approach to the protests – many of which police says are not authorised or continue beyond permission.
Police have arrested more than 600 people and have fired over 1,800 rounds of tear gas in nine weeks – 800 of which on Monday alone.
Hong Kong protesters hit with tear gas shot by riot police

Show all 16
Hong Kong police and protesters clashed in cat-and-mouse encounters across the city on Sunday, marking a shift in tactics during the 10th straight weekend of unrest.
Instead of stationary protests, demonstrators withdrew when pressed, only to reappear with intensity in another district shortly after.
All the while, they build makeshift barricades to disrupt traffic and police movements, and use their phones to check Telegram alerts and a website documenting police locations or protest groups needing backup.
"We've been running all day but we're not tired," said Ah Sing, a protester wearing a black vest and surgical mask while he rushed from one protest to another.
"This is our response to Carrie Lam. If she doesn't listen to the people and respond to our reasonable demands, we're going to continue to spread protests across Hong Kong."
Police fired tear gas Sunday inside a train station and in several other Hong Kong neighbourhoods where protesters occupied roads.
Tear gas was also deployed in central Hong Kong on both sides of Victoria Harbour.
Protesters hurled bricks at officers and ignored warnings to leave before tear gas was deployed in the working-class area of Sham Shui Po area, police said.
Chants of "liberate Hong Kong" echoed through the Sham Shui Po when more than a thousand black-shirted protesters marched. Some residents cheered, while drivers honked horns or gave a thumbs-up.
Support free-thinking journalism and attend Independent events
On a shopping street Saturday, hundreds of people who appeared to be residents and passers-by surrounded police officers who arrested a woman after protesters dispersed.
Police did not respond to the crowd's questions about why the woman was being arrested, and the angered residents booed and shouted one of the movement's catchphrases: "Hong Kong police know the law and break the law!"
Young people have been at the forefront of the protests.
"I am concerned about my future, about Hong Kong's future, we all are," said Victor, an art tutor, his face slick with tears from tear-gas smoke near Wan Chai.
"We want to avoid China completely taking over. If we protesters leave, they will take over immediately."
Additional reporting by AP and Reuters
Register for free to continue reading
Registration is a free and easy way to support our truly independent journalism
By registering, you will also enjoy limited access to Premium articles, exclusive newsletters, commenting, and virtual events with our leading journalists
Already have an account? sign in
Register for free to continue reading
Registration is a free and easy way to support our truly independent journalism
By registering, you will also enjoy limited access to Premium articles, exclusive newsletters, commenting, and virtual events with our leading journalists
Already have an account? sign in
Join our new commenting forum
Join thought-provoking conversations, follow other Independent readers and see their replies