Hong Kong braces for city-wide protests after death of student who fell during police clashes
University attended by Chow Tsz-lok calls for 'clarifications from all parties – especially the police' regarding circumstances of his death
Adam Withnall
Asia Editor
Friday 08 November 2019 12:37 Comments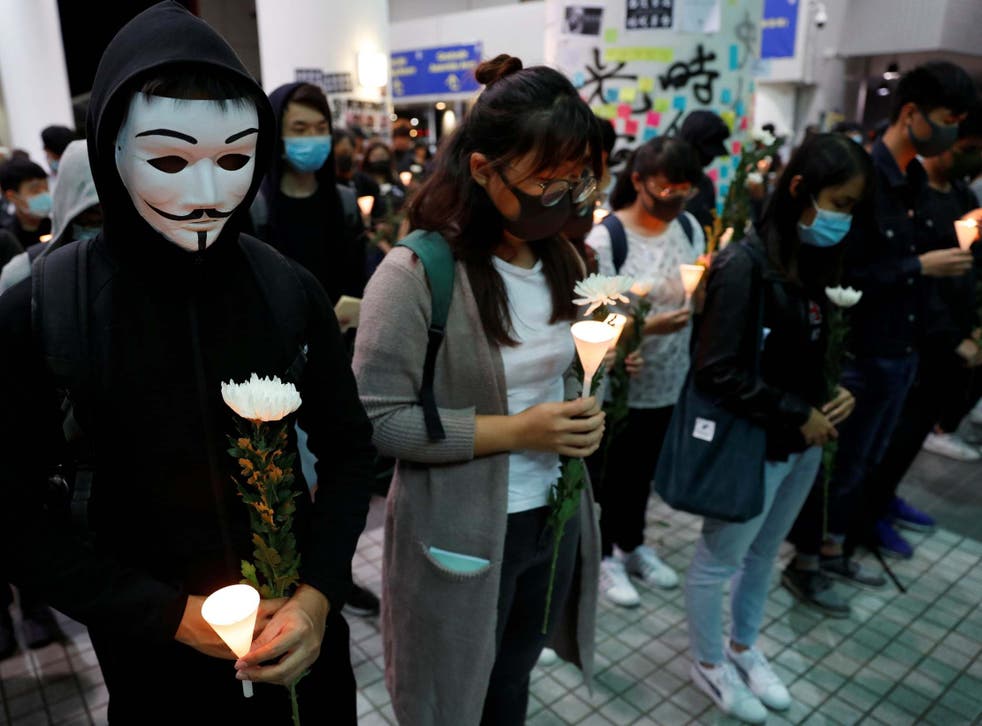 A university student who fell during clashes with police in Hong Kong has died, becoming the first confirmed casualty linked to the pro-democracy clashes which began in June.
Chow Tsz-lok, 22, was with fellow demonstrators in a car park on Sunday night when police moved in, firing teargas to disperse them. Mr Chow fell one storey, from the third to the second floor, during the chaos.
Police officials have strongly denied suggestions that Mr Chow may have been pushed, while Amnesty International has called for "an urgent investigation into the events which led up to Chow Tsz-lok's fall, including into allegations that officers delayed an ambulance crew who were attempting to reach him".
Mr Chow died of his injuries early on Friday, on what is graduation day for many of the city's students.
His death is expected to fuel fresh anger at the police, already facing accusations of brutality and excessive force as the protests have disrupted daily life in Hong Kong for months on end.
Joshua Wong, secretary general of the Demosisto party, called Mr Chow a "freedom fighter", and said "the government must pay the price" for his death.
"Today we mourn the loss of [a] freedom fighter in Hong Kong. We will not leave anyone behind – what we start together, we finish together," he said.
The government expressed "great sorrow and regret" over Mr Chow's death. A police spokesperson, tears in her eyes, said officers would find out the truth as soon as possible.
"We will spend every effort to investigate the cause," she told reporters, urging the public to be "calm and rational".
The car park where Mr Chow died has said it will release CCTV footage as soon as possible, without specifying what it might show. Police have not denied firing teargas during the incident, but have rejected any allegations of wrongdoing.
Protesters have responded to the death with online calls for vigils across Hong Kong on Friday night.
And there has already been an outpouring of anger and emotion at the Hong Kong University of Science and Technology (UST) where Mr Chow had been studying a two-year degree.
UST students vandalised an on-campus branch of Starbucks, a brand seen as siding with Beijing in the crisis, writing "condemn police brutality" on the restaurant's glass wall.
Friday was the second day of graduation ceremonies at the institution, with the first day already facing disruption amid reports Mr Chow was in a coma.
The university president, Wei Shyy, dabbed away tears as he announced Mr Chow's death on Friday, with the audience standing to observe a moment of silence.
"He was a nice person. He was sporty. He liked playing netball and basketball," friend and fellow UST student Ben, 25, told the Reuters news agency. "We played netball together for a year. I hope he can rest in peace. I really miss him."
Hong Kong protesters out in force after months of turmoil: In pictures

Show all 32
The university joined Amnesty in calling for an independent investigation.
"We saw footage of (an) ambulance being blocked by police cars and that ambulance officers needed to walk to the scene, causing a delay of 20 minutes in the rescue operation of our student," Mr Wei said.
"We demand clarifications from all parties – especially from the police, regarding the cause of the delay in those most critical moments that might have saved a young life."
The violence in Hong Kong, which started as a protest movement against a now-withdrawn extradition bill, has continued to escalate in recent weeks, but Mr Chow's is believed to be the first death directly linked to the clashes.
At the start of October, 18-year-old college student Tsang Chi-kin was shot in the chest by police and required life-saving surgery. He was later charged with attacking the police officer who shot him.
There have been several reports of young people who have taken their own lives in recent months in incidents purportedly linked to the unrest.
And in June, 35-year-old Marco Leung fell to his death from construction scaffolding after unfurling banners against the extradition bill.
Register for free to continue reading
Registration is a free and easy way to support our truly independent journalism
By registering, you will also enjoy limited access to Premium articles, exclusive newsletters, commenting, and virtual events with our leading journalists
Already have an account? sign in
Join our new commenting forum
Join thought-provoking conversations, follow other Independent readers and see their replies