Hong Kong police fire water cannon and teargas as thousands march on New Year's Day
Organisers estimate more than one million people at pro-democracy protest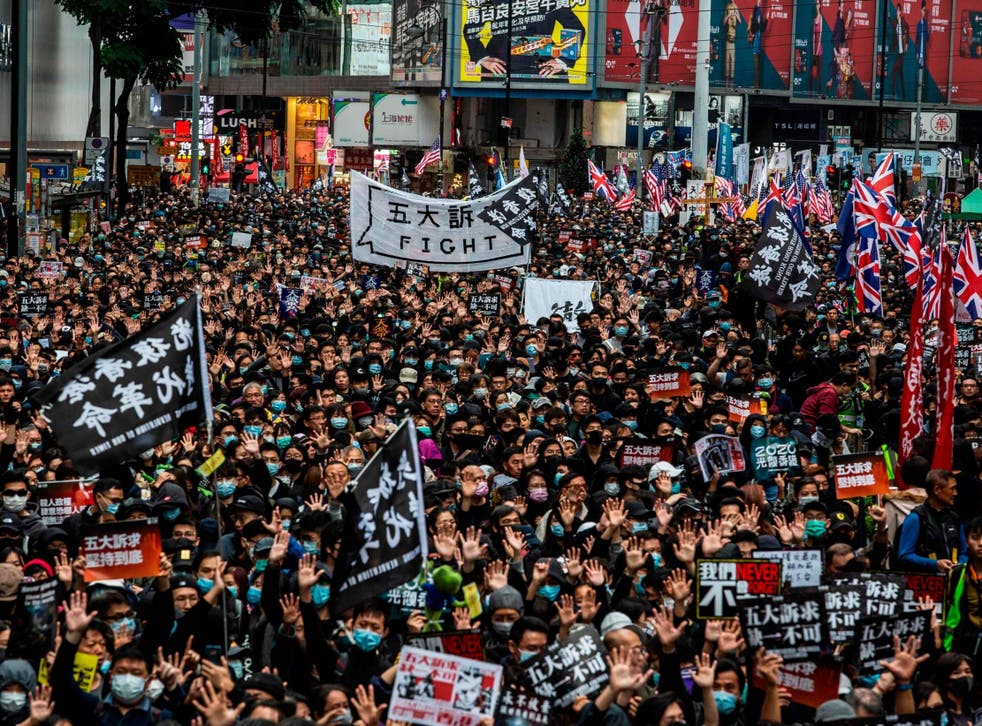 Hundreds of thousands of people took to the streets of Hong Kong for an annual New Year's Day march as anti-government protests continued into 2020.
Police said the demonstration was mostly peaceful but claimed officers were forced to use water cannon, teargas and pepper spray to bring an end to the rally following outbreaks of violence.
"Rioters set barricades, threw bricks, debris and petrol bombs, started street fires and vandalised multiple banks and shops along the route," Hong Kong Police said in a statement.
Protesters were also accused of spraying insulting comments about a judge on the wall of the High Court.
Authorities insisted they used "the minimum necessary force" because of a "grave threat to public safety".
The police force also rejected rumours that its own officers were responsible for smashing the glass of a bank in the Wan Chai commercial district, describing the allegation as "groundless and fabricated" and "calculated to discredit the force". Five people were arrested for criminal damage.
"The government has already started the oppression before the New Year began," said Jimmy Sham, one of the leaders of the Civil Human Rights Front that organised the march. "Whoever is being oppressed, we will stand with them."
​The rally, which is organised annually by pro-democracy groups, was the largest anti-government protest in recent weeks. Organisers claimed more than one million people took part.
It followed six months of protests sparked by the proposal of legislation which would have allowed extradition to mainland China. Organisers have set out five key demands including an investigation into alleged police misconduct, the release of arrested protesters and the resignation of Hong Kong chief executive Carrie Lam.
"It's hard to utter 'happy new year' because Hong Kong people are not happy," said a man named Tung, who was marching with his mother, niece and two-year-old son.
"Unless the five demands are achieved, and police are held accountable for their brutality, then we can't have a real happy new year," he added.
Ms Lam said in her new year's address that the months of protests had caused "sadness, anxiety, disappointment and even rage".
She vowed to tackle underlying social and economic problems and to "listen humbly" to help bring an end to the protests, but also reinforced the importance of the "one country, two systems" framework under which China rules Hong Kong.
In his own new year's address, Chinese president Xi Jinping referred to the protests, saying: "Hong Kong's prosperity and stability is the wish of Hong Kong compatriots and the expectation for the people of the motherland."
Additional reporting by agencies
Register for free to continue reading
Registration is a free and easy way to support our truly independent journalism
By registering, you will also enjoy limited access to Premium articles, exclusive newsletters, commenting, and virtual events with our leading journalists
Already have an account? sign in
Register for free to continue reading
Registration is a free and easy way to support our truly independent journalism
By registering, you will also enjoy limited access to Premium articles, exclusive newsletters, commenting, and virtual events with our leading journalists
Already have an account? sign in
Join our new commenting forum
Join thought-provoking conversations, follow other Independent readers and see their replies