Hong Kong: Furious China threatens dire 'consequences' as Trump signs law supporting protest movement
China calls US legislation 'extremely evil in nature and dangerous in motive'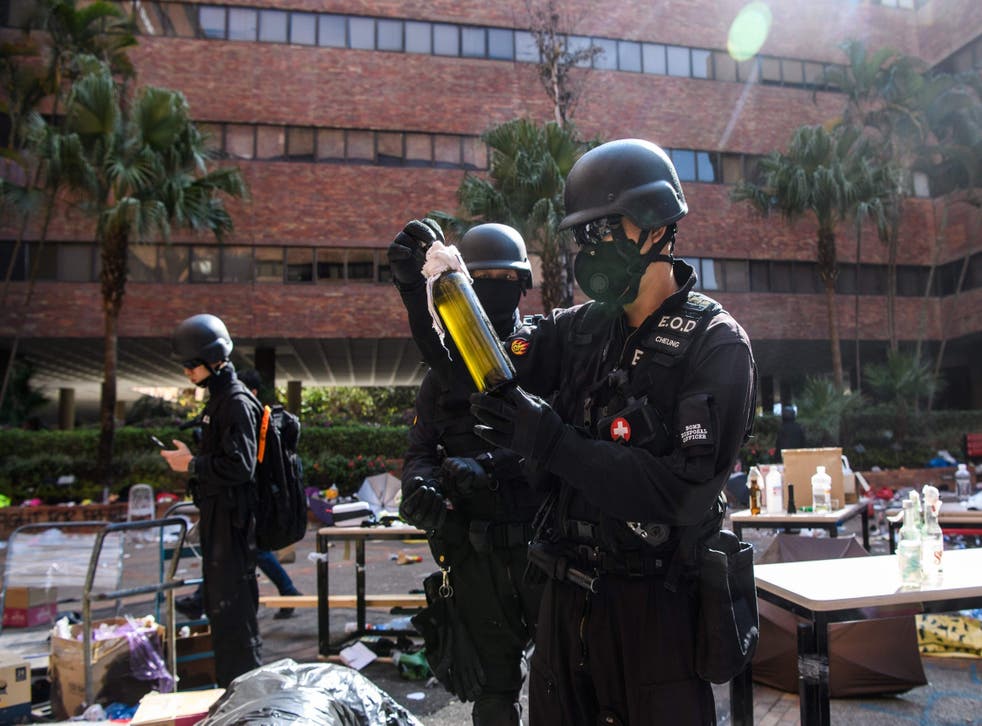 Donald Trump has unexpectedly signed into law two bills pledging support for Hong Kong's protest movement, prompting a furious reaction from China.
The bills were passed with almost unanimous consent in both the House of Representatives and Senate last week, but the president had only previously committed to giving a "hard look" at what was on the table.
Now enshrined in law, they commit the US to conduct an annual review into the state of Hong Kong's autonomy from mainland China.
If Beijing is found to have eroded the city's independence, Hong Kong will risk losing its special status as a US trading partner, and the favourable tariffs that go with it. In practice, it would threaten the city's position as a global financial hub.
The bills also ban US exports of rubber bullets, teargas and other crowd-control equipment to Hong Kong, following accusations that the police have put such measures to excessive use during the city's six-month protest crisis.
And they impose sanctions on any individuals in both the mainland Chinese and Hong Kong governments who are found to be involved in human rights abuses towards the pro-democracy movement.
Mr Trump said he signed the bills late on Wednesday "out of respect for President Xi [Jinping], China, and the people of Hong Kong ... in the hope that [the] leaders and representatives of China and Hong Kong will be able to amicably settle their differences leading to long term peace and prosperity for all".
China condemned the move and threatened that unspecified "consequences ... will have to be borne by the US side". Beijing summoned the US ambassador on Thursday afternoon, urging the American government not to apply the new law.
In a statement, the ministry of foreign affairs called it "pure interference in China's internal affairs" and a move "full of prejudice and arrogance ... extremely evil in nature and dangerous in motive".
"The US side ignored facts, turned black to white, and blatantly gave encouragement to violent criminals who smashed and burnt, harmed innocent city residents, trampled on the rule of law and endangered social order," the statement said.
Hong Kong's government said it feared the legislation would damage relations with the US while sending the wrong signal to protesters. Carrie Lam's administration said it "strongly opposes and regrets" the new laws.
Meanwhile in Hong Kong itself, police finally moved into the campus of the Hong Kong Polytechnic University (PolyU), the scene of a brutal 11-day siege between officers and a hardcore group of protesters attempting to avoid arrest.
Police began clearing the university after its administration said it believed no one else remained inside, following a two-day search that ended on Wednesday.
Hong Kong protests: Latest after court strikes down face mask ban

Show all 24
Hours before the police operation, a masked protester came out from hiding and told reporters there were fewer than 20 others still holed up inside. They had avoided the university management searches, he said, because they could "never trust the police".
A senior police official, Chow Yat Ming, said the focus of the operation was not to arrest any holdouts, but to remove caches of petrol bombs and other hazardous items reported by university management, and to gather evidence of "malicious" damage to campus facilities.
Any remaining protesters found by the police would be encouraged to seek medical attention, he said, and not arrested – though their details would be taken and they could face further action in future.
A spike in arrests during the PolyU clashes means more than 5,000 protesters have now been detained during the crisis, sparked in April by the government's attempt to bring in legislation making it easier to extradite criminal suspects to the mainland.
The unrest began with major protests in June and has snowballed into the biggest challenge to Beijing's authority since the city was handed back to China by Britain in 1997.
Register for free to continue reading
Registration is a free and easy way to support our truly independent journalism
By registering, you will also enjoy limited access to Premium articles, exclusive newsletters, commenting, and virtual events with our leading journalists
Already have an account? sign in
Register for free to continue reading
Registration is a free and easy way to support our truly independent journalism
By registering, you will also enjoy limited access to Premium articles, exclusive newsletters, commenting, and virtual events with our leading journalists
Already have an account? sign in
Join our new commenting forum
Join thought-provoking conversations, follow other Independent readers and see their replies