Hong Kong protests: Police officers upset at being 'un-friended' on Facebook
Officers are reportedly 'crying every day' because of emotional pressure
Lizzie Dearden
Friday 10 October 2014 13:21 Comments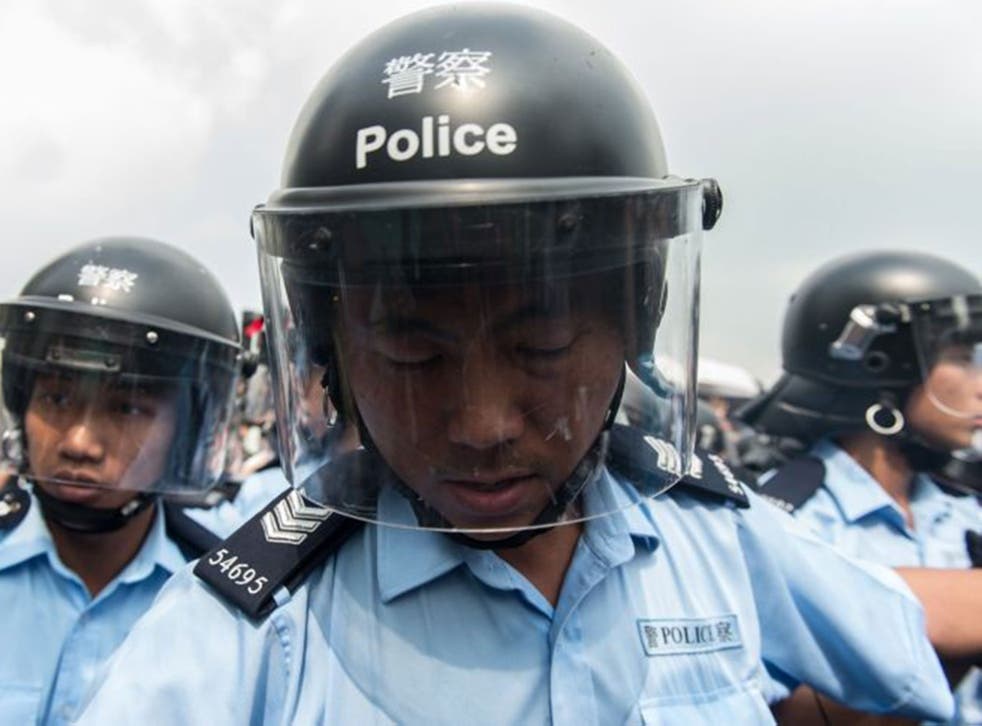 Police officers in Hong Kong are upset at being "un-friended" on Facebook and shunned by friends and family as pro-democracy protests continue.
The deep divides in the city's society being provoked by the issue of greater autonomy from China is reportedly provoking arguments with relatives, friends and on social media.
Psychologists employed by the Hong Kong Police Force have been visiting front-line officers at the Occupy protests, the South China Morning Post reported.
"We really feel our colleagues' pressure," Alison Mak Lai-ping, a police clinical psychologist, said.
"I've been in the police for so many years but I've never seen a time when colleagues cry every day."
Some police officers are upset over being "unfriended" on Facebook by people who support the protests because of their role, she added.
As well as the physical stress of working long hours, police are sometimes being verbally assaulted by protesters and feel a lack of support.
Another clinical psychologist working with Ingrid Mak Wing-fun, told the paper police officers are being told to stop reading the news and talk to their families more to boost morale.
Police were condemned for their response to the start of the protests in September, firing tear gas and dousing unarmed protesters in pepper spray.
The images of demonstrators using their umbrellas to shield themselves sparked the name the "Umbrella Revolution" and has since become a powerful symbol of the movement along with yellow ribbons.
Supporters of the police and those who want the occupation of Hong Kong's administrative district to stop have taken to wearing blue ribbons.
While a video showing an officer spraying an elderly man in the face with pepper spray went viral, so did photograph of a Hong Kong policeman cleaning the eyes of a protester and a video of officers asking for understanding.
Speaking on Thursday, the Chief Superintendent Hong Kong police's public relations branch, Hui Chun-tak, appealed with protesters to go home because of traffic congestion.
"It results in excessive inconvenience to the commuters," he said. "They have to start their journey early, and have to spend a lot of extra time on travelling.
"(The protesters) are making their voice heard at the expense of the rights of other members of the public to carry on with their normal daily lives."
In pictures: Hong Kong democracy protest 2014

Show all 32
Mr Chun-tak said demonstrators had "refused to listen" to previous orders to move and police would exert their right to investigate "anyone in breach of the laws of Hong Kong.
Hundreds of protesters regrouped on the streets on Friday, a day after the government called off talks with students over their demands.
Carrie Lam, chief secretary of Hong Kong, said the talks were cancelled because demands for universal suffrage were not in accordance with the city's mini-constitution and because of the "illegal" occupation.
The protests started in opposition to the Chinese Government's refusal to let them select their own candidates for leadership elections in 2017, allowing only Beijing-backed politicians to stand.
Additional reporting by Reuters
Register for free to continue reading
Registration is a free and easy way to support our truly independent journalism
By registering, you will also enjoy limited access to Premium articles, exclusive newsletters, commenting, and virtual events with our leading journalists
Already have an account? sign in
Join our new commenting forum
Join thought-provoking conversations, follow other Independent readers and see their replies