Tear gas fired at Hong Kong protesters
With surgical masks and goggles balanced on their faces, Hong Kongers Jay and Elise Lee take a moment to rest in an underpass near the city's Legislative Council, its parliamentary equivalent.
Behind them, the acrid smell of pepper spray and tear gas comes wafting over as protesters wipe their faces with wet towels. Others have been shot with rubber bullets by police.
"It's chaos," says Jay Lee, describing how police are gradually gaining ground from protesters.
The couple were just two of the tens of thousands of people protesting on Wednesday against a controversial legislative bill that would allow extradition from Hong Kong to China.
Early in the morning, protesters managed to block off major roads and park space outside the Legislative Council, forcing the second reading of the bill to be delayed. But by late afternoon, police were beginning to push back.
Visibly upset, Elise brushes aside questions of whether she is scared by riot police.
"Young people are protecting our Hong Kong," she says.
Hong Kong: Extradition law protests continue into second week

Show all 40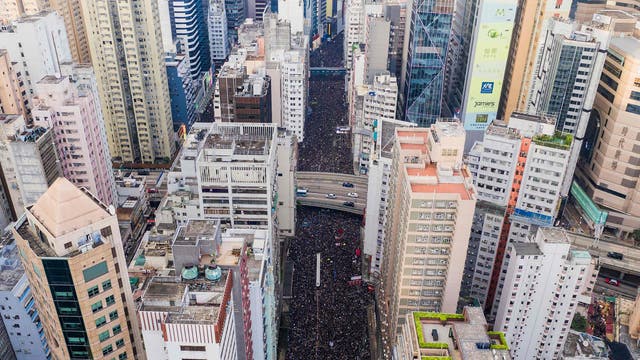 "We don't have guns, we just want to protest peacefully and not be attacked by the police," Jay Lee adds.
The extradition bill has angered Hong Kong in a way not seen in years. It has drawn ordinary people into the fray alongside more militant students and democracy activists.
Many Hong Kongers like the Lees fear that the bill is a sign that Hong Kong, a former British colony, has completely lost its autonomy to China, despite promises it would remain quasi-independent until 2047 under the "one country, two systems" arrangement.
On Sunday, an estimated 1 million people of all ages and backgrounds marched against the extradition bill, according to organisers.
But while the weekend's protest was the largest since Hong Kong returned to Chinese sovereignty in 1997, the government has continued to push forward with the bill, prompting further demonstrations.
The demonstrations represent Hong Kong's biggest political crisis since pro-democracy protests closed down parts of the city centre for more than three months during the Umbrella Movement in 2014.
The second reading of the bill was set for Wednesday, but the vote has now been inexplicably postponed until 20 June.
Snacks, water bottles, face masks, eye solution and googles were stockpiled by protesters on the roads nearby, along with medical supplies.
Police presence was high, with 5,000 officers on the streets, many in full riot gear with batons and masks pushing back media and protesters alike.
Ordinary Hong Kongers showed up to show their support for protesters on the front lines.
Chris Lee shuttered his bakery on one of the state's outlying islands to participate, although he describes himself as apolitical, like so many residents do.
Anger at the bill, however, led him to join nearly 1,000 other small business owners who shut their doors on Wednesday in support of the protest.
"We have to do something, otherwise Hong Kong is going to die," Chris says. "The government should have cared about their residents but I feel that they are totally wrong."
He says many in Hong Kong watched as the Chinese government attacked its own citizens in 1989 at the Tiananmen Square protests and they fear what a closer relationship would mean.
The bill has also prompted international business groups, the EU and foreign governments, including the UK, to voice their concerns. In late May, the UK and Canada issued a joint statement that the bill could affect "rights and freedoms" promised to Hong Kong at reunification.
"It's not right – they destroy one county, two systems literally," says Blanche Chan, who works in life sciences.
Chan is also worried about how the extradition bill would impact Hong Kong's international reputation and business environment, with hundreds of multinationals having made the city their Asia headquarters.
"It won't only affect our future but international companies will move to other countries," Chan says. "Millions of people are working for multinationals and could lose their jobs."
The legislative bill will allow Hong Kong to extradite to countries with which it lacks a long-term extradition agreement, including China, on a case by case basis. The legislation was prompted by a murder case last year in Taiwan, which does not have a permanent extradition deal with Hong Kong.
Thousands of protesters with umbrellas block entry to Hong Kong's government HQ
Hong Kong did not sign an extradition agreement with China at the time of reunification, according to the Hong Kong Bar Association, due to concerns at the time about the Chinese legal system.
While the protest feels similar to 2014's protests, Antony Dapiran, author of City of Protest: A Recent History of Dissent in Hong Kong, says citizens are more unified this time.
He explains: "This is a much easier sell for the protesters, because in politics there is a truism: it's much easier to oppose than propose. So here, all they have to say is, 'We don't want this law'."
Join our new commenting forum
Join thought-provoking conversations, follow other Independent readers and see their replies