Hong Kong falls into recession as police brace for Halloween protests in defiance of mask ban
Economy shrank 3.2% in July-September quarter
Adam Withnall
Asia Editor
Thursday 31 October 2019 12:00 Comments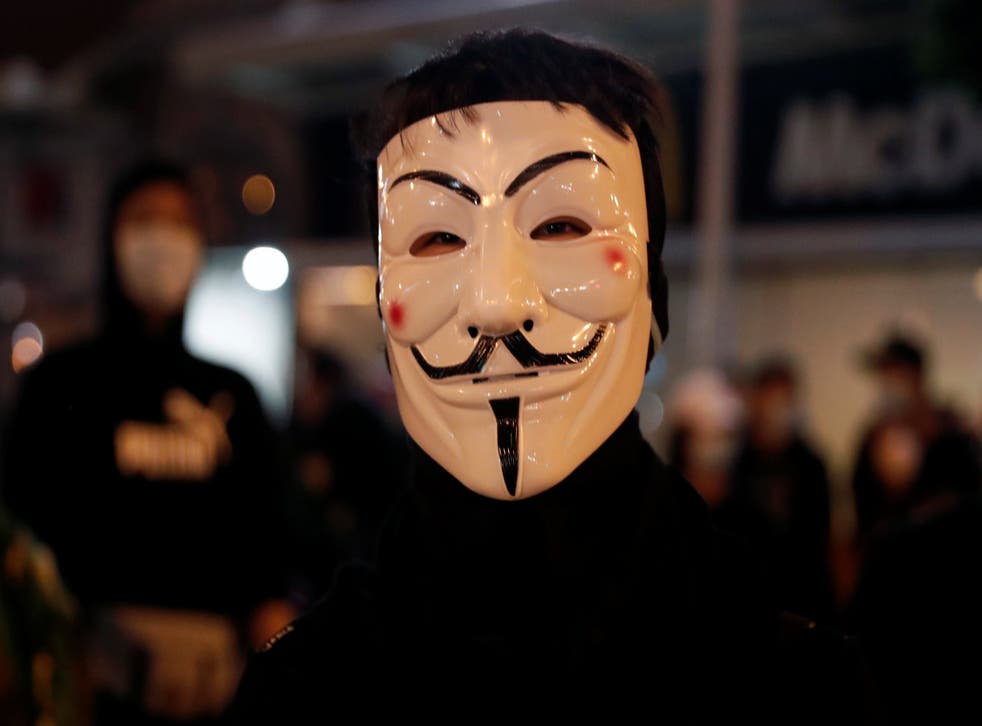 Hong Kong has officially entered a recession after government figures showed the economy contracted for a second straight quarter.
After pro-democracy protests began in early June and heavily impacted tourism and trading, officials said Hong Kong's economy shrank 3.2 per cent in the July-September quarter.
The news came as the city's police braced for another major test, with protesters calling for people to mark Halloween by taking to the streets on Thursday night in scary masks - despite a recent ban on face coverings during demonstrations.
The authorities have said that Halloween masks worn in the spirit of the season will be allowed, but that anyone engaging in violence or defying police requests to remove their masks in public will face arrest.
Demonstrators are planning to march from Victoria Park in the Causeway Bay shopping district to the hilly, narrow streets of the Lan Kwai Fong bar district above Central, the scene of a deadly New Year's stampede nearly 27 years ago. Police have refused permission for the rally.
Hong Kong chief executive Carrie Lam had warned of Thursday's growth figures, the worst since the financial crisis of 2008/9, telling reporters that "the increasingly violent reality since June is hurting Hong Kong's economy".
Retail, catering, transport and other tourism-related industries have borne the brunt of the impacts, she said, as weekends have seen normally bustling retail districts turned into protest battle zones.
The demonstrators have been calling for an end to what they see as Beijing's encroachment of their civil rights and freedoms, as enshrined in the agreement that saw Hong Kong handed over from Britain to China in 1997.
The UK foreign minister Dominic Raab said on Thursday that respecting democratic freedoms was the only way to set Hong Kong back on the right economic path.
In a foreword to a report on the city, he said: "Hong Kong's high degree of autonomy and rule of law is what guarantees its future prosperity and success."
Mr Raab described the months-long protests as "one of the most turbulent times in Hong Kong's recent history".
And rejecting Chinese accusations of foreign interference, he said that Britain would continue to speak out "to protect the rights and freedoms set out in Hong Kong's Basic Law and the Sino-British Joint Declaration".
Register for free to continue reading
Registration is a free and easy way to support our truly independent journalism
By registering, you will also enjoy limited access to Premium articles, exclusive newsletters, commenting, and virtual events with our leading journalists
Already have an account? sign in
Join our new commenting forum
Join thought-provoking conversations, follow other Independent readers and see their replies