Hopes fade of pulling anyone from the Bangladesh factory rubble as death toll tops 380
Scores of people – perhaps more – remain unaccounted for
Andrew Buncombe
Monday 29 April 2013 19:24 Comments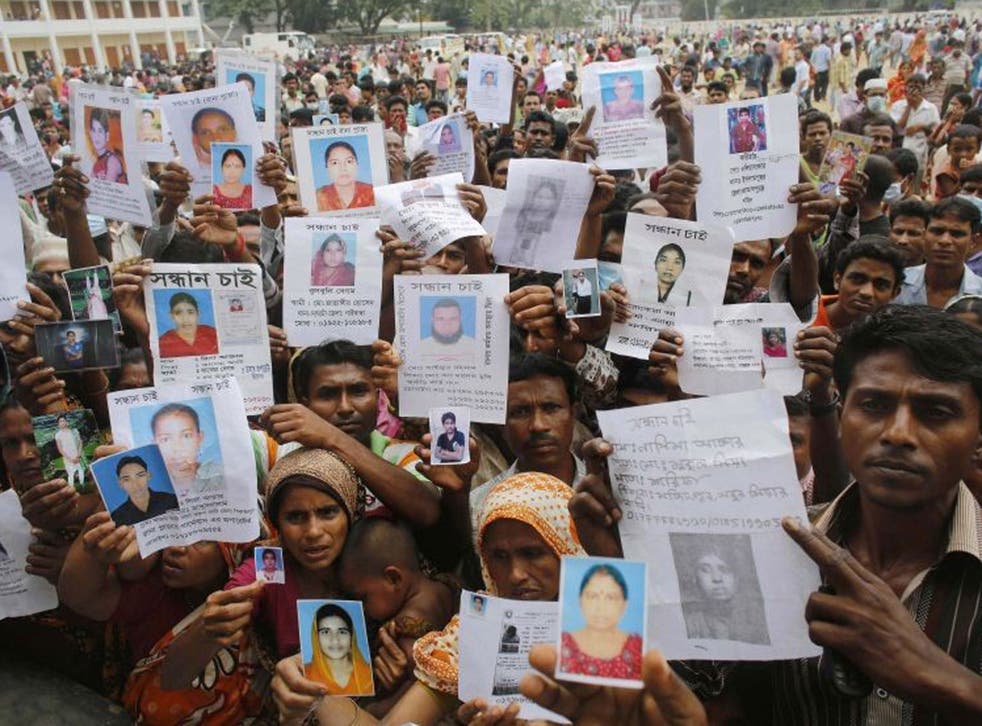 Hopes are fast fading of rescuing anyone else alive from the site of the collapsed factory in Bangladesh which has so far claimed the lives of at least 381 people.
Rescue officials said that despite frantic efforts involving heavy lifting gear to remove concrete and steel, it was now against the odds that any more people would be found. In a grim, bitter twist to the rescue operation late on Sunday night, sparks from rescuers cutting tools ignited a blaze that is believed to have killed the last known trapped survivor, a woman.
"We are giving the highest priority to saving people, but there is little hope of finding anyone alive," army spokesman Shahinul Islam told reporters, according to Reuters.
On Sunday, police revealed they had arrested the politically connected owner of the building as he tried to flee into India. He had been on the run for the past five days.
Mohammed Sohel Rana, a man who was connected to the ruling Awami League and the opposition Bangladesh Nationalist Party, was seized close to the town of Benapole as he was trying to make his way into the Indian state of West Bengal. He was later paraded in front of television cameras
When news of his arrest was relayed over loudspeakers at the site of the collapsed building, cheers broke out from among the crowd.
In the Savar neighbourhood of the Bangladeshi capital, Dhaka, Mr Rana was said to have been a political enforcer, always ensuring he retained good connections with both the Awami League of Prime Minister Sheikh Hasina as well as the BNP, headed by Khaleda Zia.
Mr Rana is one of seven people that have been arrested in connection with the disaster. Police are still looking for another factory boss, who they said was a Spanish citizen.
On Tuesday, when cracks in the Rana Plaza building were pointed out, Mr Rana had insisted that there was no danger, even though employees from a bank that was housed at the location were evacuated. Garment factory managers told their employees to carry on with their work or else have their wages docked.
The authorities had been looking Mr Rana since he disappeared on Wednesday. His wife had already been detained in the hope it would make him give himself up.
Two engineers who approved plans for the eight-storey building – three of them illegal – along with two garment factory owners have also been arrested amid mounting public anger. On Saturday there were protests in two Bangladeshi cities as well as outside a London store of Primark, one of several Western brands which sourced clothes from the site.
The building employed a total of 3,122 people though it is unknown how many were inside when the collapse happened early last Wednesday morning. At least 2,500 survivors have been accounted for. Scores of people – perhaps more – remain unaccounted for.
The collapse of the building has again focused attention on the perilous, unregulated nature of the garment industry, which is worth an annual £13bn to the economy of Bangladesh, which brings workers as little as £25 a month.
While this disaster has been the deadliest to hit the garment industry, it is far from unique; last November, a fire at the Tazreen Fashions factory killed 112 people. US rapper and producer Sean Combs was among those who sourced clothes from the factory.
Amid an outpouring of frustration and anger, activists have said Western companies must do more to help improve labour conditions inside the garment industry, which employs 3m in Bangladesh and accounts for 80 per cent of its exports.
Activists have said companies should sign up to the Bangladesh Fire and Building Safety Agreement, which would require signatories to fit out their suppliers' premises to full safety standards. So far only PVH, the owner of the Calvin Klein and Tommy Hilfiger labels, and German retailer Tchibo, have done so.
Meanwhile on Monday, in a development that may raise questions about the handling of the rescue operation, a spokesman at the British High Commission confirmed that an offer of technical assistance from Britain had been declined.
Ongoing unrest has led the Bangladeshi authorities to shut down many factories, which had reopened on Monday after two days of closures. Police fired teargas to disperse protesters. The main opposition has called for a national strike on May 2 in protest.
Register for free to continue reading
Registration is a free and easy way to support our truly independent journalism
By registering, you will also enjoy limited access to Premium articles, exclusive newsletters, commenting, and virtual events with our leading journalists
Already have an account? sign in
Register for free to continue reading
Registration is a free and easy way to support our truly independent journalism
By registering, you will also enjoy limited access to Premium articles, exclusive newsletters, commenting, and virtual events with our leading journalists
Already have an account? sign in
Join our new commenting forum
Join thought-provoking conversations, follow other Independent readers and see their replies