NBA in grovelling apology after China suspends broadcasts of Houston Rockets games over Hong Kong 'freedom' tweet
Basketball league becomes latest brand to backtrack after offending Chinese authorities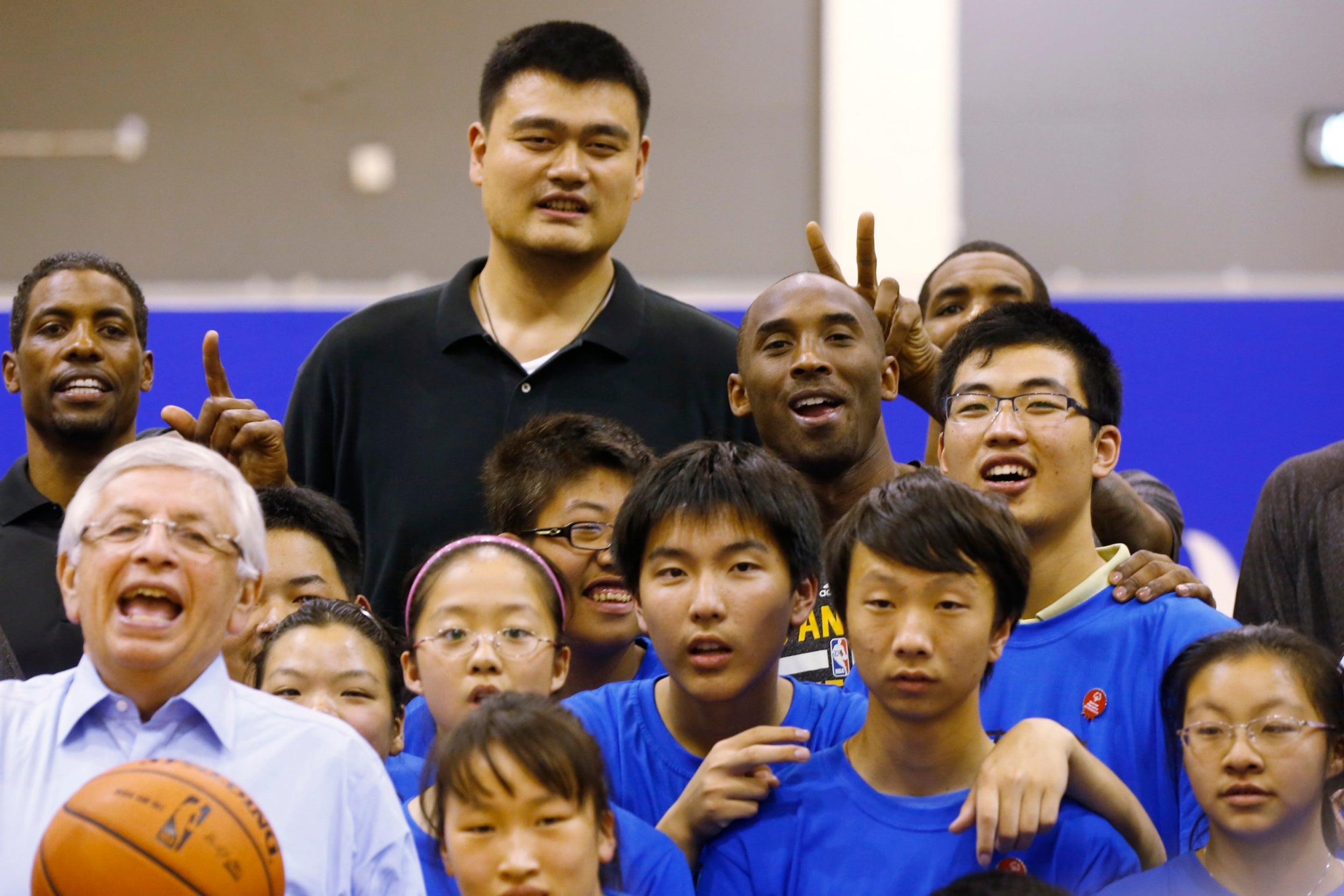 The NBA has been forced to issue a grovelling apology to China after a team's general manager tweeted support for Hong Kong's pro-democracy movement.
Daryl Morey, manager of the Houston Rockets, tweeted the umbrella logo of a protest movement in the city alongside the slogan: "Fight for freedom. Stand with Hong Kong." The tweet has since been deleted.
But the backlash in China has been swift and comprehensive. Chinese state television and Tencent, the two major broadcasters of NBA matches in China, have both said they will not be showing any Rockets games in future.
The club's sponsor and sportswear partner in China, Shanghai Pudong Development Bank and the brand Li-Ning respectively, said they would be suspending cooperation with the team, as did the Chinese Basketball Association.
The threat of commercial damage – the Tencent streaming deal alone is worth $1.5bn to the association over the next five years – forced both the NBA and Mr Morey to make public apologies.
Speaking early on Monday from Tokyo, where the Rockets have a game coming up, Mr Morey said he had reconsidered his stance "hav[ing] had a lot of opportunity since that tweet to hear and consider other perspectives".
In a new Twitter thread, he said his posts did not represent the team or the league. "I did not intend my tweet to cause any offence to Rockets fans and friends of mine in China. I was merely voicing one thought, based on one interpretation, of one complicated event."
In an English-language statement, the NBA said it was "regrettable" that Mr Morey's views "deeply offended" many in China.
But on its main Chinese-language social media pages, the NBA went much further, saying it was "extremely disappointed" by Mr Morey's "inappropriate" tweet about Hong Kong, which "severely hurt the feelings of Chinese fans".
That phrase – "hurt feelings" – is commonly used by the Chinese authorities when taking umbrage on behalf of the nation to a perceived gaffe by a foreign brand or party.
And the NBA is just the latest global brand forced to conform to a political position set out by Beijing, or else risk losing out on the increasingly lucrative consumer market that China represents.
In August, Versace apologised for selling a T-shirt that failed to identify Hong Kong and Macau as part of China. The company was forced to issue a statement saying it "resolutely respect[s] China's territory and national sovereignty", and all the offending items of clothing – valued at almost £350 each – were symbolically destroyed.
Last year, Dolce & Gabbana suffered a backlash after running an advert depicting a model eating spaghetti with chopsticks. The company has since reportedly struggled to get Chinese web retailers to stock its clothes.
The NBA and the Houston Rockets' attempts to backtrack have themselves been met with anger and disappointment online.
Hong Kong protesters out in force after months of turmoil: In pictures
Show all 32
Ted Cruz, the former Republican presidential candidate, tweeted: "As a lifelong Houston Rockets fan I was proud to see [Daryl Morey] call out the Chinese Communist Party's repressive treatment of protestors in Hong Kong. Now, in pursuit of big $$, the NBA is shamefully retreating."
Nonetheless, the controversy comes at an awkward time for the league, with LeBron James' LA Lakers and the Brooklyn Nets set to play games in Shanghai and Shenzhen this week.
Nets owner Joe Tsai is a co-founder of Chinese e-commerce giant Alibaba, and posted an open letter on his Facebook page saying that "the hurt that this incident has caused will take a long time to repair".
The Rockets players in Japan have said the controversy will not affect the team's performances, and owner Tilman Fertitta said their tour in Japan was "all about the promotion of the NBA internationally".
Speaking alongside teammate Russell Westbrook on the sidelines of training, Rockets star James Harden said: "We apologise. You know, we love China, we love playing there. For both of us individually, we go there once or twice a year. They show us the most important love. We appreciate them as a fan base. We love everything there about them and we appreciate the support that they give us individually and as organisation."
Join our commenting forum
Join thought-provoking conversations, follow other Independent readers and see their replies