How one couple is fighting back against China's financial penalties for unmarried parents
Mr Shen and Ms Wu are using media attention to raise money to pay their fine
Lu-Hai Liang
Saturday 04 July 2015 21:44 Comments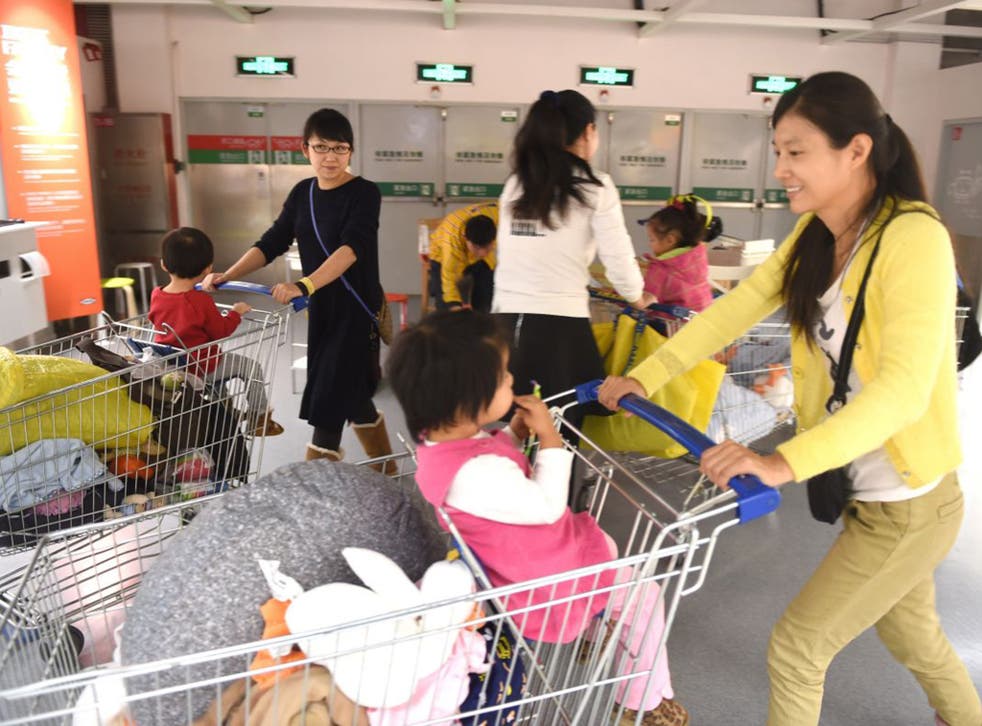 For most families, having a child is complex enough, without adding layers of red tape. In China, new parents Shen Bolun and Wu Xia feel bureaucracy is a reasonable price to pay for the freedom to choose how they live.
In the face of social and state pressure, Mr Shen and Ms Wu, who last month gave birth to a daughter, have never married and do not intend to. But their decision has had consequences – not least, in their case, a 43,910 RMB (£4,498) "social maintenance fee" levied against them. All those who have unlawful births outside the country's one-child policy, including unmarried parents, must pay an amount to be determined by the authorities.
The couple are now using the ensuing media attention to raise money partly to pay off the fine, and partly to highlight the plight of China's single parents, and what they consider a de facto enforcement of marriage imposed by the government.
"People don't see another option," Mr Shen, 26, a filmmaker and artist, said a week before his daughter's birth. "No choice to make. No freedom. When you have only one choice, you don't have freedom. Right now, you have to get married to have a baby."
Being unmarried parents is a legal minefield in China. To give birth legally, you need a birth permit. To obtain this permit, you need a marriage certificate. With no marriage certificate, it is up to the mother to fill in 20 pages of documents, show receipts proving the social maintenance fee has been paid, and provide a DNA paternity test to register the birth of a child. The latter, in particular, can be a problem if the mother is alone.
It is also difficult for the children of unmarried parents to obtain residency status (known as a hukou), which allows access to subsidised social services and medical care.
"We wanted to promote a different kind of thinking," said 32-year-old Ms Wu, pointing out that China's high abortion rates – 28 per 1,000 women, compared with 17 in the UK – are unsurprising when it's seen as the only recourse for unmarried couples or single women. "It's a much easier way to avoid the problem," said Ms Wu. "But it's about being comfortable with your decision."
China's territorial disputes

Show all 5
The couple began their campaign on the Chinese crowdfunding website Dreamore.com, where the public were invited to donate a suggested 10 RMB (90p). Within 16 hours, they had generated 9,581 RMB. But soon after, the website stopped hosting their campaign and asked Mr Shen to return the contributions, saying the government was applying pressure.
Now Mr Shen is now using WeChat, similar to Whatsapp, to post updates. Chinese media have contacted him for interviews, providing a rare platform for a discussion about the children of unwed couples and the rights of single women among China's younger generations.
There is also some official opposition to the social maintenance fee, with some members of the legislative National People's Congress publicly calling for it to be scrapped. State media have reported at various times that the authorities are considering amending the regulations, but they remain in place, as they have done since 1980.
Asked if perhaps he should have just married the mother of his child to prevent their current troubles, Mr Shen said: "I'm still figuring out love, marriage, and responsibility. Where the responsibility comes from. Because if you're forced to do something, that's not responsibility."
Register for free to continue reading
Registration is a free and easy way to support our truly independent journalism
By registering, you will also enjoy limited access to Premium articles, exclusive newsletters, commenting, and virtual events with our leading journalists
Already have an account? sign in
Join our new commenting forum
Join thought-provoking conversations, follow other Independent readers and see their replies