Hunza Valley: Pakistan's 'real Shangri-La' is a world free from militant Islamists, poverty, pollution and a lacklustre education system
The region is beautiful, prosperous, and - thanks to charity funding - a bulwark against extremism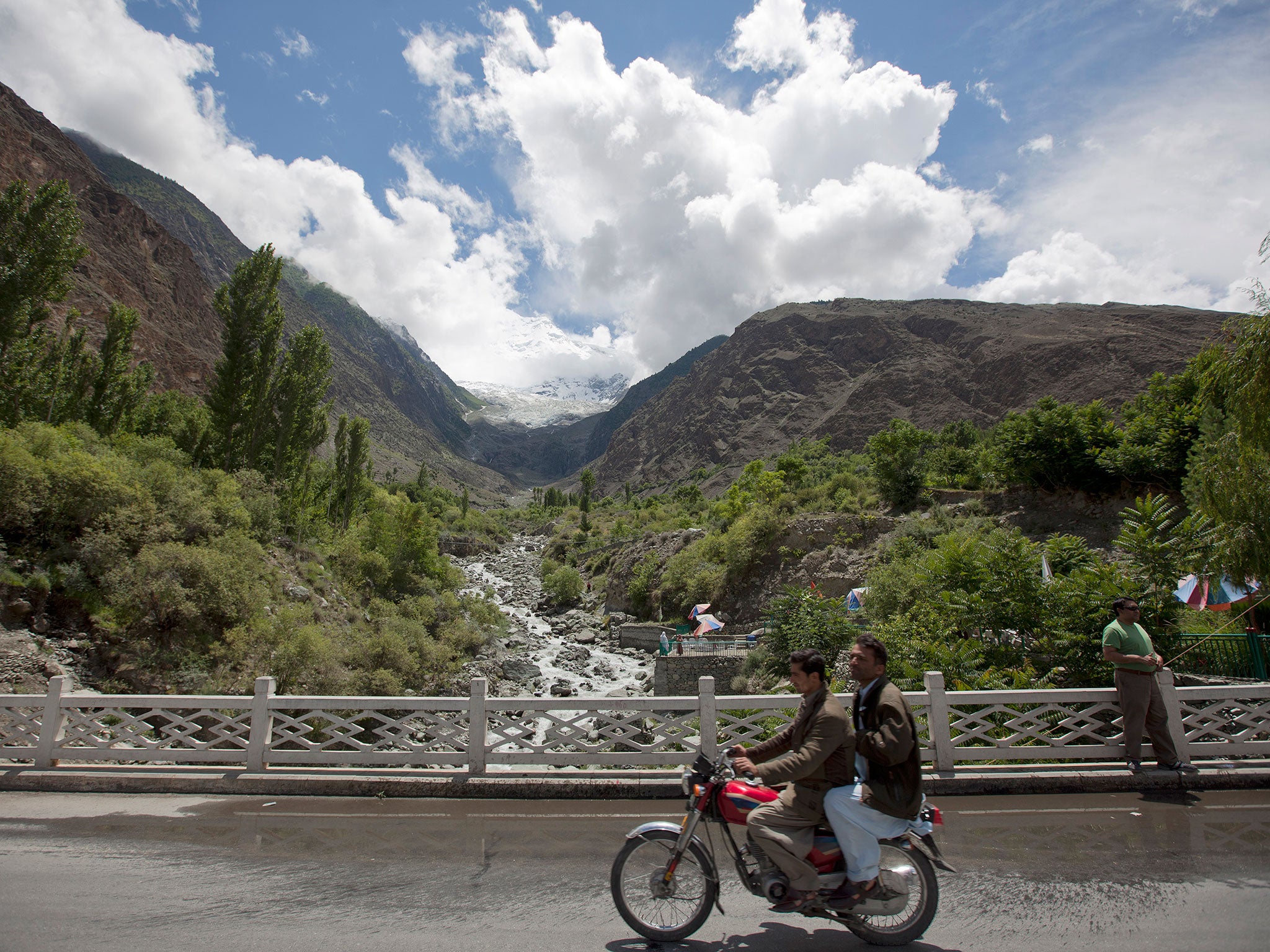 Visitors to the stunningly beautiful valley, towered over by five snowcapped mountains, sometimes feel as if they are standing at the edge of the Earth — or, maybe, at the centre of it.
Either way, they often don't feel as if they are in Pakistan, a country that struggles with poverty, pollution, Islamist militancy and a lacklustre education system, especially for women.
Once a hardscrabble Himalayan town where residents barely had enough to eat, Karimabad, in the Hunza Valley, is now one of Pakistan's most idyllic spots – an oasis of tolerance, security and good schools. That standard of living can be traced to residents' moderate interpretation of Islam as well as considerable support from one of the world's largest charities.
Many parents in the valley say that if they had to choose, they would send their daughters to school over their sons. Nearly all families own at least a small plot of land. Residents say they cannot remember the last murder in the valley. And unlike in other parts of Pakistan, streams are not polluted with plastic bags, human waste and decaying appliances.
Such views – and protection of the surroundings – have allowed the Hunza Valley's population to become a bulwark against Islamist extremism, despite its relative proximity to militant strongholds in Pakistan's tribal belt and Kashmir, a disputed region that Pakistan and India have fought wars over. "Here, we have facilities, we study and there is no terrorism," said Haider Ali, 18, watching classmates play soccer as the sun set behind Mount Rakaposhi, elevation 25,551ft.
Not everything is perfect, of course. Electricity deficits can keep the lights out for days at a time. A once-vibrant tourism industry collapsed after the terrorist attacks on the World Trade Center. Deforestation has led to a shortage of firewood, so families must huddle in one room to stay warm when winter temperatures plunge toward zero.


And some local leaders worry the community has become too dependent on charitable groups, leaving it vulnerable to a sudden reduction in aid. Such concerns are growing more pronounced as the Pakistani government, which temporarily expelled Save the Children last month, implements strict new licensing requirements for international aid groups.
But for now, Karimabad is an example of what's possible in rural Pakistan when residents accept support from international charities and stand firm against the threats posed by militancy.
"This is the real Shangri-La," Lars-Gunnar Wigemark, the former EU ambassador to Pakistan, said after seeing the Hunza Valley for the first time last year.
More than 90 per cent of the residents of Karimabad are Shia Ismaili Muslims, among the most moderate sects of Islam. They are followers of the Aga Khan family, viewing it as directly descended from the prophet Mohamed's son-in-law. Prince Karim Al Husseini, a billionaire philanthropist who lives in France and goes by the title of Aga Khan IV, is the Ismailis' spiritual leader – and a major benefactor of the Hunza Valley.
Prince Husseini's Aga Khan Development Network has an annual budget of $600m and operates in more than 30 countries. Over the past four decades, it has worked with other charities to invest hundreds of millions in the valley, paving roads, opening schools and establishing health clinics and water treatment centres for the 65,000 residents. During the 1980s, in a bid to expand the local economy, the Aga Khan network helped persuade farmers to grow cherries and peaches along with the traditional cash crops of wheat and potatoes. Now, much of Karimabad is an orchard.
Prince Husseini is also a proponent of education. According to Pakistan's Dawn newspaper, the Hunza Valley's literacy rate is 77 per cent, although Karimabad residents say nearly everyone younger than 30 can read and write. The national literacy rate is about 58 per cent, with a sharp disparity between men and women.
A World Bank study published last year concluded that female literacy in parts of the Hunza Valley had reached 90 per cent, compared with 5 per cent in another mountainous district, Diamer, about five hours away by road.
"When I was in school, few could even speak English," said Javed Ali, 41, manager of Karimabad's Hill Top Hotel. "Now, everyone speaks it fluently." From settlements at an elevation as high as 9,000ft, children walk up to three miles into the valley to get to school each morning.
After middle school, some female students enroll in the Aga Khan Higher Secondary School for Girls, which teaches only maths and science. Nearly all graduates go on to college, according to Zahra Alidad, the principal and a graduate of the school.
Iqbal Walji, president of the Aga Khan Council for Pakistan, said the Hunza Valley had been sheltered from the extremist ideology that has taken root in other parts of the country.
"When you have communities improving their own lives and obtaining education, it prevents easy manipulation of communities and allows them to be resilient against external forces," Mr Walji said.
Some local leaders complain that residents have become too passive and reliant on the Aga Khan charities. "Ismailis have become absentee stakeholders," said Izhar Ali Hunzia, a local political leader. "All decisions are centralised and made in France, and people are just waiting for others to solve their problems."
But Ali Murad, 66, said he is grateful for financial support that helped free his and other families from the isolating grip of mountain life. When Mr Murad was a child, his family struggled to make money and ate mostly food made from wheat. Now he owns eight cherry trees, 35 apple trees and 40 apricot trees. Two of his three sons have graduated from college. One works as a chef in Dubai and the other as a Chinese interpreter.
© The Washington Post
Join our commenting forum
Join thought-provoking conversations, follow other Independent readers and see their replies