I have been abducted by aliens, says Japan's first lady
(Oh, and she also knew Tom Cruise in a previous life)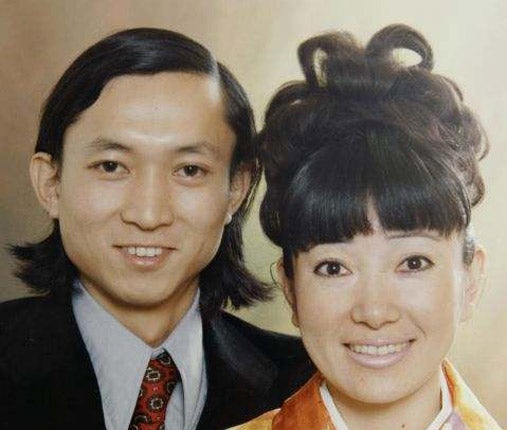 Move over Michelle, watch your backs, Carla and Sarah. There's a new kid on the first lady block, and she looks like upstaging the lot of you.
Miyuki Hatoyama, wife of Japan's Prime Minister-elect, Yukio Hatoyama, is a lifestyle guru, a macrobiotics enthusiast, an author of cookery books, a retired actress, a divorcee, and a fearless clothes horse for garments of her own creation, including a skirt made from Hawaiian coffee sacks. But there is more, much more. She has travelled to the planet Venus. And she was once abducted by aliens.
The 62-year-old also knew Tom Cruise in a former incarnation – when he was Japanese – and is now looking forward to making a Hollywood movie with him. "I believe he'd get it if I said to him, 'Long time no see', when we meet," she said in a recent interview. But it is her claim in a book entitled "Very Strange Things I've Encountered" that she was abducted by aliens while she slept one night 20 years ago, that has suddenly drawn attention following last Sunday's poll.
"While my body was asleep, I think my soul rode on a triangular-shaped UFO and went to Venus," she explains in the tome she published last year. "It was a very beautiful place, and it was very green."
When the new Japanese first lady related her adventures to her then husband, he told her flatteningly that it was probably just a dream. But she is confident that Yukio, the man now entrusted with the task of hauling Japan out of its deepest recession, would have reacted very differently. "My current husband has a different way of thinking. He would surely say, 'Oh, that's great'," she wrote. Mrs Hatoyama's self-confidence in projecting her personality, and shattering the traditional expectations of a political wife, probably derives from her early years as a dancer in Japan's legendary all-female Takarazuka theatrical troupe.
Founded in 1913, Takarazuka has long enjoyed cult status in Japan. The star players in its glitzy, saccharine, ferociously camp productions of US classics like Gone with the Wind enjoy superstar status among the armies of women that flock to the shows. Takarazuka's actresses are picked from thousands of teenage hopefuls in a stringent selection process and subjected to a quasi-monastic training regimen. While a handful become household names, the great majority, like Mrs Hatoyama, retire after a few years. But the aura of belonging to this exclusive sorority clings to them for ever.
After six years Mrs Hatoyama quit the troupe and went to the United States. It was there, while working in a Japanese restaurant in San Francisco, that she met Yukio, then a graduate student at Stanford University. Miyuki was still married to her first husband. "The average man chooses his mate from among unmarried women," Mr Hatoyama boasted years later. "I chose mine from among all women."
Rejecting the reticence that is customary in Japan, Mr Hatoyama makes no secret of his devotion to his multi-talented wife. His website has a photo of the pair of them in an affectionate pose, and he admits happily to being what the Japanese call a "my-home-papa". "I feel relieved when I get home," he says. "She is like an energy refuelling base."
Though Mr Hatoyama is a multi-millionaire and the fourth generation of his family to rise to the top of the Japanese political world, his appearance is unconventional by rigid Japanese standards: his hair is unruly and he rejects the navy uniform of the political world in favour of suits of brown and moss green.
It is this refusal to bow to convention, as well as his tendency to drop conversation-stopping remarks – like his call, during the election campaign, for a "politics full of love" – that long ago led other Japanese politicians to dismiss him as an uchujin, an alien. Though not, presumably, the one who took Miyuki to Venus.
Join our commenting forum
Join thought-provoking conversations, follow other Independent readers and see their replies