I will win the Indian general election, says Rahul Gandhi in first ever TV interview
Campaign leader goes head-to-head with unforgiving anchor in 75-minute encounter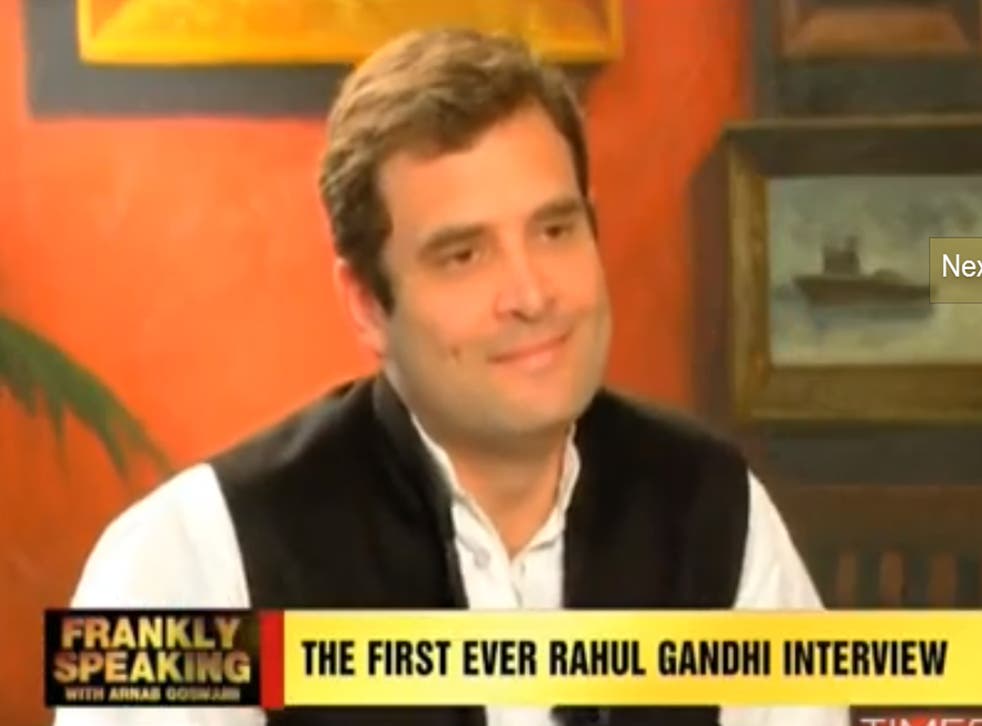 The scion of India's most famous political family has claimed in his first ever television interview that his party could yet win the country's upcoming election. His detractors claimed his awkward performance and lack of specific answers explained why he preferred to avoid the media.
Rahul Gandhi, the campaign leader of the ruling Congress party, went head-to-head with Arnab Goswami, perhaps the country's most pugnacious television anchor, in an encounter that lasted more than 75 minutes.
In questions that covered a range of topics, Mr Gandhi was asked about rampant corruption, the 1984 massacre of Sikhs following the assassination of his grandmother, Indira Gandhi, and about his rival in the ascendant opposition Bharatiya Janata party (BJP), Narendra Modi.
Yet while the 43-year-old did provide some new insights, he tended to fall back to generalisations and avoided specific answers to Ms Goswami's often chiselled questions. He said he wanted to encourage more women and young people to enter politics and was determined to open up the system.
"I have seen my grandmother die, I have seen my father die, I have seen my grandmother go to jail and I have actually been through a tremendous amount of pain as a child... There is absolutely nothing I am scared of," said Mr Gandhi. "I have a clear aim in my mind and the aim is that I do not like what I see in Indian politics."
Mr Goswami's Times Now channel had advertised last night's pre-recorded interaction as the "interview of the year" and that was almost certainly the case. While Mr Gandhi has given some off-the-record briefings to the media and has held a few press conferences, he has only ever granted a handful of interviews. Though he was elected as an MP in 2004, this was his first for television.
"He gave an interview to a Hindi paper recently, but this interview was more about showing that he's ready to face a conversational, hard TV interview," said Shivam Vij, a Delhi-based journalist and commentator. "It was to shed his image as a politician who doesn't like to take questions, and certainly not tough ones."
The interview with Times Now, the rules for which were reportedly hammered out by Mr Goswami and Mr Gandhi's sister, Priyanka, follows one he gave to the mass-circulation Hindi-language Dainik Bhaskar newspaper two weeks ago.
The flurry of media activity suggests that someone in the camp of Mr Gandhi, who recently retained the services of the global PR firm Burson-Marsteller, believes the Congress leader needs to take immediate action to try and rescue his party's chances.
While a date has not been set, India's general election must be held before the end of May. Polls suggest that the Congress party is struggling badly against the BJP and that the only thing that might dent Mr Modi's march is the spanner-in-the-works arrival of the upstart Aam Aadmi party, which has been taking votes from both major parties.
Indeed, when the Congress announced earlier this month that party president Sonia Gandhi had decided not to name her son as the official prime ministerial candidate, it was seen as a public admission that India's oldest party expected to do poorly. Some polls suggest it is going to win fewer than 100 of the 543 seats in contention, which would represent its worst ever result.
Mr Gandhi claimed the Congress could yet turn things around. "I will win the election," he said. Are you confident of that, responded Mr Goswami. "Reasonably confident," said Mr Gandhi, adding that he would take full responsibility if the election was lost.
Mr Gandhi, whose great grandfather was India's post-independence leader Jawaharlal Nehru and whose grandmother and father also served as prime minister, has sought to avoid a head-to-head clash with the charismatic Mr Modi.
Yet in the interview Mr Gandhi linked Mr Modi to the 2002 massacre of hundreds of Muslims in Gujarat. Mr Modi has repeatedly been accused of failing to stop the killing though a series of judicial inquiries have cleared him of wrong-doing.
"The Gujarat riots took place, people died, Mr Narendra Modi was in charge of Gujarat at that point," Mr Gandhi said. "The government in Gujarat was actually abetting and pushing the riots further".
On Tuesday, the BJP hit back at Mr Gandhi's allegations. Senior leader Arun Jaitley said Mr Gandhi was misinformed over his claim the state was not involved in the 1984 killing of Sikhs. By contrast, he said that in Gujarat the local government had tried to stop the killing.
"In Gujarat thousands of people were arrested," he said. "The badly over-powered police fired at several places. Almost 300 rioters were killed in police firing. Thousands of prosecutions were filed. Hundreds of people have been sentenced."
Register for free to continue reading
Registration is a free and easy way to support our truly independent journalism
By registering, you will also enjoy limited access to Premium articles, exclusive newsletters, commenting, and virtual events with our leading journalists
Already have an account? sign in
Register for free to continue reading
Registration is a free and easy way to support our truly independent journalism
By registering, you will also enjoy limited access to Premium articles, exclusive newsletters, commenting, and virtual events with our leading journalists
Already have an account? sign in
Join our new commenting forum
Join thought-provoking conversations, follow other Independent readers and see their replies