'If war comes, we will fight because we have to': Life goes on near Korea's demilitarised zone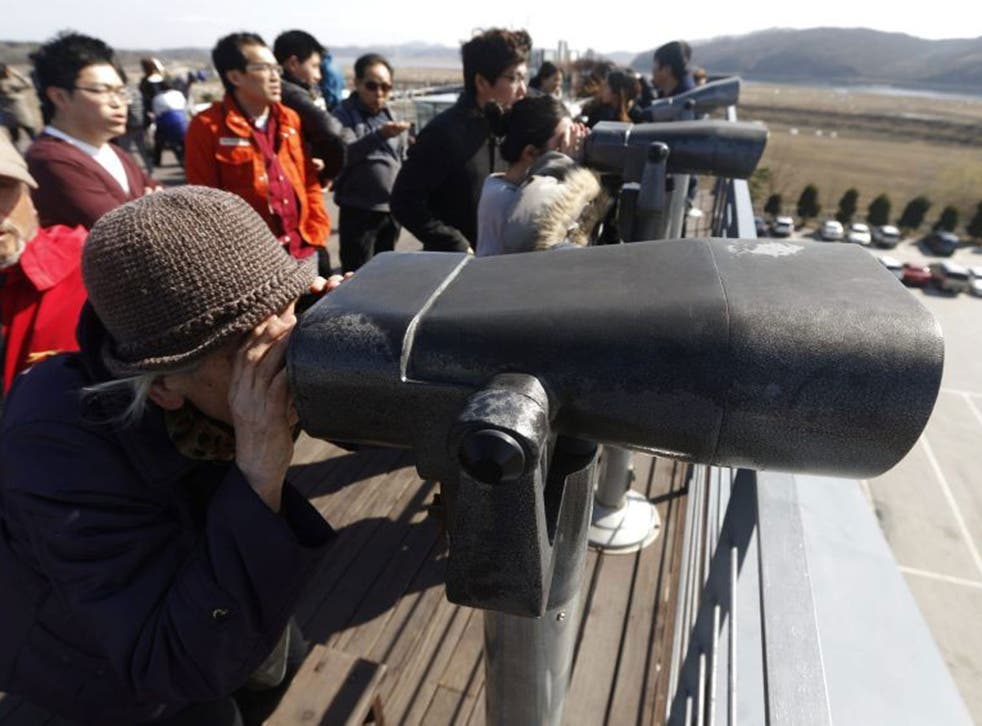 Tourists peer through telescopes from the southern side of the demilitarised zone (DMZ), trying to catch a glimpse of life across the line that divides North and South Korea.
On a clear day, they might see a skinny farmer working the fields or one of the gleaming bronze statues of the North's founder, Kim Il-Sung, that dot its countryside. The Kaesong Industrial Complex, the last vestige of a once hopeful détente, is a few kilometers away, but a dense fog blocks the view. "Hard to see what all the fuss is about," laughs an American man to his young son.
At times like this, it is possible to overlook the terrible, fratricidal malignancy that poisons relations between these two Cold War enemies. In the six decades since a fragile truce ended war, both have resorted to deadly methods to break the other, but Pyongyang has been the more bizarrely enterprising, digging tunnels beneath the DMZ, launching commando raids and dispatching midget-submarines into the capitalist South. Sometimes, the military will just lob old-fashioned missiles, as they did two years ago when they shelled a frontier island west of here, killing four.
In 1968, an elite 31-man squad of North Korean soldiers marched three days to the capital to assassinate the South's dictator Park Chung-hee, father of current President ‪Park Geun-hye. A short distance from the Blue House, the South Korean equivalent of 10 Downing Street, a fierce gun battle broke out with South Korean troops. Dozens of soldiers and civilians died. All but two of the North Korean unit were killed or committed suicide. They had been trained to bite off their own tongues.
Today, the route taken by the commandos is a hiking trail and several of the tunnels beneath the DMZ are tourist attractions, part of the South's arsenal of anti-communist propaganda. The tourists are told that the North's soldiers hewed the largest tunnel through solid granite, digging over 1,600 meters before it was discovered in 1978. The plan, say guides, was to build an underground monorail capable of transporting 30,000 North Korean troops an hour into the South where they would invade Seoul.
The scenario for an invasion has changed little since then, or since the 1950-1953 Korean War. Though handicapped by last-generation military equipment, the North's one-million-strong army is powerful and well trained. In a conventional land war, they would attack south at several points over the border. South Korean forces and their US military ally would try to contain the invasion close to the DMZ away from the crowded capital, home to 10 million people.
The scenario is so horrific many young South Koreans have trouble imagining it. "It cannot happen," says Chang Il-Ho (29), who eats lunch at a restaurant in Munsan, a few miles from the border. Like millions of South Korean men, he has spent 21 months in compulsory military service and will be recalled if war breaks out. "The North Korean leaders are not stupid – in a real war, they know they would be completely annihilated," he predicts. "But if it happens, we will fight because we have to."
Munsan, a dull commuter town of about 28,000 people, would be on the frontlines of the fight. For years, its proximity to the DMZ has kept property prices low, making it attractive to Seoul's poorer working class. Young military conscripts, many in their late teens, arrive in a steady trickle at the main railway station but life otherwise goes on. Gunfire and explosions can often be heard in the surrounding hills as the soldiers drill for war, says Englishman Sam Cowan, who teaches in a high school. "It sometimes gets to me," he admits. "But then I'll look at the local people getting on with their lives and know it's going to be ok."
Still, some local people have been surprised by the sustained intensity of the North's threats, which were triggered by joint war exercises by the South Korean and US militaries. "We're a little shocked," says Pak Guem-Ju, a local shopkeeper. "After all, they have nuclear weapons now." She thinks all-out war is unlikely but says geography doesn't favour Munsan. "If an invasion happens, we would be among the first ones targeted."
South Koreans joke that they will know war is coming when the country's most powerful businessman Lee Kun-Hee, the chairman of Samsung Electronics, flees Seoul. More seriously, they closely watch the Kaesong Complex, home to over 100 South Korean companies employing 53,000 North Korean workers, for signs that the crisis is boiling over. The complex earns the North $86 million in much needed income a year, according to The Korea Herald. Pyongyang imposed an entry ban on South Korean workers last week. Permanent closure would cut the last remaining artery between the two sides.
Near to the DMZ is another once hopeful lifeline, the Gyeong-ui railway line. Built a century ago, it was severed during the 1950-53 war then rebuilt during the détente years from 2000-2008. In 2007, a train carrying delegates from both sides of the border travelled to Kaesong on a pilot run but the line is still unused and stops at Dorasan Station, just 700 meters from the Southern Boundary of the DMZ. "We all live in hope that it will someday carry people all the way to the North and China," says the tour guide. "It is a sign that we are finally united."
That seems a long way off now. In 2002 then US President George W. Bush chose this symbolic and highly charged venue to reaffirm the strength of Washington's military alliance with Seoul. "We will sustain our obligations with honour," he said. Few Koreans want to find out what that means in reality, says Sung Min, a salaryman who drinks beer in a Munsan bar. "I don't know anyone who really thinks we will go to war with the North," he says while glancing at the TV. "But we have learned to expect the unexpected."
Register for free to continue reading
Registration is a free and easy way to support our truly independent journalism
By registering, you will also enjoy limited access to Premium articles, exclusive newsletters, commenting, and virtual events with our leading journalists
Already have an account? sign in
Register for free to continue reading
Registration is a free and easy way to support our truly independent journalism
By registering, you will also enjoy limited access to Premium articles, exclusive newsletters, commenting, and virtual events with our leading journalists
Already have an account? sign in
Join our new commenting forum
Join thought-provoking conversations, follow other Independent readers and see their replies