In a Rangoon garden, Cameron stands with Suu Kyi and offers Burma a fresh start
PM dismisses warnings of false dawn with call to 'suspend' sanctions, at house where heroine was held for 15 years
Patrick Bodenham
,
Andrew Buncombe
Saturday 14 April 2012 00:00 Comments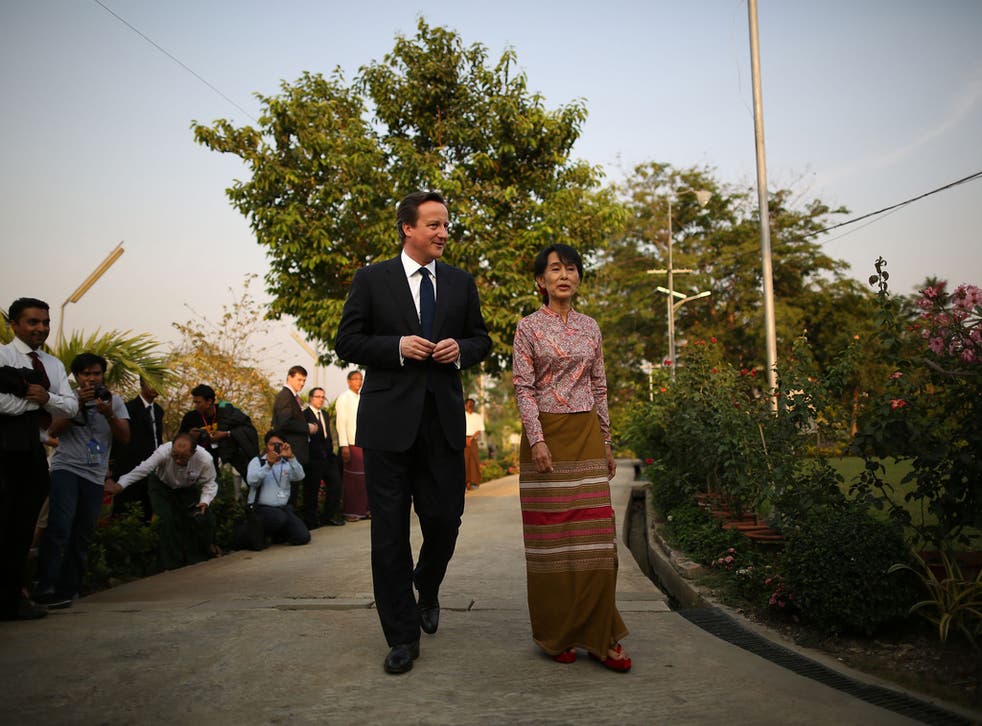 David Cameron yesterday called for the suspension of almost all sanctions against Burma as he said the country ought to be rewarded for the steps it had taken towards democracy.
Standing alongside the democracy leader Aung San Suu Kyi in the garden of the Rangoon property where she spent more than 15 years under house arrest, the British Prime Minister, the first to visit the country while in office, said although it was appropriate to remain sceptical, it was also correct to respond to the measures that had been taken and to encourage more.
Campaigners who had urged Mr Cameron not to move too quickly said last night they approved of suspending sanctions rather than dropping them entirely, as some EU members want. Ms Suu Kyi also welcomed the move, reiterating her belief that Burma's President, Thein Sein, is a man of integrity.
"I support the idea of suspension rather than the lifting of sanctions because this would be an acknowledgment of the role of the President and other reformers," said Ms Suu Kyi.
"This suspension would make it quite clear to those who are against reform that, should they try to obstruct the way of the reformers, then sanctions could come back."
Ahead of the visit by Mr Cameron, who has been leading a delegation of British business and weapons company representatives through the Far East, campaigners had urged the Prime Minister to press the President about the hundreds of political prisoners who remain lodged inside Burma's jails, and about allegations of human rights abuses in clashes against ethnic rebels. They pointed out that, despite the flurry of steps towards liberalisation taken by the authorities, including the recent by-elections in which Ms Suu Kyi triumphed, there have been no changes to pernicious laws.
Mr Cameron did not specify the details of his conversation with Thein Sein in the capital, Naypyidaw, but he appeared to believe the prospect for change was genuine. He said he believed a ban on weapons sales should remain.
"I think there are prospects for change, and I think it is right for the rest of the world to respond to those changes," he said. "Of course we must respond with caution; we must be sceptical, because we want to know those changes are irreversible, but I think it is right to suspend the sanctions."
Asked why the purportedly civilian government that came to power following a controversial poll in 2010 had decided to begin reforms, Mr Cameron replied: "I can't speak for why the regime is acting in the way that it is. But when you look at Burma's neighbours, you can see economies that are growing more quickly." The visit coincided with the Water Festival of Thingyan, which celebrates the Buddhist New Year. As Mr Cameron and Ms Suu Kyi walked in the garden of her home, music thumped from speakers set up around Inya Lake. Outside the compound, local people cheered as they drove past the gates, buckets in hands, flinging water as far as possible from the top of trucks.
U Soe Win, 67, one of the founding members of Ms Suu Kyi's National League for Democracy (NLD), told The Independent: "Our people warmly welcome [Mr Cameron's] arrival. The visit is not only good for relations, but good for business."
Compared to just 18 months ago when Ms Suu Kyi was released from house arrest, Burma appears a very different place, most obviously in that she is free and people were able to vote for the NLD, which won 43 of 44 seats in the recent by-elections. But many observers remain unsure how committed the authorities are to full democracy; under the current constitution, a full 25 per cent of parliamentary seats are reserved for appointed military officers. Despite this, several members of the EU want to press ahead and drop sanctions, which expire at the end of the month. EU foreign ministers are due to discuss on 23 April whether or not to renew them.
Student reunion? Suu Kyi mulls UK visit
Aung San Suu Kyi hinted that she may visit Britain this summer to see her "beloved Oxford" and thank those who supported her while she was under house arrest.
David Cameron, whose Witney constituency is in Oxfordshire, extended the invitation as the pair spoke in the garden of the lakeside villa where she spent 15 years as a political prisoner.
"Two years ago, I would have said thank you for the invitation but sorry," Ms Suu Kyi said. "Now I am able to say perhaps. That is great progress."
After studying at Oxford University in the 1960s, she left her husband and two children in England to return to her homeland to lead the opposition to Burma's military junta.
Were she to visit Britain, it would be her first trip back to the West since being released from her lengthy house arrest.
Mr Cameron told her: "Your courage in standing up for the things you believe in has been inspirational."
Register for free to continue reading
Registration is a free and easy way to support our truly independent journalism
By registering, you will also enjoy limited access to Premium articles, exclusive newsletters, commenting, and virtual events with our leading journalists
Already have an account? sign in
Join our new commenting forum
Join thought-provoking conversations, follow other Independent readers and see their replies