Incredible photos from joint US military exercise shows North Korea its worst nightmare
Operations in total involve about 17,000 US troops, along with 300,000 of their South Korean counterparts
Jeremy Bender
Thursday 17 March 2016 01:42 Comments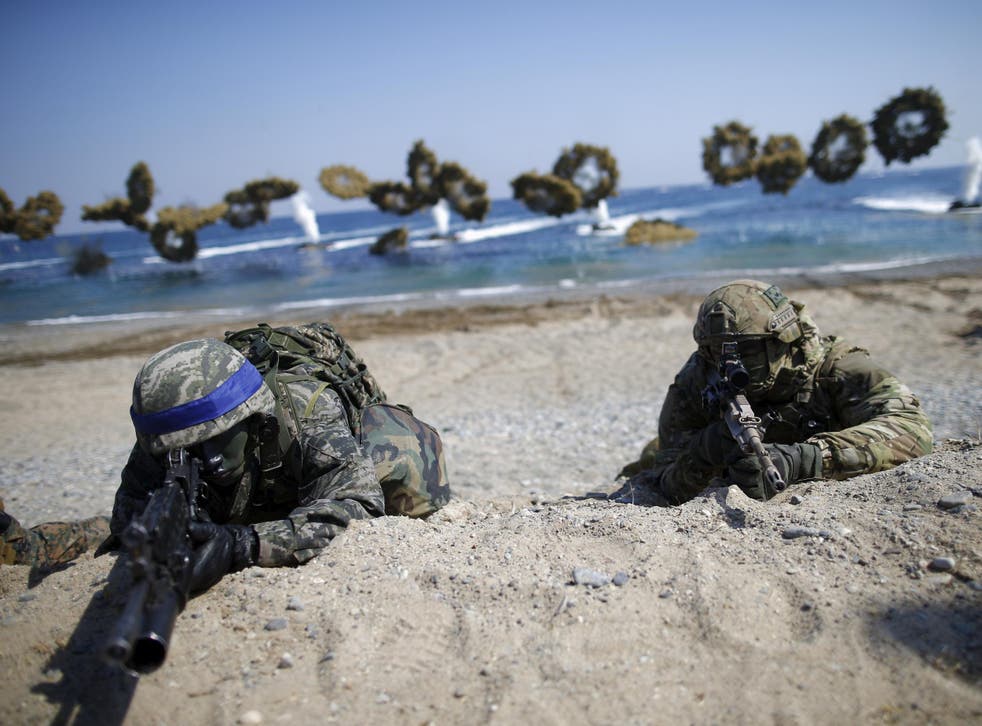 Operation Foal Eagle 2016, which runs from March 7 to April 30, is a massive joint US-South Korean military exercise held in North Korea's backyard.
The operation runs contemporaneously as another US military exercise in South Korea, Operation Key Resolve, which starts March 7 and ends March 18.
The operations in total involve about 17,000 US troops, along with an astonishing 300,000 of their South Korean counterparts.
North Korea views the drills as aggressive and denounces them each year.
Pyongyang has ratcheted up the rhetoric and warned that its armed forces "holding tightly the arms to annihilate the enemies with towering hatred for them are waiting for the dignified Supreme Command to issue an order to launch a preemptive strike of justice."
On March 9, North Korea launched two ballistic missiles into the Sea of Japan. And on Monday, Pyongyang claimed it could wipe out Manhattan with a nuclear bomb. These photos highlight the exercises going on in South Korea:
---
Operation Foal Eagle is carried out in the spirit of the 1953 South Korea-US Mutual Defense Treaty, which obligates the US to intervene if the north ever invaded South Korea again.
---
The bilateral exercise is conducted by South Korea and the US. It allows the two nations to practice land, air, and naval operations.
---
The drill features the use of smoke screens during an amphibious invasion ...
---
... and beachhead assaults once the soldiers make landfall.
---
Korean marines spearheaded the landing operations.
---
On the beach, US forces join their South Korean counterparts.
---
The drill aims to foster interoperability and prepare for a hypothetical assault by North Korea.
---
North Korea accuses the US of using the exercises as a practice run for an invasion.
---
South Korea and the US maintain that Foal Eagle is a strictly defensive exercise.
---
The exercises allow American Marines to run through the full spectrum of amphibious operations.
---
Simultaneously, the US and South Korean militaries are holding exercises inland as part of Operation Key Resolve.
---
Key Resolve and Foal Eagle mark the largest exercises the two countries have held together since 2010.
---
Key Resolve is also reported to test, for the first time ever, Operations Plan 5015.
---
Plan 5015 is aimed at using preemptive strikes to deter any possible North Korean use of weapons of mass destruction.
---
Additionally, the exercise makes use of special operations forces from both countries.
Read more:
• Tony Blair's property empire is worth an insane amount of money
• BUDGET: People in the UK who let out their homes on Airbnb got a £1,000 tax break
• 19 things successful people do in the first 10 minutes of the workday
Read the original article on Business Insider UK. © 2015. Follow Business Insider UK on Twitter.
Register for free to continue reading
Registration is a free and easy way to support our truly independent journalism
By registering, you will also enjoy limited access to Premium articles, exclusive newsletters, commenting, and virtual events with our leading journalists
Already have an account? sign in
Join our new commenting forum
Join thought-provoking conversations, follow other Independent readers and see their replies