All-women police force in India 'will scare men' by tackling sexual violence and harassment
Women are trained in martial arts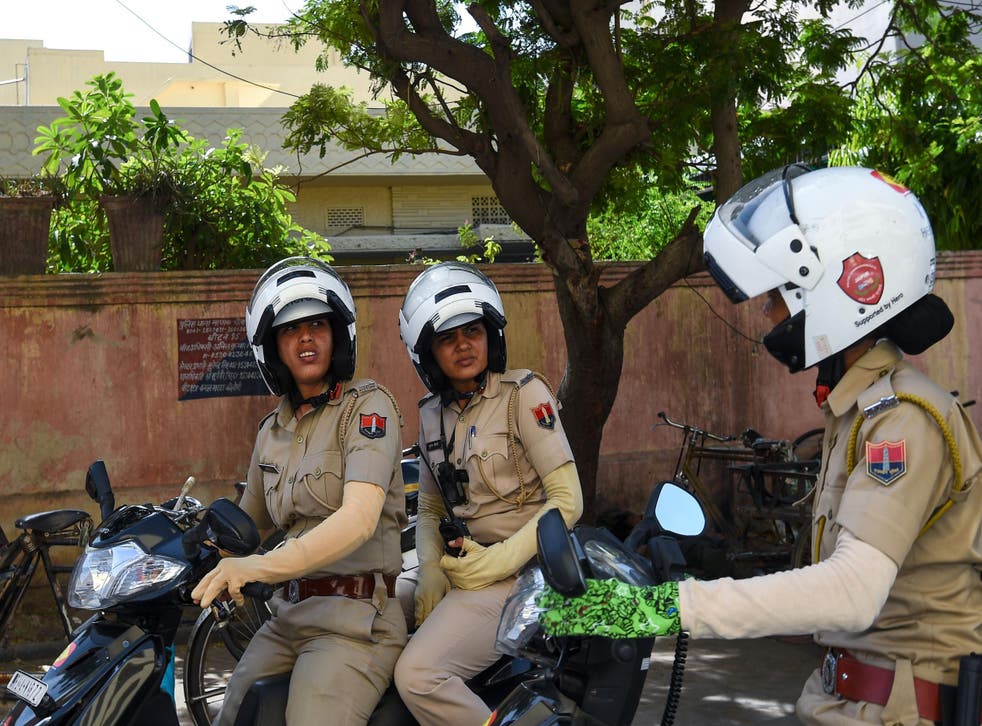 In conservative north-west India where sexual violence and harassment of women is commonplace, the city of Jaipur thinks it may have found a solution.
A new all-women police force now patrol the streets on foot and by moped to protect women and let them know help is at hand.
The police tell women that they can call or even WhatsApp for help.
Around 80 per cent of Indian women have been harassed by men in public, known as "Eve teasing", which includes catcalling, lewd comments and being followed by strangers.
The women police also have months of martial arts training.
"This is very good because men will be scared when they see those women on duty," male resident Ram Lal Gujar told AFP.
"If one man gets beaten up, others will also feel the heat automatically if they're doing anything wrong.
"That's why I think it's a really good idea."
Almost 40,000 rapes occur in India every year, but it is thought that the number of rapes that are unreported are much higher.
Women are thought to be scared to report a crime due to the mostly male police force and due to a fear of reprisal, or being judged to have provoked the attack.
"The message we want to send out is that we have zero tolerance towards crimes against women," Kamal Shekhawat, who heads up the new unit, told AFP.
The unit has reportedly seen a preventative effect and levels of harassment of women in typical spots decrease.since it was set up in May.
World news in pictures

Show all 50
The new force follows a similar initiative in the neighbouring city of Udaipur in October.
In the state of Uttar Pradesh, India's most populous state, police have developed "anti-Romeo" squads to target the same crimes, but they are mostly male-dominated forces.
Many people welcome the crackdown efforts. yet others criticise the "moral policing" and targeting of unmarried people, interfaith couples and men who have shown no evidence of harassing women.
The new policing strategies come after multiple, harrowing cases of gang rapes and other acts of violence against women which hit the international headlines and sparked large protests in India and abroad.
One particular case of a medical student, who was brutally raped and killed on a bus in December 2012 in New Delhi, brought the country's laws under scrutiny but attacks are still common. On average there are six rapes per day in New Delhi.
Register for free to continue reading
Registration is a free and easy way to support our truly independent journalism
By registering, you will also enjoy limited access to Premium articles, exclusive newsletters, commenting, and virtual events with our leading journalists
Already have an account? sign in
Register for free to continue reading
Registration is a free and easy way to support our truly independent journalism
By registering, you will also enjoy limited access to Premium articles, exclusive newsletters, commenting, and virtual events with our leading journalists
Already have an account? sign in
Join our new commenting forum
Join thought-provoking conversations, follow other Independent readers and see their replies