India moves to open up job quotas to upper castes for first time
It comes as India's lower house passes a bill to give citizenship to non-Muslims fleeing alleged persecution in neighbouring countries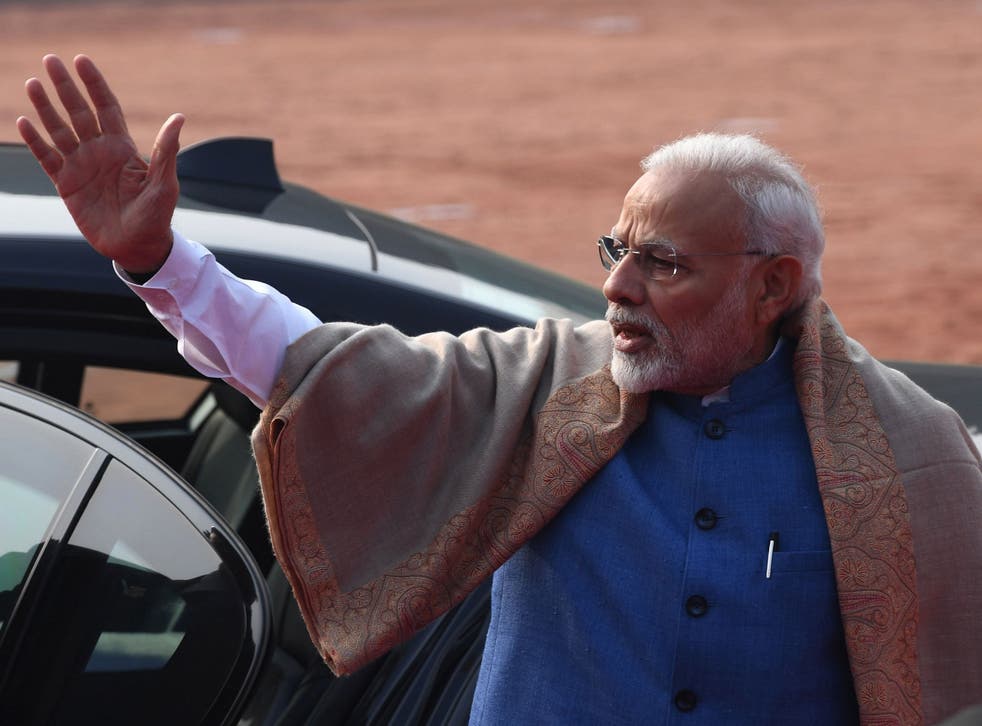 The Indian government has introduced a bill in parliament that would for the first time open up quotas for public sector jobs and higher education places to the upper castes.
Under India's constitution, 50 per cent of spaces at many public institutions are reserved for members of "scheduled castes" such as dalits (formerly untouchables) and the lower strata of the Hindu caste system.
The reservations were introduced after independence in an attempt to overturn the historic disadvantages faced by India's lower castes, but have become an effective way for political parties to pander to large voting blocs at elections.
Prime minister Narendra Modi's cabinet has now approved an amendment to the constitution that would set aside another 10 per cent of government jobs and university places for the "economically weaker sections of society", beyond the scheduled castes.
The policy would aid households with an annual income of less than 800,000 rupees (£8,950), while India's average income sits at around a tenth of that value. In a note accompanying the legislation, the government admitted it would encompass "a considerable part of the Indian population".
Opponents painted the change, which was introduced to the lower house of India's parliament on Tuesday, as an attempt to "appease" upper caste voters with just a few months to go until a general election.
And it comes on the same day as the lower house passed another law, the Citizenship Amendment Bill, which would give citizenship to non-Muslim minorities who have moved to India away from alleged persecution in neighbouring Pakistan, Bangladesh and Afghanistan.
Home minister Rajnath Singh told parliament such people "have no place to go except India". But critics said the bill was a blatant move to bolster the BJP's Hindu voter base.
Protesters burned tyres and damaged two BJP offices in the northeastern state of Assam, where immigration along its long open border is a contentious issue, and police said 700 were arrested. Protest leaders said the government bill would issue citizenship on the basis of religion, in violation of India's secular constitution.
Rajdeep Sardesai, a political commentator and author, said that "be it the 10 per cent quota or Citizenship Amendment Bill, it only reaffirms that while our constitution builders spoke of individual rights, electoral politics only cares for vote banks".
World news in pictures

Show all 50
Dilip Mandal, a journalist who tracks caste politics in India, told Al Jazeera: "What the government is doing now is an appeasement of the upper castes, who are already over-represented in bureaucracy, judiciary, media and echelons of corporate power."
Despite its strong Lok Sabha (lower house) majority, the BJP might struggle to pass any changes to the quota system – constitutional amendments require a special majority of two-thirds in both houses to pass. But it could be enough to buy support for the BJP from groups that have long resented the affirmative action as diminishing their own access to much-sought-after public sector jobs.
In an op-ed, Ashoka University vice-chancellor Pratap Bhanu Mehta described the quota policy as a "token signal" that "admits this government's massive failure" to create jobs in the private sector. "Gone are the narratives of a buoyant economy lifting all boats," he wrote. "We are now back to distributing crumbs."
Support free-thinking journalism and attend Independent events
The government said the move would improve opportunities for all poorer citizens – whether they be from Hindu upper castes or from religious minorities such as Muslims and Christians.
Shahnawaz Hussain, national spokesperson for Mr Modi's ruling BJP party, called it "yet another step based on the philosophy of Sabka Saath Sabka Vikas" – a favourite Modi slogan meaning "collective efforts, inclusive growth".
Ramdas Athawale, the BJP minister for social justice and empowerment, told the Indian Express: "My demand has always been for 25 per cent reservation for the upper caste poor; 10 per cent is a good start."
Join our new commenting forum
Join thought-provoking conversations, follow other Independent readers and see their replies