India summons Canadian ambassador to accuse Trudeau of encouraging 'extremist activism'
PM's comments on farmer protests in Delhi risk 'seriously damaging ties between India and Canada', says Indian government
Shweta Sharma
in Delhi
Friday 04 December 2020 10:08 Comments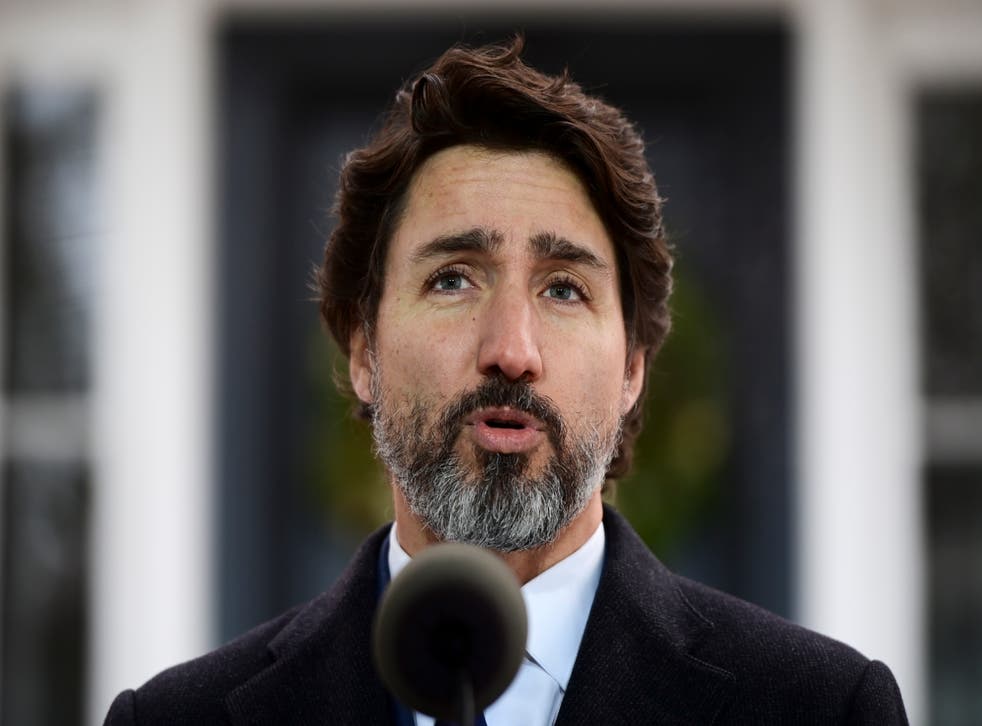 India says it has summoned the Canadian High Commissioner in Delhi to protest against comments made by prime minister Justin Trudeau about the ongoing farmer protests outside the Indian capital.
Tens of thousands of protesters have marched upon Delhi from farms in neighbouring states of northern India to criticise new reforms that will open up the agricultural sector to privatisation and market forces. Mr Trudeau said earlier this week that the situation was "concerning" and that Canada would always "defend the right to peaceful protest". 
A spokesperson for the Indian government said Mr Trudeau's comments "constitute an unacceptable interference in our internal affairs". "Such actions, if continued, would have a seriously damaging impact on ties between India and Canada," they said.
India's foreign ministry said the Canadian prime minister's intervention had "encouraged gatherings of extremist activities in front of our High Commission and Consulates in Canada that raise issues of safety and security".
"We expect the Canadian Government to ensure the fullest security of Indian diplomatic personnel and its political leaders to refrain from pronouncements that legitimise extremist activism," the spokesperson said.
India's "demarche" to the Canadian ambassador comes after scores of Sikhs protested outside the Indian consulate in New York and High Commission in Ottawa, with participants expressing support for the farmers demonstrating in India.
They were the first such international protests in relation to the farmers' complaints in India, and came a day after Mr Trudeau backed the protest, becoming the first international leader to speak out on the farmers' behalf, on Tuesday.
The protests in North America included fringe elements calling for the creation of "Khalistan" – a breakaway state for the Sikh community within India. Khalistani separatist groups are banned in India itself.
Many of the farmers protesting outside Delhi are Sikhs from Punjab state, and Mr Trudeau's comments are seen at least in part to be appealing to the sizeable Indian Sikh diaspora living in Canada. Indian immigrants account for 1.4 per cent of the population of Canada.
Meanwhile in India, an estimated 20,000 protesters have been camping outside Delhi for more than eight days now, blocking major roads leading into the capital from Haryana state and having a major knock-on effect on traffic across the city.
The farmers have been protesting over three farm laws, which they fear will see a reduction in the amount of money they receive for their produce, ultimately leaving them at the mercy of corporate giants. The Modi administration has insisted that the reforms are necessary to make the sector self-sufficient, and that farmers won't lose out financially.
Register for free to continue reading
Registration is a free and easy way to support our truly independent journalism
By registering, you will also enjoy limited access to Premium articles, exclusive newsletters, commenting, and virtual events with our leading journalists
Already have an account? sign in
Join our new commenting forum
Join thought-provoking conversations, follow other Independent readers and see their replies