Rafale: India's new jets arrive under shroud of secrecy amid China border conflict
Modernising an ageing fleet of Soviet-area aircraft has long been the top priority for India's military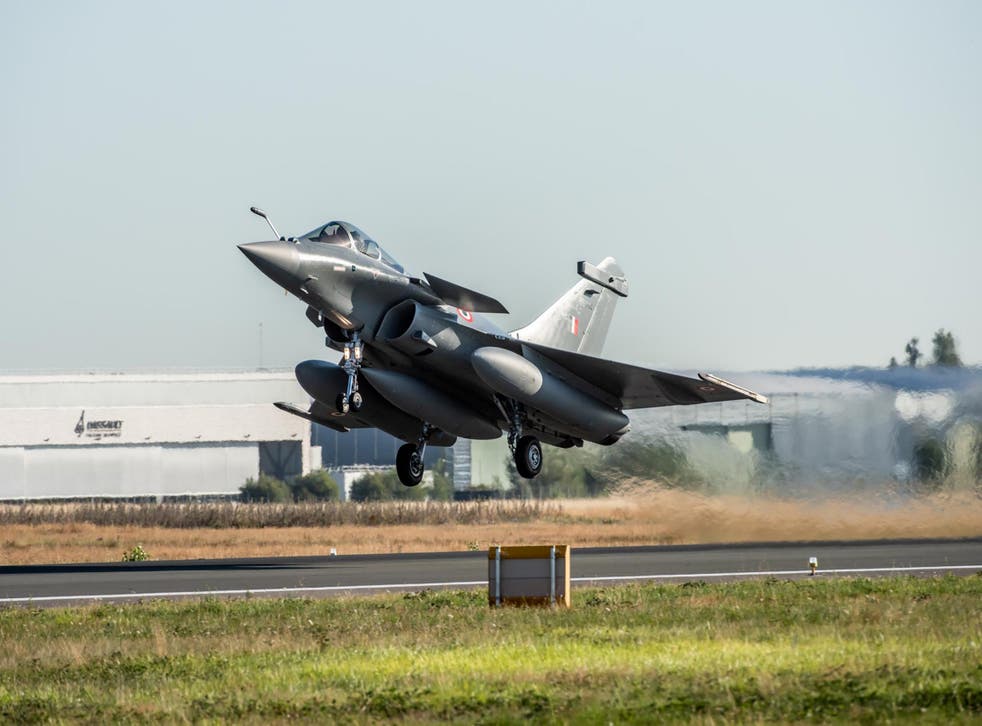 India welcomed the long-awaited arrival of five new French-made fighter jets on Wednesday at a time when the country is involved in a prolonged border dispute with China in the Himalayas.
The decision to modernise India's air force was made as far back as 2001 but has been dogged by drawn-out talks, collapsed deals and allegations of corruption.
The five Rafale jets finally touched down at an airbase in Ambala in Haryana state under tight security measures, designed to prevent any sensitive imagery of the new planes being leaked.
Section 144 - an emergency order banning people from gathering in large groups - was declared in four districts around the airbase, police and soldiers closed roads in the vicinity and photography and videography were strictly banned.
"The birds have landed safely in Ambala," Indian defence minister Rajnath Singh tweeted. "If anyone should be worried about or critical about this new capability... it should be those who want to threaten our territorial integrity."
That comment may have been a reference to longstanding criticisms in India of the Rafale deal, which was signed with France in 2016 at a cost of £6.76bn for 36 "ready-to-fly" jets. The opposition Congress party has long alleged that the deal was corrupt, claims which the ruling BJP denies.
P Chidambaram, a senior Congress figure, told reporters his party welcomed the arrival of the jets. "There is no issue with the Rafale aircraft," he said. "There are other issues in the way the contract was handled."
India sees a strong air force as essential preparation for the worst-case scenario of a war on two fronts with both China and Pakistan. Its own analysis indicates such an eventuality would require 42 fighter squadrons (each containing between 18 and 24 aircraft), but its ageing fleet of Soviet-era jets has depleted to just 31.
The five new jets left France on Monday, flown by Indian Air Force (IAF) pilots. They covered 7,000km to reach Ambala with just a single stop-off in the UAE, showing off their long-distance capabilities and mid-air refuelling along the way.
They will be the first aircraft in the resurrected Number 17 Golden Arrows squadron, a force which has been involved in a number of significant operations in India's history including during the 1999 Kargil conflict between India and Pakistan. The squadron was disbanded in 2016 as India phased out more of its old Russian-made Mig-21 aircraft.
India expects the jets to be formally inducted into the air force by mid-August, though experts said it would be some time before they were fully operational. French manufacturer Dassault is expected to complete delivery of all 36 aircraft by the end of 2021.
While no one anticipates all-out war between India and its neighbours, the prospect of conflict with China came into sharper focus in recent months after India accused Chinese soldiers of encroaching across the disputed border, known as the Line of Actual Control (LAC), in its northern Ladakh region and constructing tents and fortifications.
The dispute reached a climax with a brutal fist-fight in the mountains between soldiers of the two countries, in which 20 Indian soldiers died. China has not said how many casualties it suffered.
Indian and Chinese military officials and diplomats have since held several rounds of talks aimed at reaching a solution, but the standoff has continued and both sides' reinforcements in the area remain largely in place.
Register for free to continue reading
Registration is a free and easy way to support our truly independent journalism
By registering, you will also enjoy limited access to Premium articles, exclusive newsletters, commenting, and virtual events with our leading journalists
Already have an account? sign in
Register for free to continue reading
Registration is a free and easy way to support our truly independent journalism
By registering, you will also enjoy limited access to Premium articles, exclusive newsletters, commenting, and virtual events with our leading journalists
Already have an account? sign in
Join our new commenting forum
Join thought-provoking conversations, follow other Independent readers and see their replies