Man beaten to death by mob 'for killing a cow' in India
One dead and second victim seriously injured as growing wave of violence 'in protection' of sacred animal continues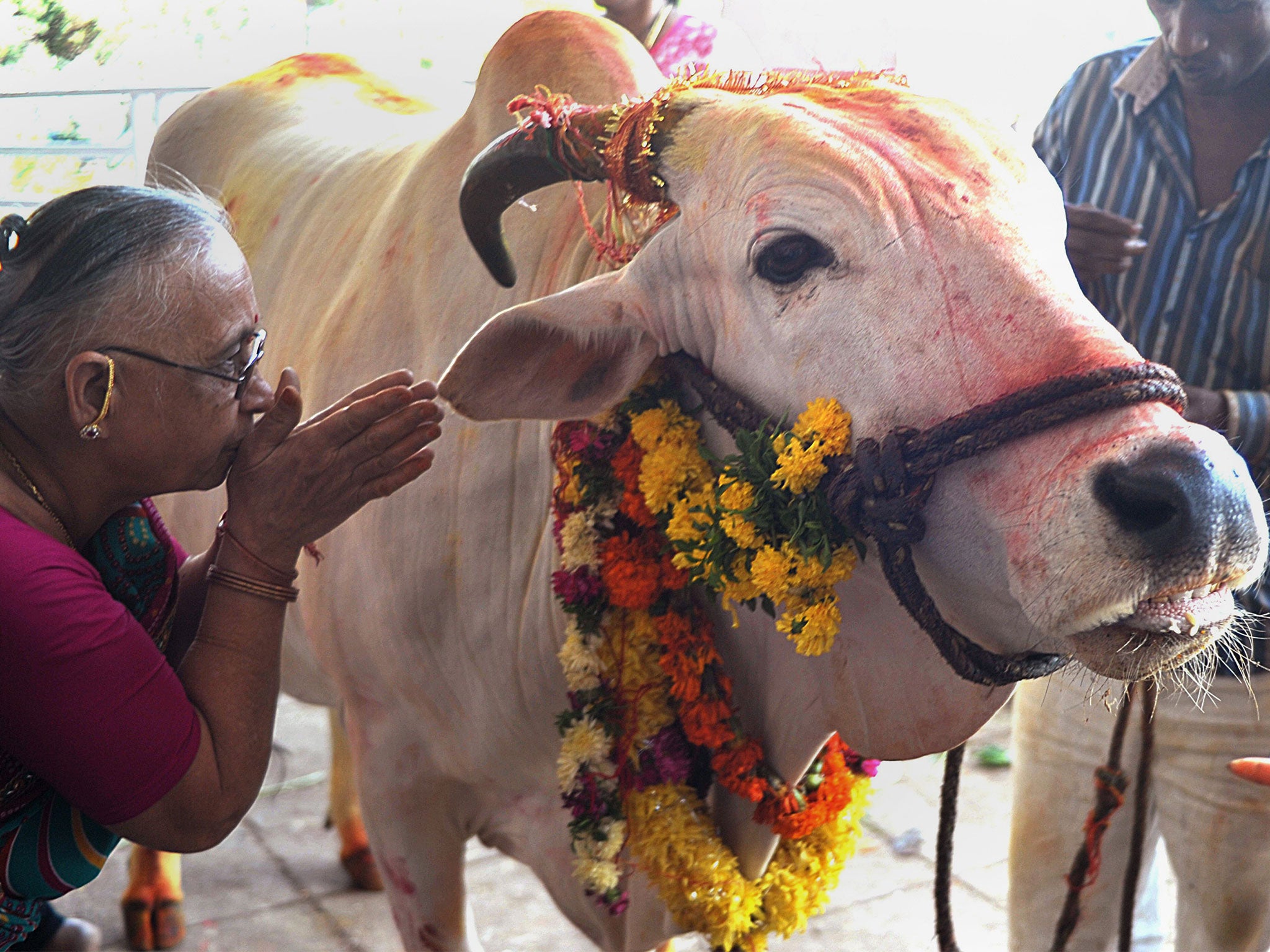 A man was beaten to death by a mob in India after they accused him of slaughtering a cow, local media reports.
Police say two men were set upon by the gang and beaten with bamboo sticks in a village near Satna, in the central state of Madhya Pradesh, in the early hours of Friday morning.
One of the victims, a 45-year-old man, died during the attack, while a second, aged 35, was left seriously ill in hospital.
Satna's police superintendent, Rajesh Hingerkar, told the PTI news agency four men had been arrested in connection with the killing.
He added the attack had supposedly been carried out after the group learned the victims were slaughtering a cow.
Indian media reports alleged the gang were gau rakshaks, right-wing Hindu nationalists who have previously been accused of using violence in protection of an animal deemed sacred by their religion.
The survivor of the attack may also face charges under India's cow slaughter prohibition act upon his recovery, after police said they had recovered an animal carcass from the scene.
"He is recuperating but he is not in a condition to give any statement," Neeraj Sharma, manager of Metro Hospital in Jabalpur, where the man was taken for treatment, told the Times of India.
Umesh Joga, inspector general of police in Rewa district, where the killing took place, told Indian media more than 400 officers had been deployed to the area in a bid to maintain peace.
The slaughter of cows is illegal in Madhya Pradesh, carrying a jail sentence of up to three years and a fine of 5,000 rupees (£55).
Such legislation is considered discriminatory by some Dalits - members of the lowest class in India's strict caste system - who are more likely to consume beef than those of higher social status.
World news in pictures
Show all 50
The meat is also more commonly eaten among the country's Muslim and Christian minority communities than by the Hindu majority.
Mob violence under the pretext of cow protection is a growing phenomenon in India, with 30 people thought to have been killed and more than 100 others injured in incidents since 2010.
In March, 11 men were jailed for life over the murder of a Muslim man who was pulled from his car and beaten to death in Jharkhand in June 2017 for allegedly carrying beef.
Three Muslim men were lynched in West Bengal in June 2017 for allegedly trying to steal cows, while four men were beaten on a train in Haryana state the same month after passengers accused them of eating beef.
Join our commenting forum
Join thought-provoking conversations, follow other Independent readers and see their replies