India dam bursts amid monsoon deluge, flooding seven villages and sweeping away homes
Aerial footage of Tiware dam in Maharashtra state shows water gushing down from its reservoir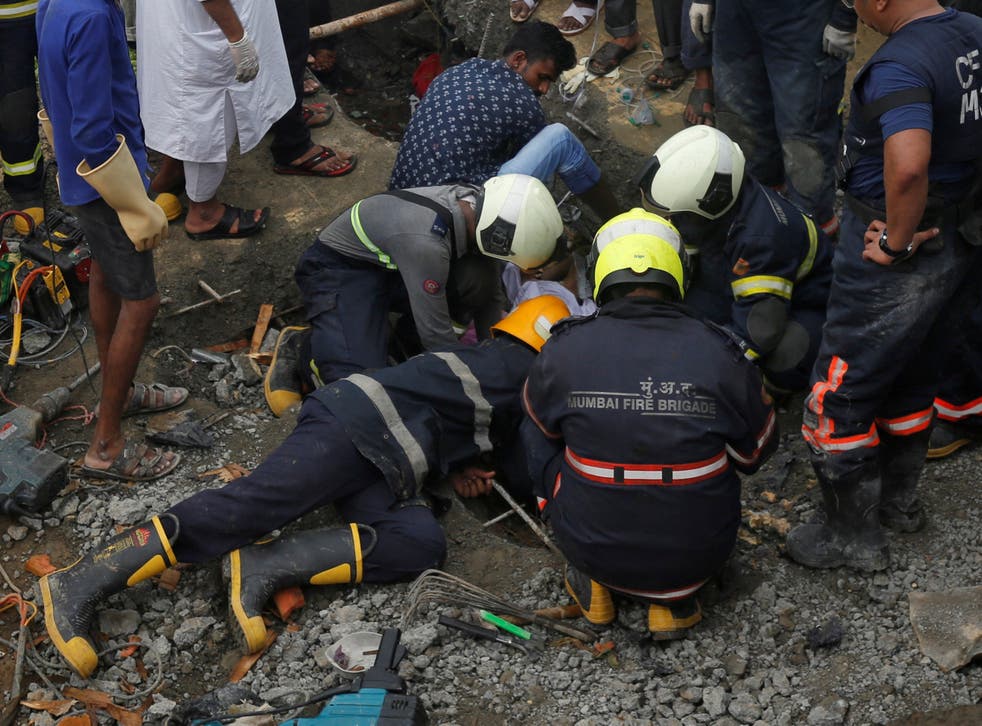 Torrential monsoon rains in western India have led to the collapse of a dam, officials said, flooding more than half a dozen villages and sweeping away homes.
At least eight people are confirmed dead and some 17 are missing following the breach late on Tuesday night of the Tiware dam in the Ratnagiri district of Maharashtra state.
More than 34 people have died across the state as a whole since Monday night, with the crowded financial hub of Mumbai the worst affected. Maharashtra's chief minister, Devendra Fadnavis, told reporters an "unprecedented" 300-400mm of rain had fallen in 12 hours.
Aerial footage of the Tiware dam showed water gushing down from its reservoir. Datta Bhadakawad, a civil administrator in Ratnagiri, said the area – around 275km from Mumbai – had received "incessant" rains, which were only gradually clearing on Wednesday.
Locals told the IANS news agency that the 19-year-old dam had previously shown signs of leaks but their reports to district authorities were not acted upon.
Beating the heat in deadly Indian heatwave: In pictures

Show all 19
Two teams from the National Disaster Response Force (NDRF) have been deployed to the scene and a spokesman, Alok Awasthy, told AFP that most of the bodies had been located using drones. "We are looking for survivors," he said.
Mr Fadnavis said he had ordered a state government inquiry. "Reasons for the breach will be probed and action would be taken against the guilty expeditiously," he said in a statement.
Congress, the main opposition party to the ruling Bharatiya Janata Party (BJP) both in Maharashtra and at the national level, said in a tweet responding to news of the dam breach that "the Maharashtra govt can no longer allow this devastation to continue & must take immediate action". The party added: "We pray the missing individuals are found immediately and have a speedy recovery."
India's monsoons sweep north up the country from June to September, and deaths happen every year as poorly built infrastructure collapses amid heavy rainfall and flooding. Authorities said Mumbai's "existing drainage systems [were] unable to cope" on Tuesday as 20 people were killed in a single wall collapse in the city's Malad East district.
And while the rains eased on Wednesday, the forecast for the next few days offers little respite.
The Indian Meteorological Department forecast "extremely heavy" rain for the cities of Thane and Palghar on Thursday and Friday, while private forecaster Skymet said 200mm was expected to fall on Mumbai in the next 48 hours, bringing a "serious risk of flooding" and further disruption.
Register for free to continue reading
Registration is a free and easy way to support our truly independent journalism
By registering, you will also enjoy limited access to Premium articles, exclusive newsletters, commenting, and virtual events with our leading journalists
Already have an account? sign in
Register for free to continue reading
Registration is a free and easy way to support our truly independent journalism
By registering, you will also enjoy limited access to Premium articles, exclusive newsletters, commenting, and virtual events with our leading journalists
Already have an account? sign in
Join our new commenting forum
Join thought-provoking conversations, follow other Independent readers and see their replies