India dust storms: Dozens killed as extreme winds hit northern regions
Trees uprooted, houses demolished and whipped up sand turns sky brown, officials say
Alina Polianskaya Comments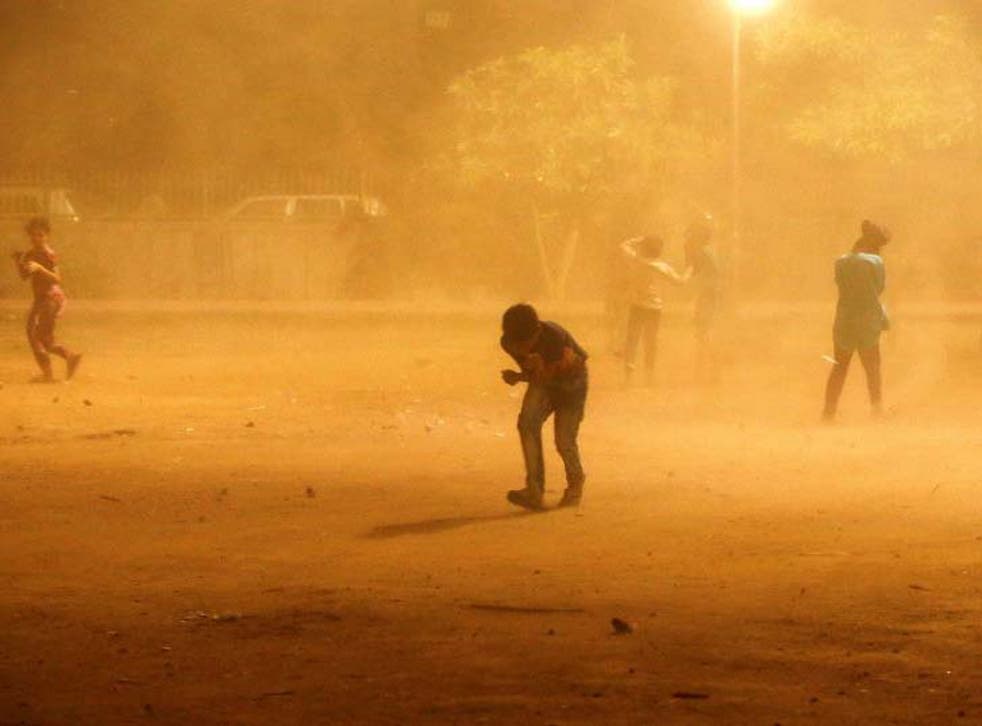 Dozens of people have been killed as powerful storms swept across northern India, leaving a path of destruction in their wake.
Winds of up to 68 miles per hour uprooted trees, demolished houses and whipped up sand turning the sky brown, officials said.
At least 42 people were killed in the northern state of Uttar Pradesh, said government spokesman Avnish Awasthi.
Eight people were killed when a mosque's minaret fell on a group of people in Bareilly as they took shelter in a courtyard. Another man was killed by a falling billboard.
Mr Awasthi said 50 people were also injured when uprooted trees fell on houses, with 38 hospitalised.
Elsewhere in India at least one person died in New Delhi, the capital, nine in the eastern state of Andhra Pradesh and four in West Bengal.
About 120 million people were affected in some way by the extreme weather as trains were suspended, flights were diverted and power cuts hit towns, officials said.
World news in pictures

Show all 50
"Saddened by the loss of lives due to storms," Prime Minister Narendra Modi said in a tweet. "Condolences to the bereaved families. I pray for the speedy recovery of those injured."
Earlier this month, 134 people died in similar storms​, which injured another 400.
Then, a home ministry spokesperson told the Hindustan Times that around 80 people were killed by thunderstorms and lightning in Uttar Pradesh and 100 more were injured.
More people were killed and hurt in areas including Rajasthan, Telangana, Uttarakhand and Punjab.
Around 800 cattle were also killed, more than 1,800 houses were damaged, and 20,000 electric poles were uprooted leaving many without power.
The storms, which came ahead of the impending monsoon season, were "not unusual" for the time of year, according to meteorologists. But they said wind speeds were a bit faster than usual.
More extreme weather is forecast in parts of India over the next few days.
Associated Press contributed to this report
Register for free to continue reading
Registration is a free and easy way to support our truly independent journalism
By registering, you will also enjoy limited access to Premium articles, exclusive newsletters, commenting, and virtual events with our leading journalists
Already have an account? sign in
Join our new commenting forum
Join thought-provoking conversations, follow other Independent readers and see their replies