India election results 2014: Congress party concedes defeat as Narendra Modi heads for landslide
Rahul Gandhi, who headed the ruling Congress party's campaign, is fighting to hold onto his own seat in the Uttar Pradesh district of Amethi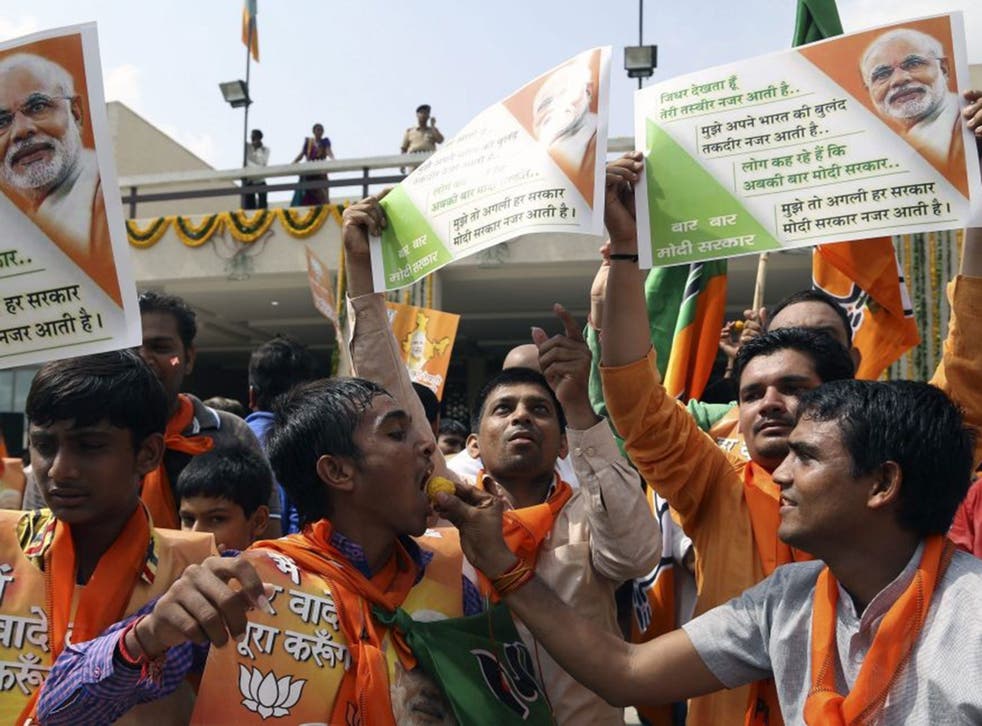 India's ruling Congress party admitted defeat this morning as the Narendra Modi wave washed over the country in a scale few had predicted. Initial counting in the country's general election pointed to a massive victory for his opposition Bharatiya Janata Party and the worst ever performance for the Congress.
As noisy victory celebrations involving drums and horns broke out outside the BJP's headquarters in the centre of Delhi where 100,000 traditional Indian sweets had been ordered in preparation, a few streets away at the Congress's offices, the mood was grey. "We accept defeat. We are ready to sit in the opposition," Congress party spokesman Rajeev Shukla told reporters. "Modi promised the moon and stars to the people. People bought that dream."
Mr Modi tweeted "India has won!" ahead of official totals being announced.
Earlier this week, exit polls published after the ninth and final day of voting suggested Mr Modi and his BJP were heading for a comfortable victory. Yet very quickly on today as officials began counting the contents of 1.5m million voting machines collected from 930,000 booths, it appeared clear that Mr Modi and his slick, professional campaign was heading for the sort of landslide only his most optimistic supporters had predicted.
At 1pm, the Election Commission of India's official tracker had the BJP ahead in 275 of a total of 543 seats and the Congress ahead in just 49. The vote share appeared to be 35 per cent for the BJP and 24 for the Congress, a huge shift.
In pictures: India elections 2014

Show all 40
India's main stock market, the Sensex, leapt to a record high, jumping more than 5 per cent and passing 25,000 points as news of the BJP's performance hit the markets.
The fate of the rival Congress was summed up by the fact that Rahul Gandhi, who headed the ruling party's campaign, was fighting to hold onto his own seat in the Uttar Pradesh district of Amethi. His mother, Sonia Gandhi, seemed set to hang onto her seat in the neighbouring constituency of Rae Bareli, though perhaps with a reduced majority. She is due to address the media later today.
By contrast Mr Modi, who contested from two seats, won by a margin of more than 300,000 people in one of them, Vadodara, and appeared to be comfortably ahead in the second, Varanasi.
Milan Vaishnav, an expert on Indian politics from the Carnegie Endowment in Washington, said Mr Modi's message of development and jobs had struck a chord with hundreds of millions of Indians who were anxious about the state of the economy, corruption and a lack of opportunities.
It had helped the BJP that the Congress had failed to put up a clear leader, given that the party had declined to name Mr Gandhi as its prime ministerial candidate.
"There was a pan-India sense of dissatisfaction with the economy. And Mr Modi's relentless campaign message about jobs and development proved to be so effective," he said.
Forecasters suggested Mr Modi was on course to secure a clear majority and win the largest number of seats since 1984 when Rajiv Gandhi won a landslide on a wave of sympathy and anguish following the assassination of his mother, Indira Gandhi.
No party has won a simple majority since 1989 and the result would be a huge victory for Mr Modi personally, and not just the BJP. The son of a tea salesman who later spent many years working for a Hindu nationalist organisation, Mr Modi campaigned on a message of growth and development and tapped into the aspirations of hundreds of millions of people. He now has a huge mandate to enact his policies.
His professional, stage managed campaign stood in stark contrast to the often lacklustre effort by the Congress and Mr Gandhi who stressed to people that his government was behind various welfare schemes they had access to. He told people that Mr Modi, who was accused over the killing of hundreds of Muslims in Gujarat in 2002 while he was chief minister, would destroy the secular nature of India.
Join our new commenting forum
Join thought-provoking conversations, follow other Independent readers and see their replies