India election 2019: Vote begins as Modi calls for 'record' turnout in greatest exercise in democracy
Up to 900 million people will vote in seven phases, in what will be the biggest election the world has ever seen
Adam Withnall
Delhi
Thursday 11 April 2019 06:45 Comments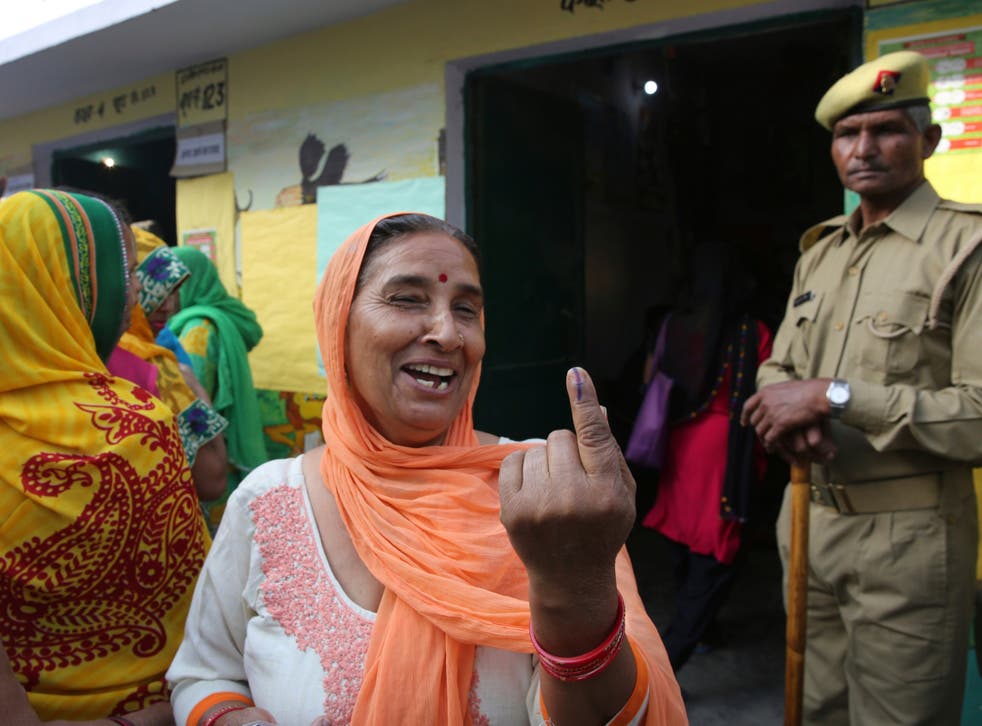 Voting got under way on Thursday in India's mammoth, six-week general election, with around 150 million people eligible to cast their ballots across 91 constituencies in the first of seven phases of polling.
Turnout was reported to be strong across the country, even in contentious regions such as Jammu & Kashmir and Chhattisgarh, where election officials and politicians have come under attack in the lead-up to the vote.
Booths opened at 7am in 18 states and two union territories. Some states, including the bellwether Uttar Pradesh with its population of more than 200 million, are so large that voting will begin today and be spread out across the whole election period.
Clashes broke out between two local parties in Andhra Pradesh, where all seats were to be decided in phase one and therefore the stakes were particularly high. A local leader of the state's ruling Telugu Desam party, who police identified as Sidda Bhaskara Reddy, was killed in a confrontation with supporters of a local opposition party, YSR Congress.
Indians are voting to elect politicians to 543 seats in the Lok Sabha, the lower house of parliament, and the election is broadly being viewed as a referendum on the first term of Narendra Modi and his Hindu nationalist Bharatiya Janata Party (BJP). In a tweet on Thursday morning, Mr Modi called on voters "to turn out in record numbers and exercise their franchise", particularly "young and first-time voters".
While the BJP are seen as frontrunners, they face a challenge from a resurgent Congress party led by Rahul Gandhi, as well as a powerful coalition of major regional parties.
An average of four opinion polls on the eve of the election showed the BJP and its broadly nationalist alliance on course to win 273 seats, a much-reduced majority from the more than 330-seat margin it won in 2014.
"The gap between Congress and the BJP is still enormous," said Gilles Verniers, a political science professor at Ashoka University near Delhi. "No one is seriously thinking that Congress is going to fill that gap," he said. "The opposition landscape remains heavily fragmented."
At a polling booth in the volatile Muzaffarnagar constituency in Uttar Pradesh, 18-year-old first-time voter Shadab Ali told the Reuters news agency his biggest priority was development.
World news in pictures

Show all 50
The seat saw Hindu-Muslim riots which killed at least 65 people before the previous election in 2014. Ali, a Muslim, said: "Modi has worked but not done enough for us. We want development. I've voted for development."
In the northern Baramulla area of restive Kashmir, many people said they came out to vote only against Mr Modi's BJP, calling it an "anti-Muslim" and "anti-Kashmiri" party.
"I didn't want to vote but then there's an imminent threat by politicians like Modi who are up in arms against Kashmiris," said Abdul Qayoom, a voter in Baramulla town. "They've taken our rights, now they want to dispossess us from our land. We want to stop people like Modi."
In the northeastern state of Assam, Anima Saikia, a 61-year-old woman who was among the first to cast her ballot in the election, said she had "never missed my vote in my life". "This is the only time we can do something. The game is in our hands right now," she said.
Support free-thinking journalism and attend Independent events
While the BJP has focussed its campaigning on national security, framing Mr Modi as the nation's protector against the perceived threat of Pakistan, Congress has criticised the administration's disappointing record on jobs.
Back in Uttar Pradesh, phone shop owner Sachin Tyagi said he "support[s] the prime minister's policies, especially his foreign policy".
"He's improved India's global standing and taken revenge against the enemies of the country. I am happy with Modi but the employment situation could be improved," he said.
Businessman Manish Kumar said he was casting his ballot for the BJP in the Ghaziabad seat of Uttar Pradesh. He said: "I vote for the progress of my country."
And Tapan Shome, an accountant, said he and his wife voted "to make India a good, prosperous country".
Political observers have painted this election as one of the most important for India in decades. If Mr Modi can pull off another big victory, it has been suggested, it could set the BJP up to dominate the country's political scene for many years to come.
Campaigning has been particularly vicious, with senior BJP figures quick to paint their adversaries as "anti-nationals" and "traitors". Dilip Ghosh, the party's regional president for West Bengal, described the ruling local party Trinamool Congress (TMC) as "political terrorists".
On Thursday, Congress raised concerns over security for Mr Gandhi, saying there could have been an attempt to assassinate him this week when he met reporters in the family's stronghold district in Uttar Pradesh.
In a letter to India's home ministry, Congress said a green laser had been pointed at Gandhi's head intermittently during the meeting, for a total of seven instances. They said security personnel warned the laser could have come from a potential weapon, such as a sniper rifle.
A suicide bomb blast killed Mr Gandhi's father, former prime minister Rajiv Gandhi, during election campaigning in 1991. His grandmother, Indira Gandhi, was assassinated by her bodyguards while prime minister.
The home ministry dismissed the fears, claiming the "green light" came from a mobile phone used by a Congress party photographer.
The next phase of voting will be on 18 April, and the last on 19 May. Counting is scheduled for 23 May, with results due shortly afterwards.
Register for free to continue reading
Registration is a free and easy way to support our truly independent journalism
By registering, you will also enjoy limited access to Premium articles, exclusive newsletters, commenting, and virtual events with our leading journalists
Already have an account? sign in
Join our new commenting forum
Join thought-provoking conversations, follow other Independent readers and see their replies