'This is a battle of ideologies': Divided Delhi goes to polls in penultimate phase of Indian election
Analysts expect ruling Bharatiya Janata Party to face much stiffer competition than in 2014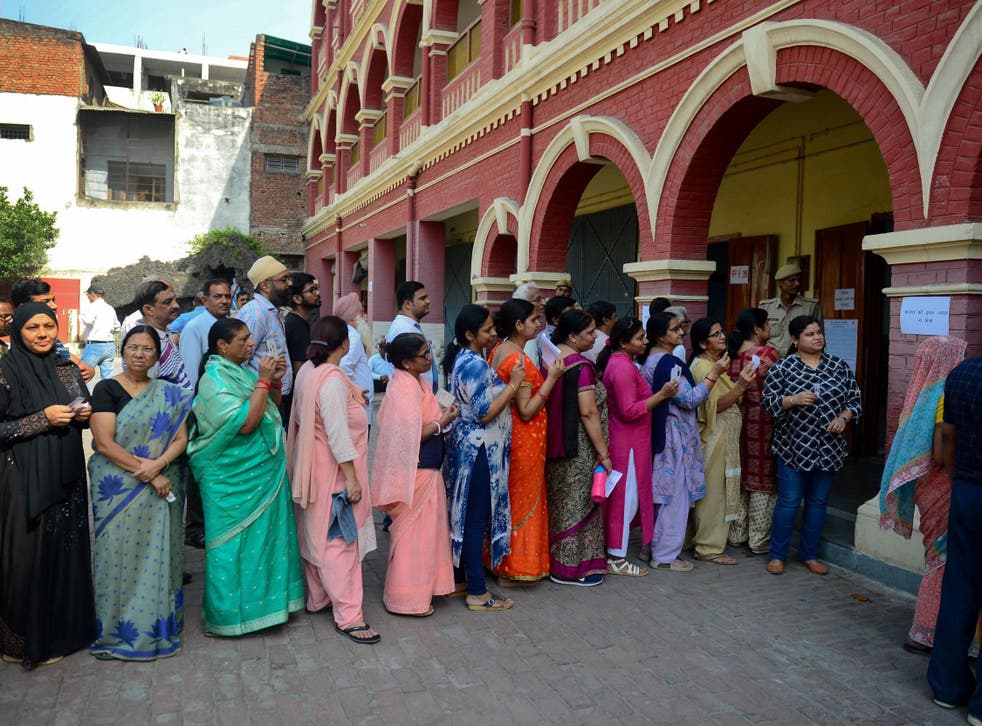 India's capital came to a standstill on Sunday as all seven of the city's parliamentary constituencies voted in the penultimate phase of a marathon general election.
Delhi's political map turned a sea of orange for the ruling Bharatiya Janata Party (BJP) back in 2014, as the party of Narendra Modi swept northern India to win the first outright majority in generations.
But with just 60 of 543 constituencies left to vote after polling shut on Sunday and turnout heading for a possible record, analysts expect the BJP to face much stiffer competition this time round both here in Delhi and across the nation.
Rahul Gandhi, the leader of the main opposition Congress party, was confident as he cast his ballot in the capital, saying his party had fought hard against a ruling party that has been accused of stoking fears of a war with Pakistan and Hindu-Muslim tensions in order to win again on a national security ticket.
"It was a good fight," he said. "Narendra Modi used hatred, we used love. It seems that love is going to win."
World news in pictures

Show all 50
Despite his confidence, support for the BJP was high among people heading to the polls in the central, affluent constituency of New Delhi.
The party's national spokesperson, Meenakshi Lekhi, won the seat by a margin of more than 160,000 votes in 2014, beating populist Aam Aadmi Party (AAP) into second place.
AK Bhattacharya, 87, said he has voted in every election since 1947, when India won its independence.
"This [general election] is the one opportunity we have to control the rogue politicians. It is our chance to check them, and from all these rogues to select one good man," he said.
Asked if he would be supporting Mr Modi with his vote this time around, he said: "There is no alternative."
Samdheya Jain, 58, a grandmother and a mother-of-three, said both she and her husband were devout supporters of the BJP, Mr Modi and even the RSS – the hardline ideological wing that underpins much of the mainstream party's Hindu-first policy – though she admits the younger generations in her family have different views.
Of Mr Modi, she said, "once in a century, people like this are born".
Ms Jain admitted "communal harmony" remained a big issue, but rejected accusations that the prime minister had been responsible for dividing religious groups.
"Modi is not distinguishing between any communities," she said. "If he is making toilets, he is making them for everybody. Roads are for everybody. Every house has been electrified. National security is for everybody."
The past five years had been "very good", she said. "A lot of work has been done, the country is progressing. We are happy."
Sunita Rajput, 42, the wife of a police officer, said her family had always voted BJP. "People do say Congress is good, but for me it is important that we have a person who can kill the terrorists. He did that, so I am voting for Modi."
She credited Mr Modi with "helping stop corruption" through demonetisation, a 2016 policy which overnight devalued the most common Rs1,000 notes, supposedly in order to deny organised criminals great hoards of "black money" and make it all liable for taxation.
Economists say the drastic action dented the country's GDP growth and hit small and medium businesses particularly hard.
India Prime Minister Narendra Modi celebrates Diwali with military
A report by the Reserve Bank of India said 99.3 per cent of the notes were legitimately returned to the banking system, suggesting the attempt to wipe out "black money" had failed.
Ms Rajput insisted the move was "for the good of the country", however – "even if we did have to stand in line for two days to get our notes exchanged".
It's a very different story across the city in Old Delhi, home to the city's largest historic Muslim community. The parliamentary constituency for the area, Chandni Chowk, also voted BJP in 2014, albeit with a smaller margin of victory.
Muhammad Abed, 38, a Muslim e-rickshaw driver, said he was voting for Congress.
"Modi has done nothing for us in the last five years," he said. "He promised 10 million jobs, he promised Rs 1.5m (£16,500) in everybody's accounts. But he has increased unemployment and our money has just gone out [in taxes], not come in. He is a liar and a cheat, what he said was empty lies.
"He craves a fight between Hindus and Muslims, talking about temples versus mosques, emphasising the differences between the two communities. The level of hatred is very high now, relations are very strained, and this has only happened in the last five years. We used to go and drink water in each other's houses, now we don't."
Though he fervently supports Congress, Mr Abed admitted the vote in Chandni Chowk was "mixed".
Muhammad Kamran Hussain, another rickshaw driver and also 38, said he would vote for AAP.
"This is a very poor neighbourhood, and there are a lot of people doing business on the streets. He has killed those businesses. Modi claims it is in the name of 'cleaning up India', but he doesn't look out for the poor. He only looks after the wealthy."
He said that while he thought the BJP would "not get any votes" in the neighbourhood around Jama Masjid, the opposition was split – between Congress and AAP. It's a split which might have been avoided if alliance talks had not broken down in recent weeks, and which could be enough to see the BJP succeed across Delhi once again.
Speaking outside a polling station right in the heart of Old Delhi, among spice stalls and jewellery shops unusually shuttered for the holiday that is election day here, elderly men and women from a generation that had always voted Congress struggled to muster much enthusiasm for the party's current leader, Mr Gandhi.
Support free-thinking journalism and attend Independent events
Asked who should be the next prime minister, 67-year-old Mahesh Nagar said: "Anyone except Modi.
"This is a fight between two ideologies. It is between a Congress that says 'we, the people of India'. And what does the BJP say? 'Only Hindu'. India is a place for all religions, not for just one."
Madama Sachdeva, 79, said India was in a state of "unannounced emergency". "People are terrified, but they cannot speak of it. Our freedom of speech has been lost.
"The middle class and the small people are unhappy due to price increases, but nobody seems to care about it. They say our country is progressing – but progressing on the shoulders of whom?"
Asked if he thought Congress had a chance of beating the BJP when results are announced on 23 May, he said: "That is up to almighty God."
Register for free to continue reading
Registration is a free and easy way to support our truly independent journalism
By registering, you will also enjoy limited access to Premium articles, exclusive newsletters, commenting, and virtual events with our leading journalists
Already have an account? sign in
Register for free to continue reading
Registration is a free and easy way to support our truly independent journalism
By registering, you will also enjoy limited access to Premium articles, exclusive newsletters, commenting, and virtual events with our leading journalists
Already have an account? sign in
Join our new commenting forum
Join thought-provoking conversations, follow other Independent readers and see their replies