India election results 2014: Modi vows to rule for all after stunning victory
Andrew Buncombe
Saturday 17 May 2014 05:49 Comments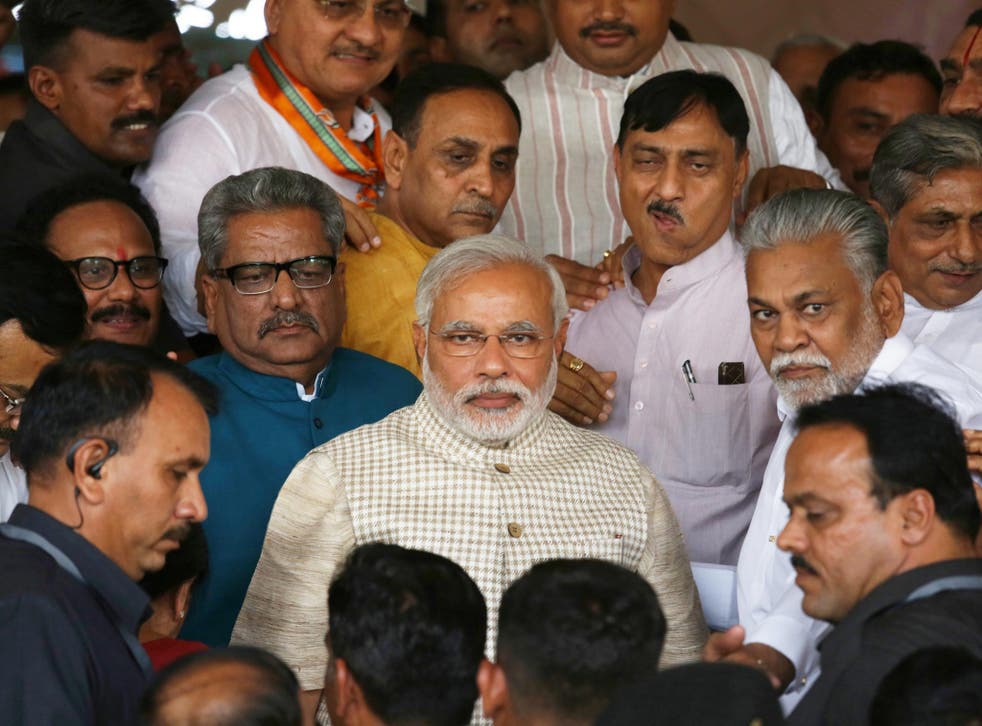 India's controversial Narendra Modi vowed to work for the development of all Indians after securing a huge, landslide victory against the ruling Congress party. He looked set to enjoy the biggest win in an Indian election in three decades, while the Congress party – the party of Mahatma Gandhi and Jawaharlal Nehru - endured its worst ever performance.
"There are no enemies in politics and democracy, only competitors. That's the beauty of democracy," Mr Modi, 63, told huge, roaring crowds in the city of Vadodara, a constituency he personally contested and won with a margin of more than 500,000 votes. "The strength of democracy lies in taking everyone together. Despite a clear mandate, we want to keep everyone together."
Exit polls published earlier this week had predicted Mr Modi, the son of a tea seller who rose to become the chief minister of Gujarat and the candidate of the Bharatiya Janata Party (BJP), was likely heading to victory. But on Friday morning, as officials began counting the results of 550m ballots cast in 1.5m million voting machines located inside 930,000 booths, it became clear Mr Modi and his slick, professional campaign was heading for the sort of landslide only his most optimistic supporters could have dreamed of.
Indian elections - victory for Narendra Modi

Show all 12
As of 9.30pm last night, the Election Commission of India's official tracker had the BJP having won or being ahead in 272 seats, compared to just 44 for the Congress, India's oldest party and the one which has ruled it for the bulk of its years as an independent nation. Most television channels were predicting that with his traditional coalition allies Mr Modi will hold a total 339 out of 543 seats.
India's main stock market, the Sensex, leaped to a record high, jumping more than six per cent and passing 25,000 points as news of the BJP's performance hit the markets.
Mr Modi's victory broke many records. It was the first time a party other than the Congress had won a clear majority and the scale of his win was reckoned to be the largest since 1984 when Rajiv Gandhi won a landslide of 400 seats on a wave of sympathy and anguish following the assassination of his mother, Indira Gandhi. Mr Modi pointed out that for the first time, India was to have a prime minister born after the country secured independence in 1947.

But aside from the records, the scale of Mr Modi's victory underscored the sheer effectiveness of his campaign and attractiveness of his message, especially compared to the faltering, half-hearted way in which the Congress had fought to hang on to power. Many questioned whether Rahul Gandhi, who led the Congress campaign, truly wanted the job.
Indeed, when Mr Gandhi and his mother, Sonia, who heads the Congress party, appeared at their headquarters to acknowledge their defeat, they did so in front of sepia-toned images of Mrs Gandhi's assassinated husband Rajiv, and Indira Gandhi. Compared to the dynamic, professional campaign carried out by Mr Modi and his supporters, the Congress's paternalistic effort felt like it belonged to an earlier, black-and-white age.
"The Congress party has done pretty badly. There is a lot for us to think about," said Mr Gandhi, who, like his mother, held onto his own seat, though with a greatly reduced margin. "As vice-president of the party I hold myself responsible. I wish the new government all the best."
Most analysts similarly held Mr Modi responsible for the BJP's stunning performance. Appearing at more than 450 rallies across India and clocking up more than 200,000 miles in the air, Mr Modi relentlessly pushed a message of growth and development. He claimed he could replicate the so-called Gujarat model he had overseen in his own state across India.

It did not matter that in truth Gujarat had always been more developed than other parts of India or that the growth that took place on his watch as chief minister had been bettered by several other states, including Tamil Nadu and Kerala; the message that got through to countless people in cities, towns and in remote villages across the vast spread of India was that he could make things better. Exit polls had shown that first-time voters aged 18-22 were among Mr Modi's strongest supporters.
"I spent a year in Gujarat working. I have seen it," said Alok Mishra, a student, shouting to be heard above he noise of drums and chanting at the BJP's headquarters. "The roads are better there, there is less corruption, he has more investors."
Milan Vaishnav, an expert on Indian politics form the Carnegie Endowment in Washington, said Mr Modi's message of development and jobs had struck a chord with hundreds of millions of Indians who were anxious about the state of the economy, corruption and a lack of opportunities. He said it had helped the BJP that the Congress had failed to put up a clear leader, given that the party had declined to name Mr Gandhi as its prime ministerial candidate.
"There was a pan-India sense of dissatisfaction with the economy. And Mr Modi's relentless campaign message about jobs and development proved to be so effective," he said.
As world leaders from David Cameron and Nawaz Sharif telephoned Mr Modi to congratulate him on his victory, the scale and nature of his win continued to sink in.

In the huge, sprawling state of Uttar Pradesh, many analysts had predicted that traditional factors such as caste and communalism and the strength of regional parties would step in Mr Modi's way. But last night, the BJP looked set to win 71 out of 80 seats. It currently holds just 10. Congress appeared set to win just three, including those of Mrs Gandhi and her son.
Mr Modi had long been boycotted by the West because of the killings of hundreds of Muslims in Gujarat in 2002. He always denied accusations that he did insufficient to stop the slaughter and a judicial probe found no evidence to hold him responsible.
Yet large numbers of Muslims remain sceptical of him. Muhammad Kaiser, 34, who runs a type repair shop in south Delhi, said he supported the Congress party, though he had not been registered to vote. As of Mr Modi's victory, he said: "Now he has been elected, he has to do a good job for everybody."
Register for free to continue reading
Registration is a free and easy way to support our truly independent journalism
By registering, you will also enjoy limited access to Premium articles, exclusive newsletters, commenting, and virtual events with our leading journalists
Already have an account? sign in
Join our new commenting forum
Join thought-provoking conversations, follow other Independent readers and see their replies