Fake weddings and newspapers full of cash: Indian voters urged not to accept bribes as election approaches
'Democracy is never a given forever, it's a fragile regime'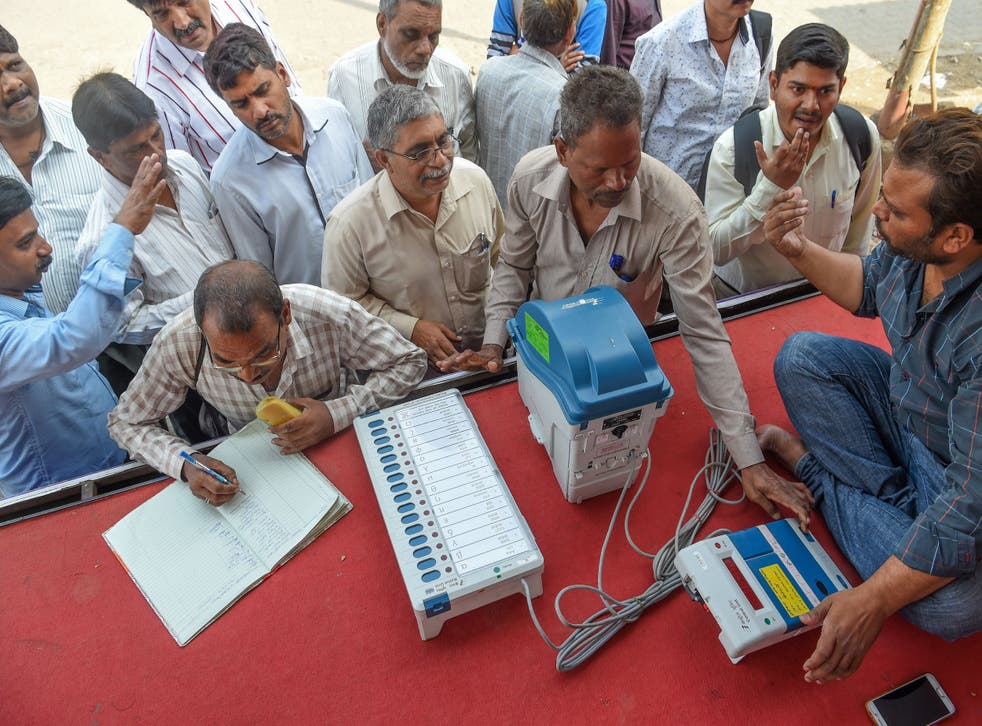 Indian voters are being urged to forego political bribes as the country gears up for the greatest exercise of democracy in the world.
With the country due to go to the polls no later than May, former election commissioner SY Quraishi said that chronic uncontrolled spending was the biggest threat to free and fair elections.
Mr Quraishi dismissed reports of concerns about the veracity of Electronic Voting Machines (EVMs), saying that trials in recent years had compared 1,500 machines against paper backups and found not one mismatch.
But the author of The Great March of Democracy said that issues of "money-power" and "crony capitalism" had plagued his tenure as the 17th Chief Election Commissioner of India, and continued to this day.
Mr Quraishi described one investigation where an unnamed political party organised a fake wedding party to bribe a village into voting. Election commission officials discovered the ruse, Mr Quraishi said, because they attended the event and realised there was no bride or groom present.
In another case, Mr Quraishi described party activists stuffing daily newspapers with banknotes as incentives for voters. He said officials found the circulation of the paper increased four-fold.
"We set up an expenditure monitoring division, we started tracing money, but the commission can only do so much when the parties are always one step ahead," Mr Quraishi told a panel at the Jaipur Literature Festival in Rajasthan. "The parties kept organising fake weddings, they just rented a fake bride and groom as well.
"Whether you are being offered saris or gold, the response has to come from you, the voters, that you will not accept these bribes. Even if they are knocking down your door with offers, you must go out and vote with a clear conscience."
Mr Quraishi took issue with the government of Narendra Modi for introducing the concept of "anonymous election bonds" at its last budget, where donors' names are kept secret, and for removing a cap on the amount businesses can donate to political parties.
India has long had an issue with election candidates paying their way to power. Christophe Jaffrelot, a French political scientist specialising in South Asia, estimated that successful candidates for assembly seats with a spending limit of Rs280,000 (£3,000) typically spend a minimum of Rs 100m.
World news in pictures

Show all 50
"How do you get that kind of money? From businessmen," Mr Jaffrelot told the panel. "Businessmen need politicians, for instance, to get loans from public banks – and who can twist the arm of a bank director? The person who appointed him – a politician.
"Democracy is never a given forever, it's a fragile regime. Across the world we see many challenges coming up – in Europe, in the US and here."
The election commission was forced this week to defend its use of voting machines ahead of the polls in spring, after a London-based hacker going by the name Syed Shuja claimed he knew how to tamper with India's EVMs using a "very low frequency … graphite-based transmitter".
Support free-thinking journalism and attend Independent events
The claims caused a major stir in the Indian media, forcing the commission's leading technical expert to issue a statement clarifying that the EVMs were stand-alone machines with no capability of transmitting or receiving any data through any wireless communication of any sort.
The opposition Congress party has nonetheless demanded that the commission investigate the "very serious" claims made by the hacker. Mr Modi's ruling BJP party called the hacker's allegations a Congress-sponsored conspiracy designed to defame India's democracy.
Join our new commenting forum
Join thought-provoking conversations, follow other Independent readers and see their replies