India flooding: 21 rare one-horned rhinos drown in monsoon floods
Over 80 per cent of Kaziranga National Park was submerged, killing hundreds of animals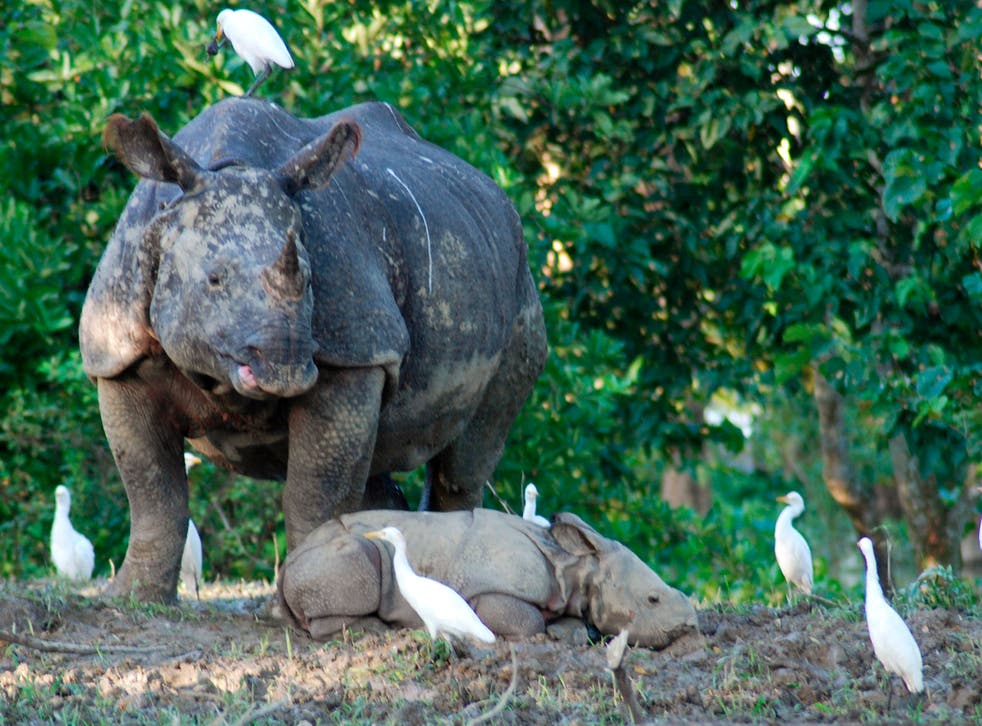 Flooding exacerbated by torrential monsoon rains in India has left 21 rare rhinoceros dead after rising waters devastated the Kaziranga National Park in the north eastern state of Assam.
Conservationists have described the deaths as a "catastrophic event" for the one-horned rhino which has been making a recovery after being hunted almost to extinction in the 20th Century.
The park, a Unesco world heritage site, is the world's largest habitat for the rhino, containing 70 per cent of the species' global population.
At the height of the flooding, 80 per cent of the park was underwater.
Ten of those drowned were calves between two and six months old.
Rescue teams and volunteers managed to pull eight rhino calves out of the water using ropes, though many remain in a critical condition.
Most of the rescued calves have been moved to the nearby Centre for Wildlife Rehabilitation and Conservation, where they are being cared for.
Kaziranga wildlife official Rathin Barman told the Wall Street Journal many of the rhinos are "dehydrated and in distress". He said: "The babies have been wrapped in blankets. The staff has been bottle-feeding milk and vitamin supplements."
The calves will be released after two years, Mr Barman told NDTV in a separate interview. "We are hoping they will be all fine soon," he added.
The deaths are a significant setback for the species which numbered just 3,500 in 2016, according to the WWF.
Kaziranga National Park director Satyendra Singh said 30 per cent of the 166-square-mile park remains flooded.
"Some 270 wild animals have died, this has been one of the worst seasons of flooding," he told Sky News. "The devastation to the park's infrastructure, roads, and bridges has been very severe."
The International Union for the Conservation of Nature (IUCN) warned the deaths "could have a devastating impact on the status of the species".
World news in pictures

Show all 50
The world's one-horned rhino population reached a nadir in 1975, when only 600 were left in the wild.
Since then, concerted conservation efforts and strict protection measures in India and Nepal have seen populations rise by about 5 per cent a year to 3,500 in 2016. However, the species remains listed as vulnerable, one level down from endangered.
Together with the African white rhinoceros, the one-horned rhino is the largest of all rhino species, with males weighing up to 2.7 tonnes.
Register for free to continue reading
Registration is a free and easy way to support our truly independent journalism
By registering, you will also enjoy limited access to Premium articles, exclusive newsletters, commenting, and virtual events with our leading journalists
Already have an account? sign in
Register for free to continue reading
Registration is a free and easy way to support our truly independent journalism
By registering, you will also enjoy limited access to Premium articles, exclusive newsletters, commenting, and virtual events with our leading journalists
Already have an account? sign in
Join our new commenting forum
Join thought-provoking conversations, follow other Independent readers and see their replies