At least 41 million people affected in floods in India, Bangladesh and Nepal, UN says
'We live in a global world and there is a lot going on out there at the moment but people should know about what is happening here,' Red Cross worker says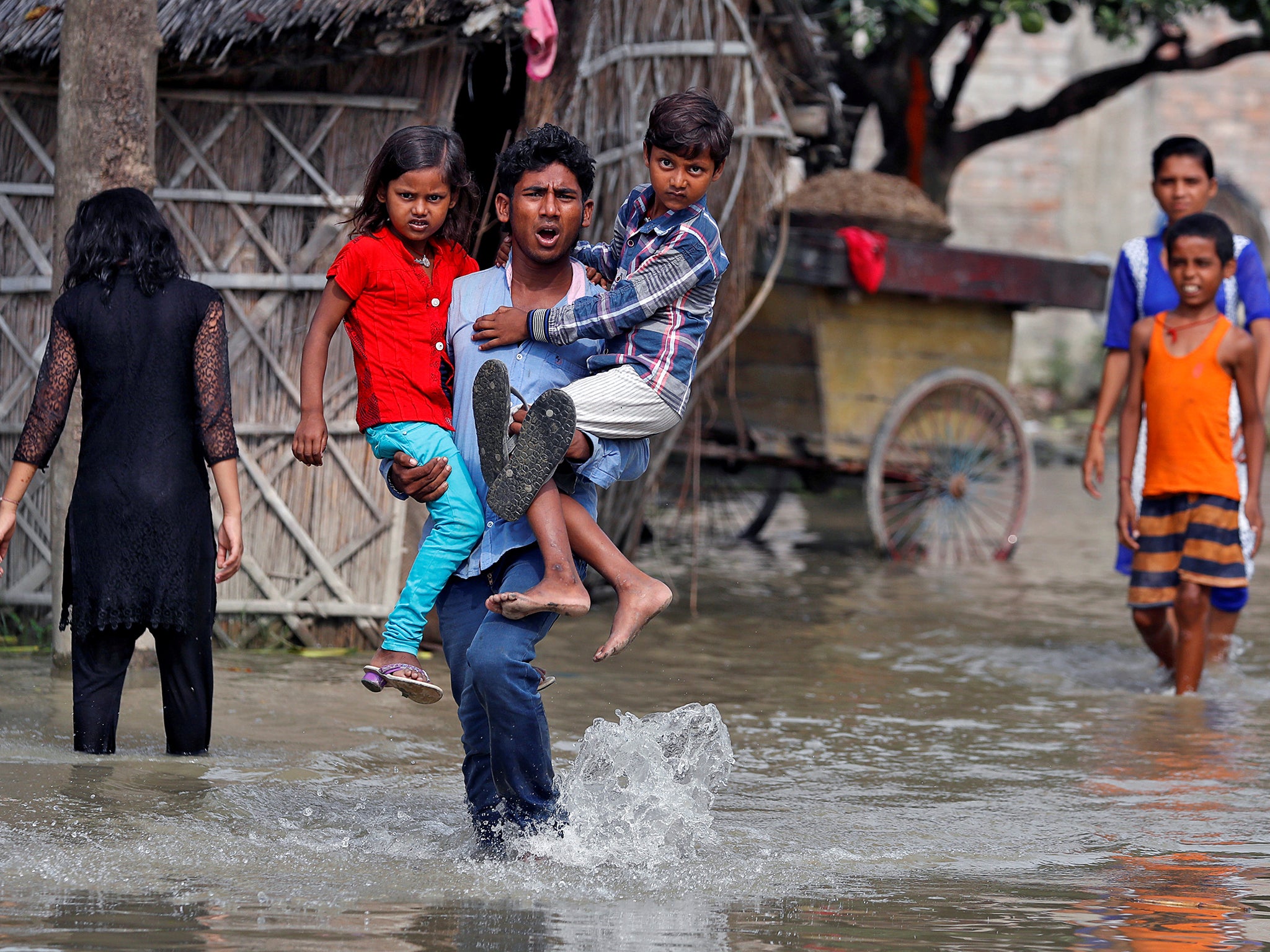 More than 40 million people have been affected by devastating floods and landslides in South Asia, UN humanitarian agencies have said.
Torrential monsoon rains have killed at least 1,200 people and left millions fleeing their homes in India, Bangladesh and Nepal over the last fortnight.
Governments and aid agencies are working to bring clean water, food, shelter and medical aid to people affected as tens of thousands of homes, schools and hospitals have been destroyed.
Infrastructure such as roads, bridges, railways and airports have been damaged by the floods, sometimes leaving entire areas inaccessible and vast swathes of farmland have been washed away.
According to the latest figures form the UN, more than 32 million people have been affected in India, 6.9 million in Bangladesh and 1.7 million in Nepal, bringing the total to around 41 million people.
Hundreds of thousands of people have found refuge in emergency shelters, with numbers expected to grow.
Figures from the Red Cross released on Tuesday put the numbers of affected people in Bangladesh even higher, at 8.6 million, with over 3.5 million homes damaged or destroyed.
Nearly 2,000 local medical teams have been deployed as one third of the country is believed to be under water.
Hanna Butler, from the International Federation of Red Cross, has been giving assistance to people in the eastern state of Bihar, a rural part of India where many people live off subsistence farming and one of the areas worst affected by the flooding.
She told The Independent: "People have been shaken by the huge flooding. This is an area where people are used to a bit of flooding but people said this is on a different scale. The older people have been comparing it to the last big floods of the late 1980s but younger people said they had never experienced anything like this before.
"There was no warning and downpours started one night. People had to escape and fled their homes with only what they could carry. People are on survival mode and they are only thinking about tomorrow but reconstruction will be slow.
"We live in a global world and there is a lot going on out there at the moment but people should know about what is happening in India, Bangladesh and Nepal."
Monsoon floods devastate South Asia
Show all 9
Ms Butler described people in the region as "resilient" and added that those affected "have all been looking out and helping each other".
"It's amazing, considering what happened, to see life going on," she added.
Ms Butler has now arrived in the northeastern state of Manipur, another state affected by the floods, where she is distributing food, blankets and clothes to people affected.
At the weekend, Indian Prime Minister Narendra Modi flew over the state of Bihar, where the death toll is believed to have risen to 500. He pledged millions of pounds for relief, rehabilitation, reconstruction and future flood mitigation.
Downpours also continue to paralyse India's financial capital, Mumbai, with streets turned into rivers. People were forced to move through the city in waist-deep water.
At least six people reportedly died in the city of 20 million people, including two toddlers.
Police said a 45-year-old woman and a two-year-old child died after their home crumbled under the water and another two-year-old girl died when a wall collapsed.
On Tuesday about five inches of rain fell on the city in a day, bringing public transport to a standstill and leaving thousands of commuters stranded in their offices overnight.
India's monsoon season runs from June to September and usually leads to some flooding, but authorities said this year's flooding disaster has been the worst to affect the region in years.
Join our commenting forum
Join thought-provoking conversations, follow other Independent readers and see their replies