India 'no longer a free country', says global watchdog report
'Modi and his party are tragically driving India itself toward authoritarianism,' says Washington think-tank's annual survey of global human rights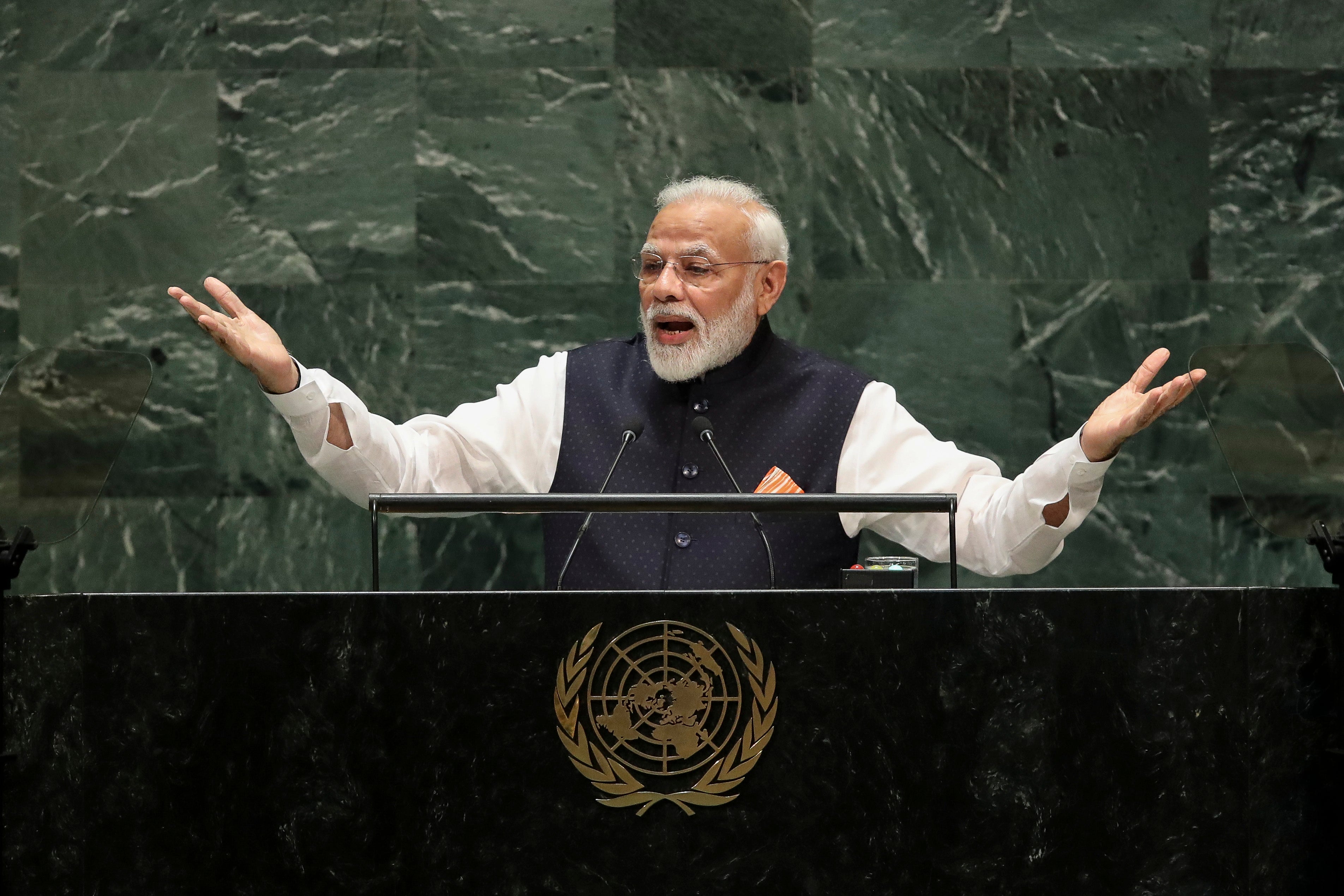 A US-based think tank on Thursday downgraded India's status as a democracy from "free" to "partly free" and said that prime minister Narendra Modi and his ruling Bharatiya Jatana Party (BJP) were "tragically driving India towards authoritarianism."
Freedom House's annual Freedom in the World 2021 report, entitled "Democracy under Siege", said that civil rights had deteriorated in India since Mr Modi became prime minister in 2014, and that the decline accelerated after he won a landslide second election victory in 2019.
There has been an "increased pressure on human rights organisations, rising intimidation of academics and journalists, and a spate of bigoted attacks, including lynchings, aimed at Muslims" in India, the report stated.
The annual report ranks countries on political rights and civil liberties, placing each nation in one of three categories: free, partly free and not free.
With a maximum score of 100 marking the "most free" country, India's score declined from 71 to 67 since last year's report. Its rank also took a tumble, from 83 to 88 out of 211 countries and territories.
Finland, Norway and Sweden were ranked as the freest countries in the word, all with a score of 100, while Tibet and Syria were given a score of 1.
The Washington, DC-based think tank noted that India's "fall from the upper ranks of free nations" could have a damaging impact on the world's democratic standards.
"Last year, the government intensified its crackdown on protesters opposed to a discriminatory citizenship law and arrested dozens of journalists who aired criticism of the official pandemic response," it added.
India's score fell based on factors including strained judicial independence, the use of sedition and other charges to deter free speech, the migrant crisis due to its Covid lockdown, dramatically declining internet freedom and the acquittals of those accused in the 1992 Babri Masjid demolition case.
It assessed "Indian Kashmir" separately, labelling it as "partly free" with its score falling from 28 to 27.
The report referred to the vilification and subsequent arrest of members of an Islamic missionary movement, Tablighi Jamaat, after a gathering in Delhi was linked to the spread of coronavirus. All the 36 members facing charges were later acquitted by the courts.
It also highlighted the anti-conversion "love jihad" law passed by India's Uttar Pradesh state to prohibit forced religious conversion through interfaith marriage, and the arrest of a number of Muslim men under the law.
"Under Modi, India appears to have abandoned its potential to serve as a global democratic leader, elevating narrow Hindu nationalist interests at the expense of its founding values of inclusion and equal rights for all," the report said.
India was not the only country highlighted in the report for its falling score, though the authors noted that its large population meant the proportion of people living in "free" countries around the world fell below 20 per cent for the first time since 1995.
Other countries flagged in the report included China, which it said had engaged in "global disinformation and a censorship campaign" since attempting to cover up the Covid-19 outbreak.
Hong Kong's score fell three points in the report after Beijing's crackdown on the pro-democracy movement there. Belarus lost eight points after its contested August election and the crushing of a massive popular movement against autocratic leader Alexander Lukashenko. Algeria and Venezuela, facing their own political crises in the past year, lost two.
Join our commenting forum
Join thought-provoking conversations, follow other Independent readers and see their replies