Kashmir on lockdown after India reimposes curfew and deploys troops
At least 152 are injured as thousands of police and paramilitary troopers swarm the region to stop protests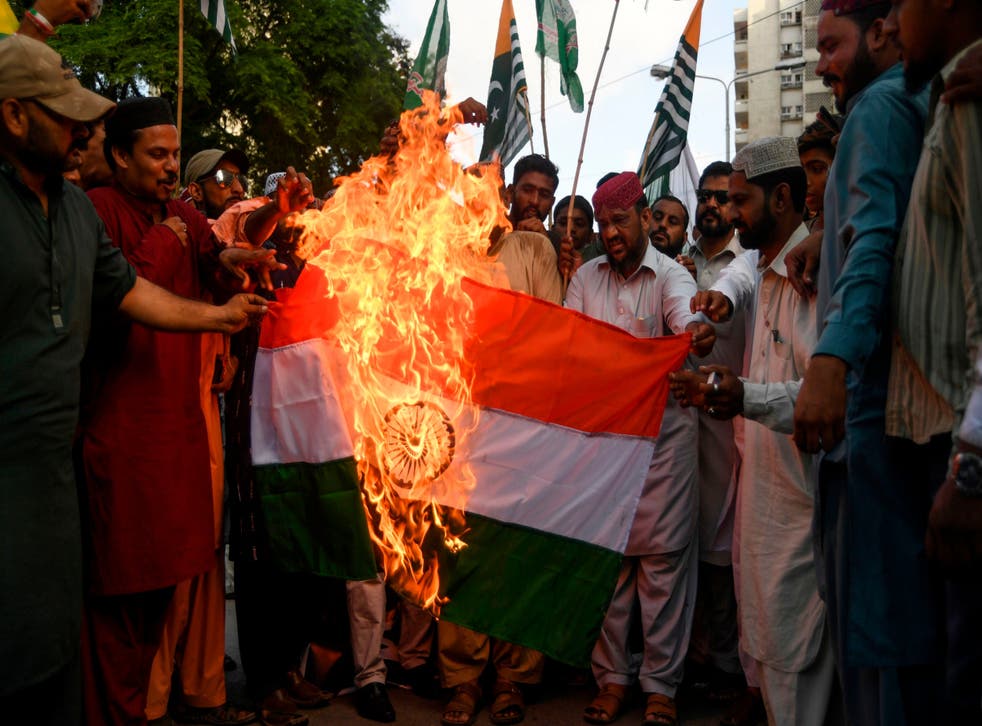 Kashmir was on lockdown on Friday after Indian authorities deployed troops and reimposed a curfew in a bid to stop planned protests.
Large numbers of police and paramilitary troopers were sent in across the disputed territory, and roads were blocked with barricades.
A UN military observation office in Srinagar was also sealed in barbed wire.
Early on Friday morning, police announced over loudspeaker that people must stay indoors due to Section 144 being reimposed – the Indian government order that bars assembly of more than four people in public places.
Posters had been put up this week calling on people to march in Srinagar against India's decision to scrap Kashmir's special status, curbing some of its autonomy.
Eyewitnesses told The Independent that nearly 1,000 protesters assembled in the Anchar area of Srinagar were preparing to march towards the office of the UN Military Observer Group in India and Pakistan before they were chased away by the armed forces.
At several places, people pelted stones at armed personnel, who fired pellets and tear gas in response. At least 152 people were reportedly injured.
World news in pictures

Show all 50
Shahana Manzoor, 32, said it was difficult to reach the local maternity hospital where her sister had been admitted.
She said: "I have not seen such deployment of forces in my area. There were hundreds of armed personnel on roads to stop people from moving out."
Locals said paramilitary forces also stopped doctors from going to work in the only children's hospital in the vicinity of the UN office.
"I showed them my emergency services pass issued by the government to let me go to duty, but (the armed forces) didn't let me proceed," a female paediatrician of the GB Pant hospital told The Independent.
The restrictions of free movement in Kashmir is now causing shortages of food and medicine.
Shopkeeper Muhammad Rafiq said: "The supplies of baby food have been exhausted and I am not able to place the order to replenish the stocks."
The restrictions have left 25-year-old Yasin Dar unable to work.
Dar, an orphan who has a family of six to support, left his home on Friday morning in the hope of reaching a nearby town where he'd been promised work.
"For the past 19 days I have been unable to earn even a single penny," he said.
"Today someone asked me to reach Pampore for work, but these people (armed men) don't allow me to proceed."
Nearly 2,000 people have been detained to contain protests in Kashmir, said a senior police official told The Independent on condition of anonymity.
He confirmed the restrictions had been tightened and an extra 250 companies of paramilitary forces had been sent in to stop the protests.
Join our new commenting forum
Join thought-provoking conversations, follow other Independent readers and see their replies